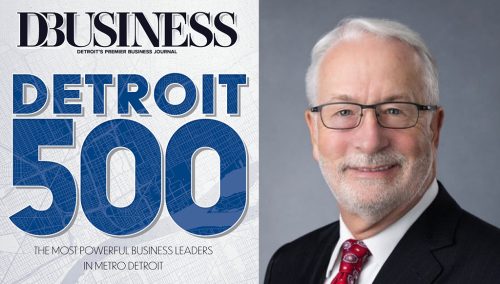 Fred Minturn named in coveted DBusiness Magazine's Detroit 500 list
MSX is proud to announce that Fred Minturn has received the ultimate recognition by one of the leading regional business magazines in the US – DBusiness. Fred has once again earned a place on the DBusiness Detroit 500 list – a selection of the most powerful and influential executives across metro Detroit and Michigan.
Fred formed MSX international in 1996 when he held a role as Vice President and Controller at its predecessor MascoTech. Under his leadership, the organization has achieved double digit growth year on year.
As a business strategy leader, he transformed the organization from its original business model to what it is today and helped other organizations do the same. Throughout his 40+ year career he has created over US$1billion in value through business development and turnaround strategies, and completed more than 50 acquisitions.
For its Detroit 500 list, DBusiness Magazine identifies 500 prominent executives from more than 30 industries. Their selection is based on several business factors including the size of the company or organization, and its growth and geographical reach. Click here to view the publication.
MSX delivers innovative business solutions and services to vehicle manufacturers and mobility providers globally. With a focus on providing the ultimate value across Customer Engagement, Parts and Service Performance, Warranty and Technical, Learning, Sales Performance and Actionable Insights capabilities, MSX enables customers to transform operational performance, increase loyalty, and embrace change in a fast-evolving industry. The company has 5,000 team members across Europe, US, APMEA and China.
Press and Media contact
Ioanna Dimopoulou
Global Director Marketing and Communications