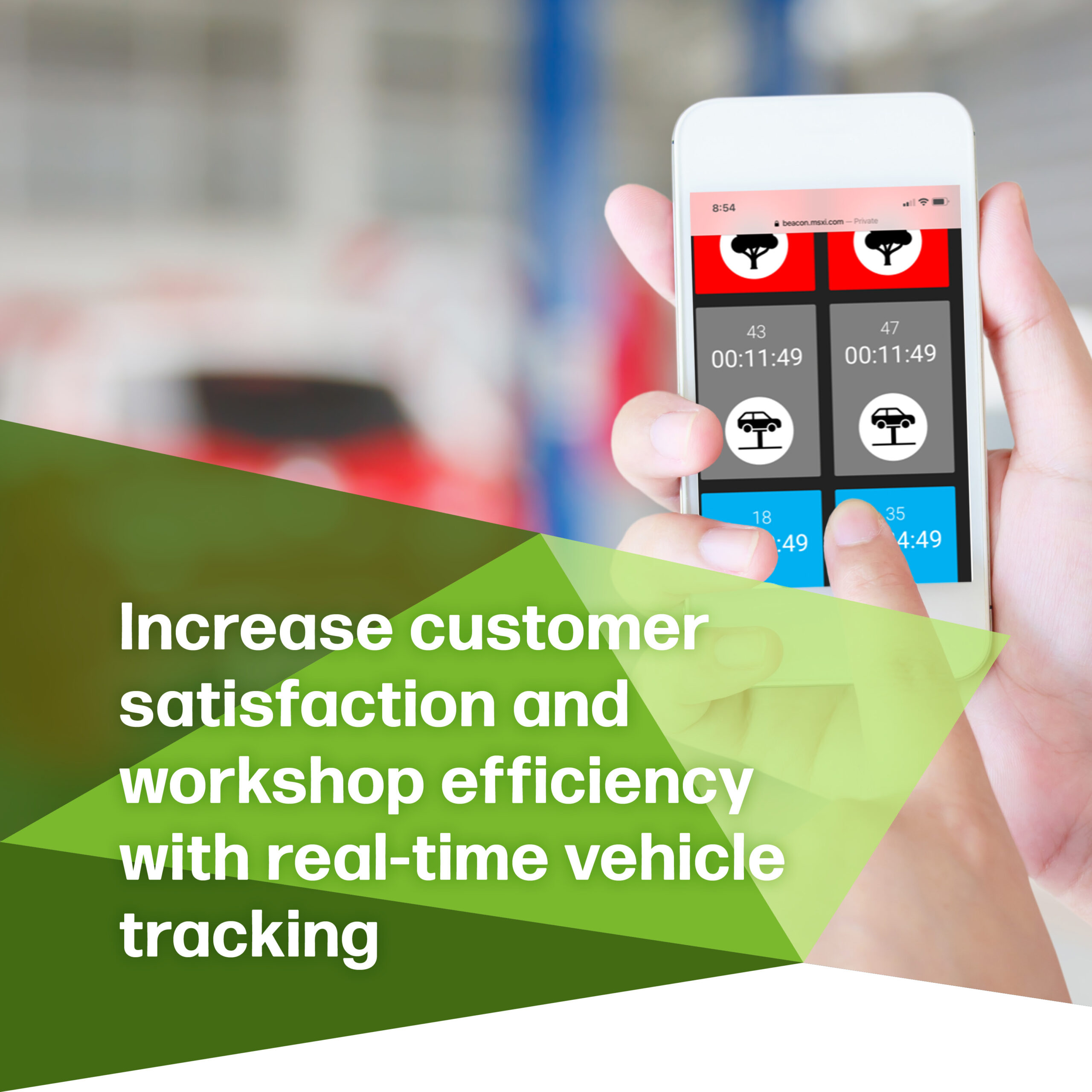 Track and manage the progress of vehicles as they move through the workshop. Capture accurate data to monitor the length of time a vehicle spends at each repair stage and identify and resolve delays. Give customers real-time progress updates to retain their trust and improve customer satisfaction and loyalty.
Streamline repair services with innovative tracking technology
Today's dealerships are expected to provide fast and efficient repair services to retain existing customers and attract new business. But until now, it's been difficult for OEMs to understand the cause of delays to workshop repairs. They have relied on unreliable data from legacy dealer management systems or on technicians logging their progress manually to monitor the path of a vehicle through the repair process.
MSX Beacon automatically tracks the progress of a vehicle's repair in real time, helping businesses understand how long a vehicle spends at each stage in the process. MSX Beacon is a digital tracking device which transmits real-time data to the cloud as the vehicle moves through the workshop.
Users can access and analyze this information via a centralized portal. OEMs and dealers can use it to understand the needs of individual dealerships more clearly, identify the cause of delays and bottlenecks, and help workshops adapt their processes to deliver a faster, more seamless service.
Enhance customer service with real-time repair updates
Customers rate convenience as a key reason to visit a dealership or authorized repairer for vehicle maintenance. Lengthy waiting times or a lack of transparency may factor into a customer's decision to take their business elsewhere.
MSX Beacon not only helps workshops speed up the repair process, but it can also send automatic updates to the waiting customer. The technology can be configured to transmit text notifications to a customer's phone, alerting them to the progress or completion of their vehicle repair. Or it can specify the details and cost of additional, unexpected work, so the customer can authorize or decline the work instantly.
Focused on the customer experience.
Seasoned, professional guidance based on profound industry insights.
Sets performance and training objectives to meet improvement goals.
Ensures solutions and training are customized to individual dealer needs.
How does MSX Beacon work?
The MSX Beacon system is simple to install and use. It uses low-energy Bluetooth and Wi-Fi to track vehicle movements around the service area. When the vehicle enters the workshop, a small tracking device is fitted. This works in conjunction with transmitters installed at every service bay throughout the facility to communicate accurate data to a central portal.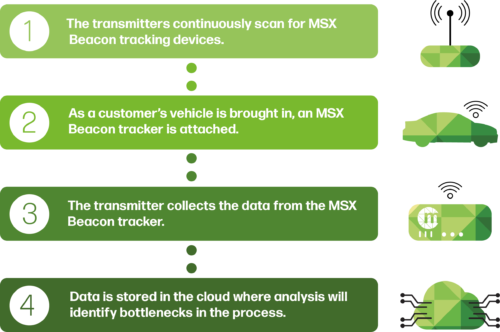 Watch the video to see how easily vehicles are connected to the MSX Beacon system as they enter the workshop. Automatic updates, delivered via a dashboard, help dealer staff monitor the progress of multiple vehicles, provide relevant updates to customers, and identify hold-ups that impact customer service and satisfaction.