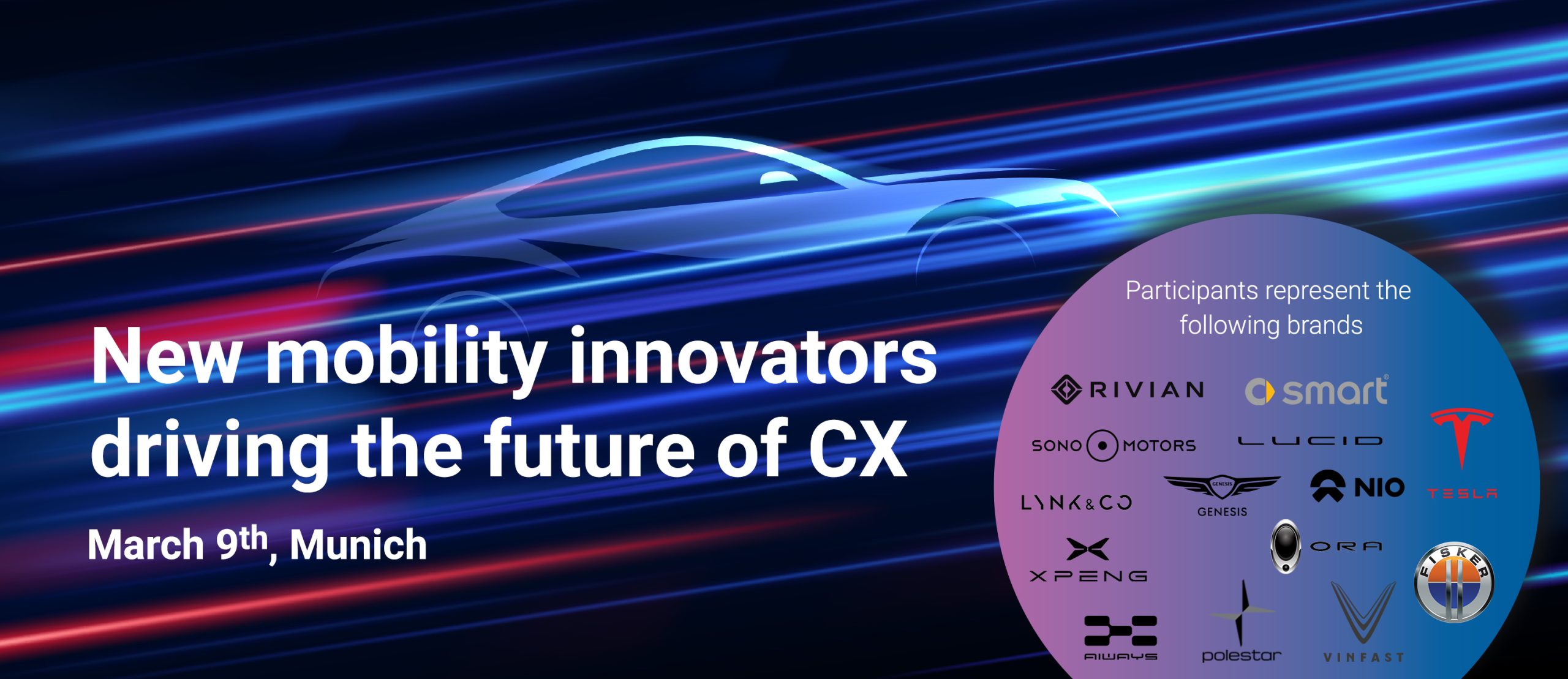 Thursday, March, 9th 2023
15:30 CET
The 'New mobility innovators driving the future of CX' exclusive workshop is just around the corner. We are looking forward to welcoming you on Thursday, March 9, and would like to provide you with some further details about the day. 
Please note, there's no need to prepare anything in advance. We have structured an agenda to ensure this workshop is exciting, interactive and valuable. Our roundtable will take place in BMW World's executive boardroom, the Business Club, which offers the exceptional facilities and ambience we require for a successful meeting. 
Please read on for the agenda, information about the dinner, and a 'getting to the event' guide.
We're looking forward to seeing you at out exclusive, roundtable discussion that will define the future of CX.
Welcome coffee and introductions
Break and Interviews 'The Power of Newcomers'
The power of newcomers: What's your take? An opportunity to share a thought leadership statement – addressing the role of new mobility innovators in CX (optional, for social media). 
Dinner in the EssZimmer fine-dining restaurant. We have the pleasure of inviting you to a private dinner at one of Munich's top restaurants, the EssZimmer, whose chefs have been awarded two Michelin stars.
MSX is committed to protecting the data and information of our clients, colleagues and associates. All discussions and data gathered throughout the BMW World roundtable event will be handled confidentially and in accordance with GDPR requirements.

Join us for a private dinner at EssZimmer

We'd be delighted if you could join us for a culinary experience at the EssZimmer Restaurant at BMW World, only steps away from the Business Club meeting room. Please let us know if you'd like to join us for dinner at this double Michelin star restaurant at 7.00 pm, by choosing an option below.
The event is to be held at BMW World, Am Olympiapark 1, 80809 München, Germany.
Please meet in the Business Club at 15:30 for welcome coffee and introductions.
Dinner will be served at 7pm at the EssZimmer fine-dining restaurant, which is located on the third floor of BMW World.
If you have questions, please don't hesitate to contact Dirk Bott (Mob. +49 163 847 1000) or Robert Häusler (Mob. +49 171 558 1017)
We look forward to seeing you there.