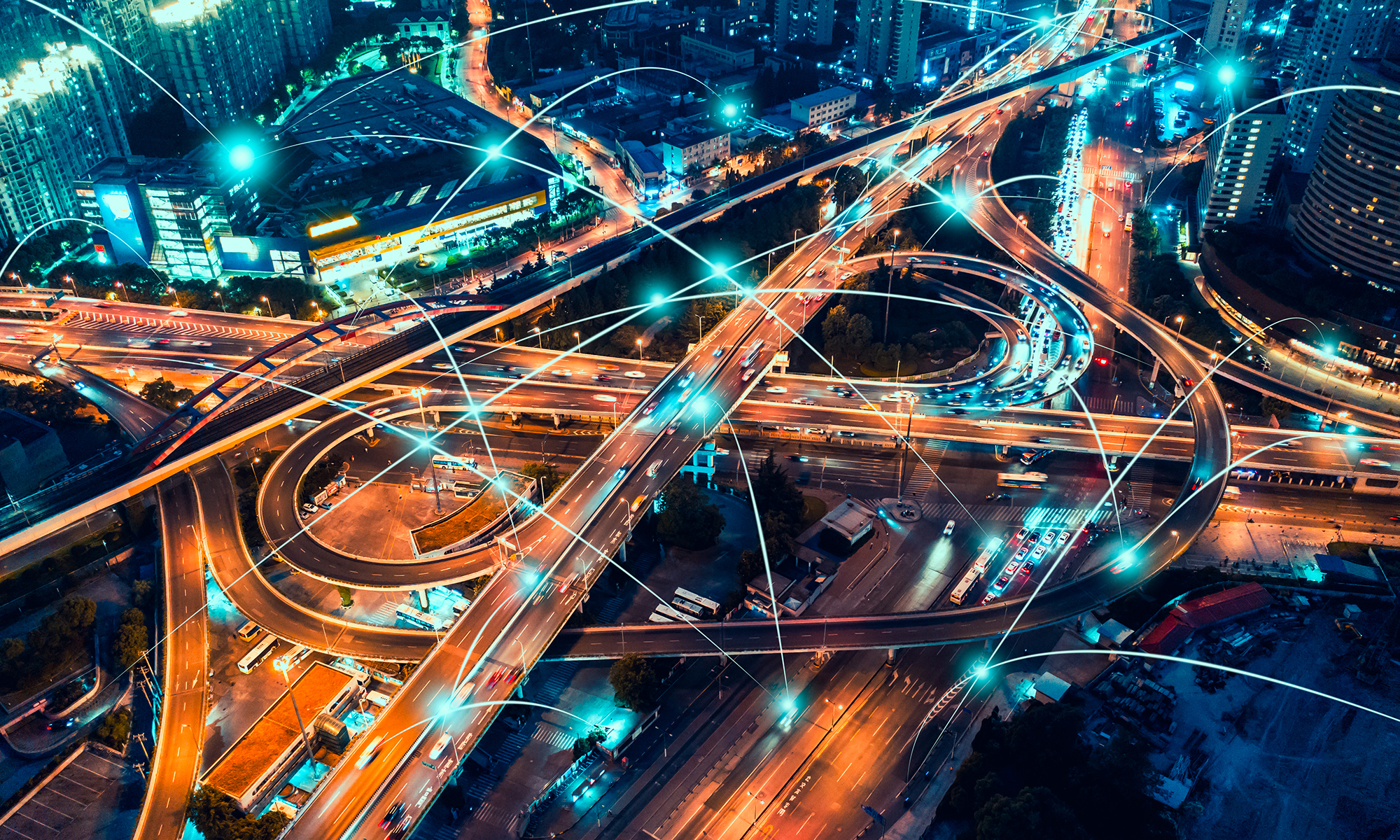 CASE technologies: The reality of today's automotive trends

by Pieter van Rosmalen, Chief Strategy Officer
The constant evolution and disruption of the automotive industry has left manufacturers and industry players struggling to plan for the scale of transformation their business models need to undergo. Technological advances in recent years have driven new mobility service models, redefining the competitive landscape of the automotive industry. While connected services, autonomous vehicles, shared mobility and electrification technologies (CASE) are progressing at different rates, and with varying degrees of adoption, they are all having a dramatic impact on the global automotive industry.
"Through increased technology and connected vehicle data, OEMs can offer more personalized, convenient, and transparent sales and maintenance journeys to their customers."
Connectivity is central to modern vehicle development
Today's connected vehicles exchange information with cloud-based servers, other vehicles, and surrounding infrastructure to help improve a driver's safety, save time and reduce harmful emissions. Connected features can be incorporated into infotainment systems and will, in time, support fully autonomous driving.
But the advantages of connected vehicles spread far beyond the driving experience. Through increased technology and connected vehicle data, OEMs can offer more personalized, convenient, and transparent sales and maintenance journeys to their customers. Tailored dealer-to-consumer communications offer services based on a driver's individual needs. Owners benefit from early diagnosis of issues or parts malfunction. Safer drivers receive cheaper insurance policies because connectivity reveals their driving patterns. Connected functionality can ease complexity of shared ownership for users, and the integration of personal, virtual assistants means help is available at any time. These tools are putting drivers more in control and enabling service and repairs to become less sporadic.
Brands such as Tesla lead the industry because their data visibility and business models were designed to serve the needs of today's consumers from day one. But for traditional manufacturers, the solution lies in the integration of dealer and OEM processes, and the creation of a highly skilled workforce who can interpret the data and use it to drive seamless aftersales processes and enhanced customer journeys, generating profit for OEMs.
With cars becoming computers on wheels, OEMs must rethink their traditional business models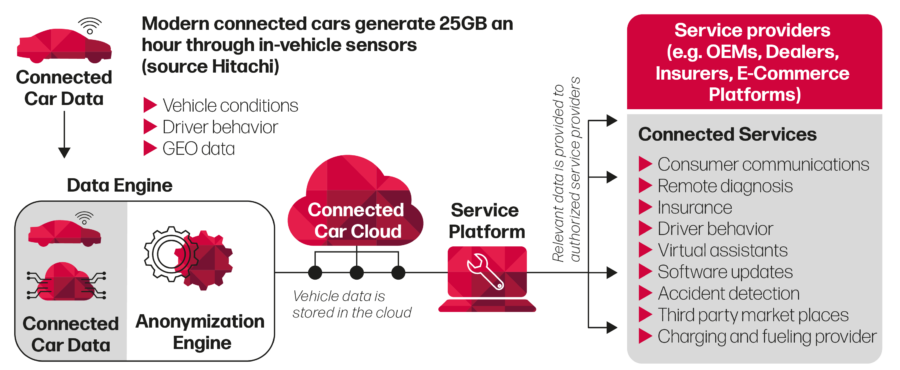 Source: MSX International
The true future of autonomous vehicles is uncertain
SAE International, the global leader in technical learning for the mobility industry, has categorized the levels of autonomy in vehicles ranging from level naught to five. Lower-level features can include automated emergency braking, lane centering and adaptive cruise control. Higher level features include steering and accelerating, and ultimately require no human interaction at all.
But questions are still being asked about whether there is there an industry need for a fully autonomous vehicle. Statistically, some autonomous features make the vehicle more responsive and therefore safer to drive. According to a study by The Highway Loss Data Institute (HLDI) and The Insurance Institute for Highway Safety (IIHS), vehicles with forward collision warning and autobrake features are involved in 56% fewer front-to-rear accidents and insurance claims involving injury. But there are flaws in some business cases. If an autonomous vehicle was used for transporting goods on a dedicated lane of a highway, for instance, it could easily be targeted by criminals taking advantage of its automatic braking features. Additionally, while autonomous vehicles can use sensors and cameras to execute a predefined route, their ability to make decisions in unexpected scenarios is limited. Humans use ethics, reason and common sense to react to situations. But programming instinctive decision-making into a vehicle is highly complex, if not impossible.
Amidst the debate surrounding these technologies, large players such as Tesla, Amazon and Google remain in the pilot stages of autonomous driving developments. Tesla has warned that the process of developing its self-driving technology is a "two step forward one step back" experience, tempering expectations that the company might reach autonomous level five any time soon. Meanwhile, traditional OEMs are enabling basic levels of automation and integrating more advanced features within their existing vehicles. But this transformation continues to be a struggle because these advanced features require high-tech components such as light detection and ranging (LiDAR) sensors, which are not currently built into today's vehicles.
There's little doubt that if the higher levels of autonomy are reached, new revenue opportunities will arise in the form of 24/7 mobility offerings, such as non-stop haulage and delivery services. But the global infrastructure isn't ready for fully automated vehicles just yet. Realistically, it's unlikely the industry will exceed autonomous levels three or four soon. The high levels of technology needed continue to present new problems and safety concerns that require specialist development, maintenance and support beyond the qualifications of the traditional dealer networks.
It is estimated that by 2025, only 10-15% of new vehicles will comprise autonomy features rated level 3 and above, whilst over 35% will come with level 2 features as standard.
% installed on new vehicle sales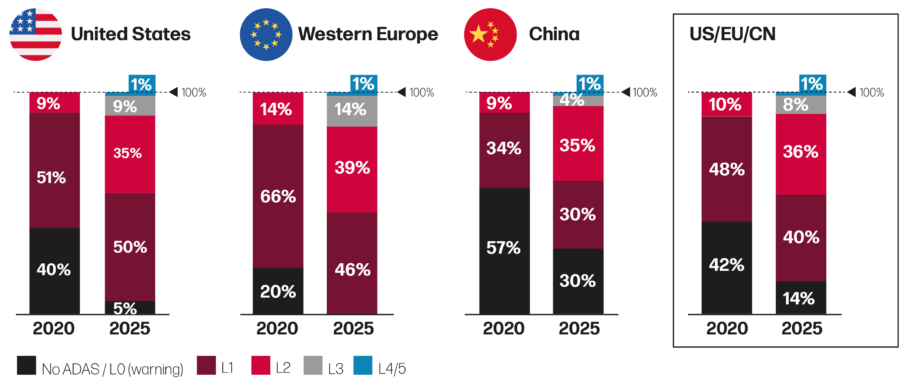 Shared mobility shows promise, with some hurdles to overcome
There have been some considerable leaps forward in shared mobility in recent years, but its success is dependent on the delivery of autonomous and connected technologies. A rising trend in the mobility sector is a shift away from private, individual ownership because cars are becoming more expensive to own and maintain. Private leasing and subscription models have become increasingly popular, and the industry is starting to see manufacturers offer more alternative purchasing options to customers. But businesses that already make a living from mobility services, such as rental companies and car-sharing services, are still struggling to yield high returns. This is because the operational costs are heavily underestimated and short-term challenges, such as the global shortage of semiconductors, significantly affect returns due to reduced production and halted assembly lines.
Some market players are investing in alternative mobility solutions. BMW Group and Daimler AG, for example, joined forces in 2019 to launch car share company SHARE NOW with the aim of becoming the biggest free-floating car share provider in the world, making vehicles available in cities without the need for drivers to visit a central station for collection. But these car share services require advanced technology to manage their businesses successfully, and connectivity will play a huge role in enabling this further. Customers will also need access to tools to manage shared ownership digitally, and manufacturers will need to monitor people's driving patterns and behaviors if they're to deliver mobility services and solutions that meet their needs.
Electrification is mainstream, but several challenges remain
Most OEMs are now investing time and energy restructuring their business practices away from the complex-engineered internal combustion engine (ICE) environment into what should be a much safer, less complex environment. But electrification is unearthing some unique problems, from infrastructure and charging difficulties to problems with functional technology such as batteries and the risks associated with maintaining them. Some manufacturers are experiencing battery-related recalls due to increased risk of fire, for example.
As with all new technologies, electric vehicle (EV) technology can go wrong, and manufacturers must identify faults and create management processes to rectify issues before vehicles are released to the public. But the risks don't just lie in the financial implications of a battery recall. There are multiple safety related issues to consider, such as how batteries can be depleted of energy before transportation to avoid serious injury.
For some time, the risks associated with EVs were considered much lower than that of traditional ICE vehicles because there are fewer components and therefore fewer things to go wrong. But the reality is that without a carefully structured management process in place to identify and rectify faults, they can cost the business tens-of-thousands of dollars per vehicle to rectify. Total recall costs reached US$1.8 billion for GM when it recalled the Chevrolet Bolt over a fire risk.
The e-mobility transformation will disrupt more than the automotive industry
McKinsey & Company suggests that an accelerated uptake scenario, where EVs account for 75% of new passenger car sales, and 1 in 4 passenger cars on the road by 2030 in selected countries* will be felt in multiple industries outside of automotive.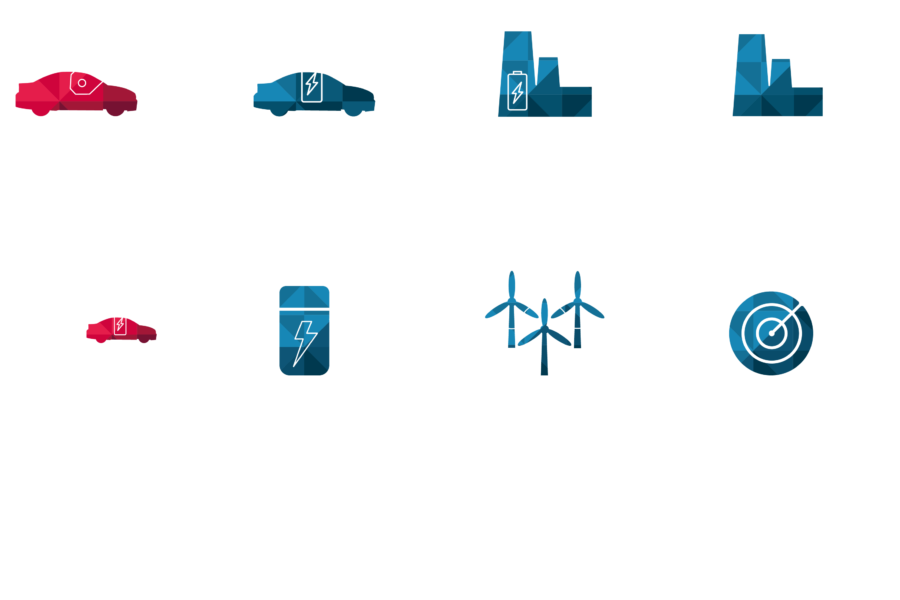 Source: McKinsey & Company
The future of automotive manufacturing
Digital transformation and technology innovation, as well as the reduced complexity in EV production, creates opportunities for new players who may have been previously deterred by heavy investments in engines, transmissions, and complex power-train systems. To retain their stake in the industry, many manufacturers are exploring partnerships and mergers to secure their futures. Foxconn, one of the world's largest providers of electronics manufacturing services, is currently diversifying its business into the automotive sector, forming alliances and joint ventures with global OEMs such as Stellantis and The Geely Automotive Holding Group, to name a few. Its business plan includes building end-to-end production platforms that allow faster time to market for EV manufacturers, as well as forming an alliance of key industry players to develop packaged components combining the hardware and software required to build an EV, reducing the development time and production costs for new industry players. Their collaboration efforts ensure specialist suppliers are on hand to deliver quality-controlled, engineered, and tested technology and parts, providing consistently reliable vehicles to consumers.
Production consolidation also helps simplify and strengthen processes for warranty claims, safety recalls and technical support. But for the rest of the industry, this development – whether it's seen as an opportunity or threat – could open doors for anyone with enough money to start building cars.
About the Author:
Pieter van Rosmalen
Chief Strategy Officer
Pieter van Rosmalen, MSX International's Chief Strategy Officer, is responsible for driving the organization's global strategic plan and supporting its future growth with key strategic business development activities. Pieter previously served as Chief Product Officer for MSX, leading a team focused on strategic planning, product development and product marketing worldwide. He has spent more than 25 years with MSX, serving in key leadership positions that include Global Vice President of Retail Network Solutions. He can be reached at pvanrosmalen@msxi-euro.com