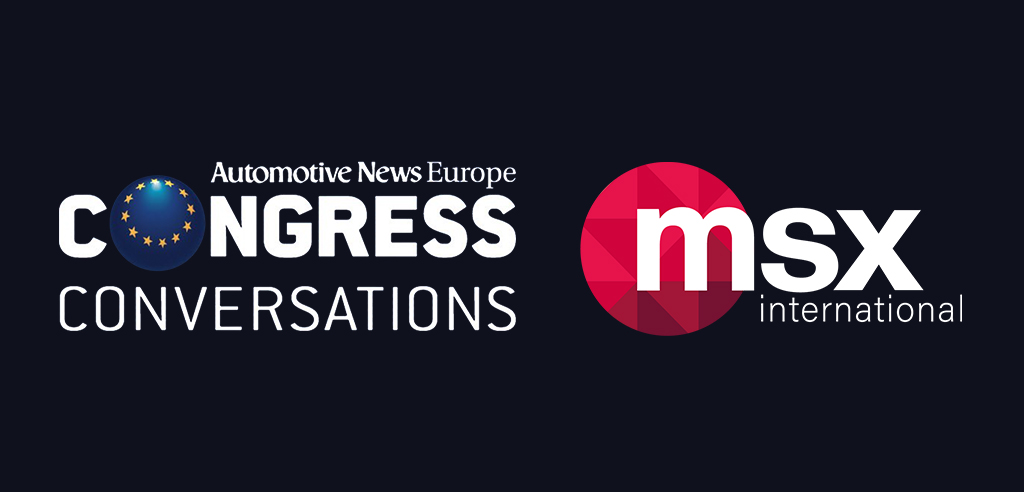 MSX sponsors 2020 Automotive News Europe Congress Conversations
We are pleased to announce that MSX International will be sponsoring (Bronze sponsor) the 2020 Automotive news Europe Congress.
As expected, this year the event will transform from a one-day event into four virtual congress sessions that will take place every Thursday from July 9 through July 30. Some of the industry's leading executives will share their latest news, insights, and strategies around four key topics:
Each 1-hour session will start at 14:00 CET (8:00 am in the US East Coast, late evening in Asia).
Through this event you'll get the information you need to help your business persevere today and be positioned to emerge even stronger tomorrow. There is no cost to view Automotive News Europe Congress Conversations, but registration is required.


July 9th through July 30th
Every Thursday: 14.00 CET
Clara de la Torre
Deputy Director-General, European Commission
Jean-Paul Drai
Product development director – Electric vehicle, Renault
Mircea Gradu
Senior Vice President of Product and Quality, Velodyne Lidar
George Galliers
Head of European Automotive Research, Goldman Sachs
Henrik Green
Chief Technology Officer, Volvo Cars
Michael Hajesch
CEO, Ionity
Emilio Herrera
Chief Operating Officer, Kia Motors Europe
Seth Metzger
Senior Vice President of Electrification, Dana Incorporated
Dr. Karl Obermair
Director Future Mobility and Global Field Coordinator Car Services and Appraisal, TÜV Rheinland
Maxime Picat
Executive Vice President, Director Europe Region, PSA Groupe
William Todts
Executive Director, Transport & Environment
Barbara Vollert
Vice President Region Europe, Porsche