For brands, the

future of

CX

requires

a remodel,

not

a repair

 

by Dirk Bott, Vice President, Global Sales Operations
Today, automotive brands have a vital opportunity to address the dramatic rise in consumer demands that have accompanied the digitalization of the industry. Organizations are learning to rethink the way they engage with people in this new era in which customer experience (CX) has fast become an OEM's number one priority. It's not a fleeting trend. It's one that will almost certainly influence all future decisions in this, and every other industry that delivers products and services to the consumer.  
Today's car-buying, leasing or subscription-model customers have the same expectations of their retail journey as they do any other kind of retail experience. Their demands have changed, extending far beyond the limitations of traditional vehicle sales models. They expect simplicity at every step of their buying journey, and the flexibility to shop at anytime from anywhere – a dealership, a pop-up store, or on their phone or computer at home or on the go. They demand the freedom to drive their buying process according to their location, budget, or time constraints. And they look for personalization; the convenience of knowing that whether they communicate with the brand via an online chat service, through social media, or in person with an agent at a showroom, that they'll only need to tell their story once.  
Studies have shown that customers are more likely to make a purchase if their pre-sales experience is a positive one. MSX research found that it takes 12 positive experiences to compensate for just one negative, and of the customers surveyed who've switched brands, 89% did so because of a negative experience. Consumers who endure meaningless or cumbersome encounters with brands are more likely to move on and look for richer experiences elsewhere. 
The price of

the CX shortfall
For these reasons and more, many traditional OEM retail networks are no longer fit for purpose. While automotive companies have begun to respond to today's customer needs, their initiatives often fall short of expectations. Some OEMs are adjusting their networks according to the results of data analysis which examines market performance, competitor landscapes, purchase power or persona profiling. Many are also implementing agency models and new formats, incorporating a digital presence, and scaling down their networks. All these steps are important, but MSX's research shows the rise in organizational change is still significantly lower than the exponential change relating to technological advances and customer expectations.  
The efforts of automotive disruptors typically fall closer to the target because they have leaner business structures and omni-channel setups, without the challenges of legacy infrastructure. But it's increasingly evident that OEM brands cannot simply expect their current network setups to deliver an adequate customer experience in today's highly competitive environment. They must revise their infrastructure from the ground up because their customers are influenced by the standards set by some of the world's most successful retailers. Consumers expect the delight of an Airbnb experience, the seamlessness of Spotify, the convenience of Amazon and the personalization of Netflix. Most OEM retail networks, as they are now, are simply not designed to execute seamless experiences between online and offline channels, and therefore, it will take a change in both infrastructure and mindset to safeguard the future.  
To create truly successful customer experiences, brands must focus on planning stronger touchpoint models and improve the continuity of service between each. Desirable encounters – delight, seamlessness, convenience, personalization – should be presented to customers regardless of whether they are searching online or visiting a physical location, and every time they move from one touchpoint to another throughout their journey with the brand.  
Their vast knowledge of the industry has enabled MSX experts to develop a structure that enables OEMs to transform their traditional networks to meet the needs of tomorrow.  
Touchpoint and sales & aftersales modules are combined into a new retail format according to market requirements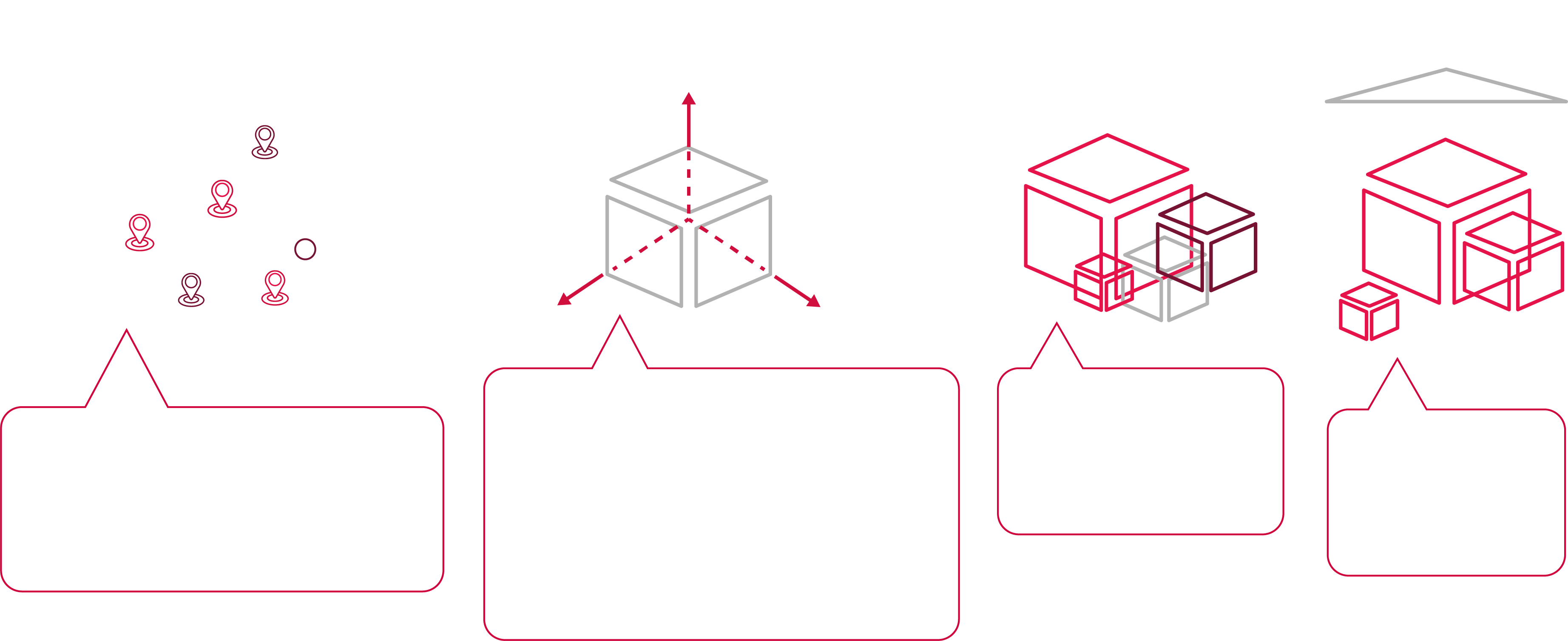 Source: MSX International
The Retail Touchpoint Planning Model offers a significantly more flexible, innovative and customer needs-led approach to network planning. It allows the change towards customer expectations and more cost-efficient business models to drive the characteristics of an organization's retail structure and reflect current market needs. It considers not just the traditional market performance or competitor landscape information, as mentioned earlier, but also customer data, such generational needs, expectations of individual touchpoints in the customer journey (which also vary according to the generation of the consumer) and the customer's location. For the most cost-effective set up, the formats used by the OEM must consider and apply the requirements of these factors to ensure its growth in future.  
From status to purpose
The approach is a complete mindset change. It views the retail structure not as a network, but as a customer touchpoint model that's both online and offline. It optimizes and personalizes every touchpoint, enabling businesses to meet customers on their own terms, with every service they might need, at their chosen touchpoints, rather than expect customers to come to them. It reimagines the concept of a touchpoint location, placing the value of a physical location, for example, on its purpose – the ways in which it can be used to meet customer needs – rather than on its original intended status, such as a dealership or showroom.  
Customers' loyalty begins in the early stages of their journey – when they are seeking information. For brands, this lead generation phase is an important opportunity to offer multiple touchpoint formats that provide the customer with flexibility and choice, generating a positive impression and setting a precedent for the customer's ongoing experience. It's here that customer differentiation is also crucial. A brand must examine whether the available touchpoints are still relevant to the customer who's based in a metropolitan or rural area. Touchpoints must consider the needs and adhere to the behaviors of the people most likely to use them, and be adaptable if circumstances change. In some instances, for example, traditional dealerships or flagship stores are not only inconvenient as the only touchpoints, but the high numbers of stores we have today are simply no longer cost effective for the business.
Status is replaced by purpose
Transform from a plan based on Personas to a plan based on Customer Behavior in the buying and ownership experience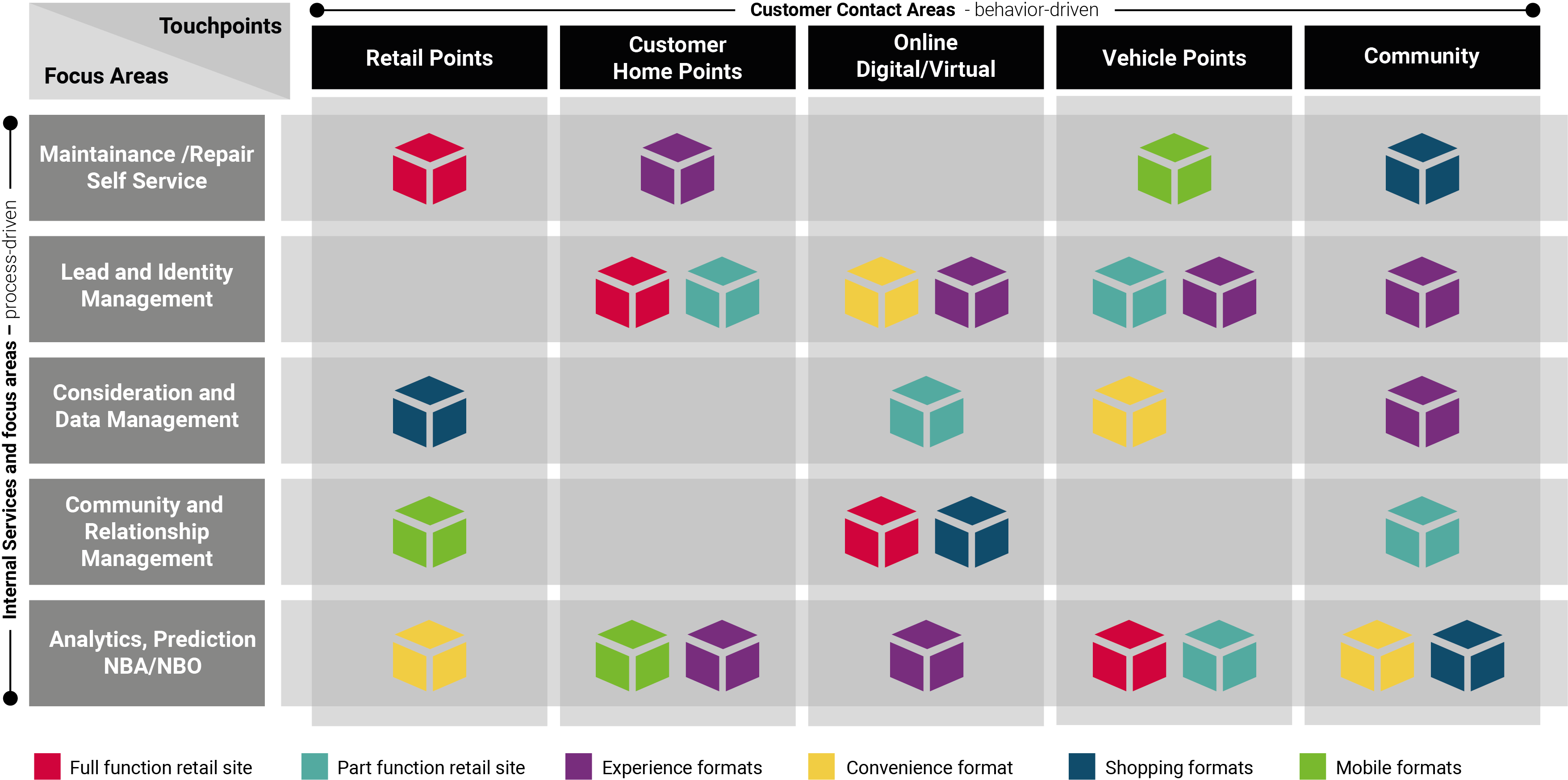 Source: MSX International
The right balance brings a real win-win situation but requires a good structural approach and a new way of thinking. The OEM saves network costs by changing or replacing formats, while engaging with customers more effectively and encouraging further business. An organization with fewer smaller dealerships can invest more easily in new formats aimed at larger, better structured dealers with a bigger geographical responsibility.  
Meanwhile, the identification of the most effective purpose of any location or touchpoint enables automotive organizations to refocus their network structure from one based on personas to one based on behaviors. Instead of trying to match products or services with customer types, the new structure is defined by a customer's choices at each point in their journey. This way, the organization can create or tailor products and services according to what individuals actually want – delightful, seamless, personalized and convenient experiences.  
To learn more about how OEMs can apply the MSX Retail Touchpoint Planning Model, transform the customer experience, and safeguard their future, look out for my next article, 'How to build a future-proof retail model'.
About the Author:
Dirk Bott
Vice President, Global Sales Operations
Dirk joined MSX International in May 2012. He oversees global sales and contributes to the growth of large OEM key accounts such as BMW, Mercedes, VW Group, Geely Group and others. In his 20 years' experience, prior to his engagement at MSX, he held different VP roles at European OEMs in sales, product, MI, training and strategy in regions that include China, USA, Europe and globally. Dirk can be reached at dbott@msxi.com.