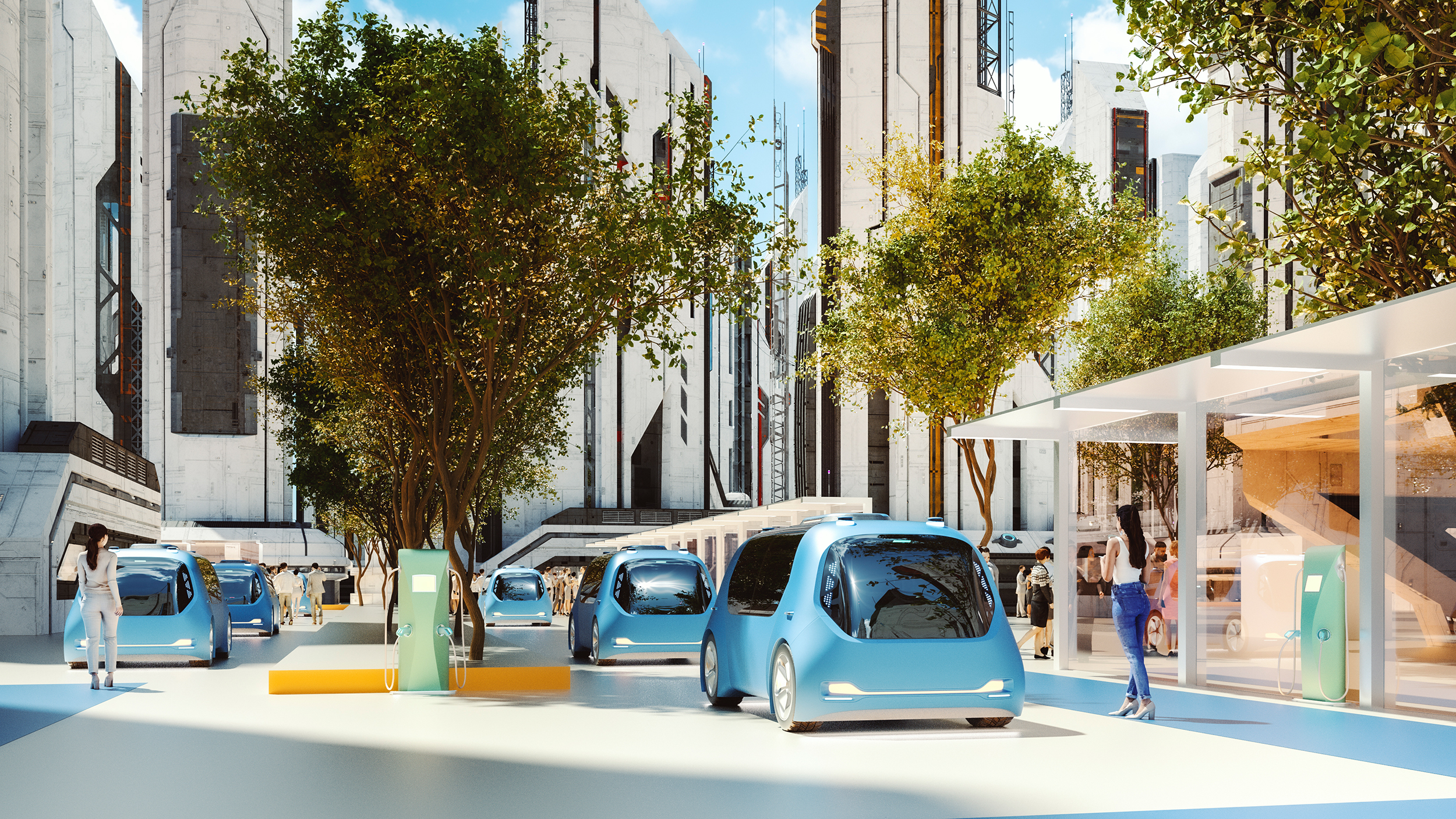 How to build a future-proof retail model

by Dirk Bott, Vice President, Global Sales Operations
For some time now, OEMs have been making steady changes and improvements to their existing retail models to offer their customers more flexibility and convenience throughout their retail journey. But as the demands from customers have begun to extend way beyond the limitations of the traditional sales model, OEMs are being forced to go back to the drawing board once more.
In my earlier article, 'For brands, the future of CX requires a remodel, not a repair', I focused on the expectations of today's consumer, alongside how the organizational adjustments, led by data analysis and the implementation of agency models and new formats, are no longer enough for traditional OEMs to remain competitive.
In this article I explore the steps required to analyze your existing retail model, how to choose the right model for your business, and what it will mean for the customer.
Steps to analyze the OEM and customer base
Industry disruptors have developed lean processes and retail networks that complement the highly sophisticated and tech-driven services they offer to their customers. With omnichannel services and the courage to try new things, they are servicing their customers in a way that traditional carmakers cannot.
Many traditional brands have legacy infrastructure and complex business setups that are unable to deliver an adequate experience to today's consumer. Many also lack the internal skillsets required to effectively analyze their existing models and make the required adjustments that will bring them the cost reductions and flexibility needed in today's retail environment.
An effective analysis of the existing retail setup takes into consideration historical data and generational behavior and will enable OEMs to visualize, plan and develop a new agile touchpoint model that works in this ever-evolving industry. Firstly, brands need to identify the right format according to the requirements of the respective market, such as growth targets, lead generation, and scalability. And by assessing the needs, characteristics, customer and generational behaviors of each market area, they can select the appropriate touchpoints and focus-area modules required, be it online, digital, virtual or physical.
This entire visualization, planning and development process must not only consider the purchase behaviors of different generations at each touchpoint, but it must also align these findings with the business targets. This will identify which formats each generation prefers engaging with and which channels they're using at each stage of the customer journey. This then determines the areas and stages of the customer journey where new formats should be introduced. The complex technology behind the new retail model then enables businesses to target the right customers with the right format at the right time.
How do I choose the right format?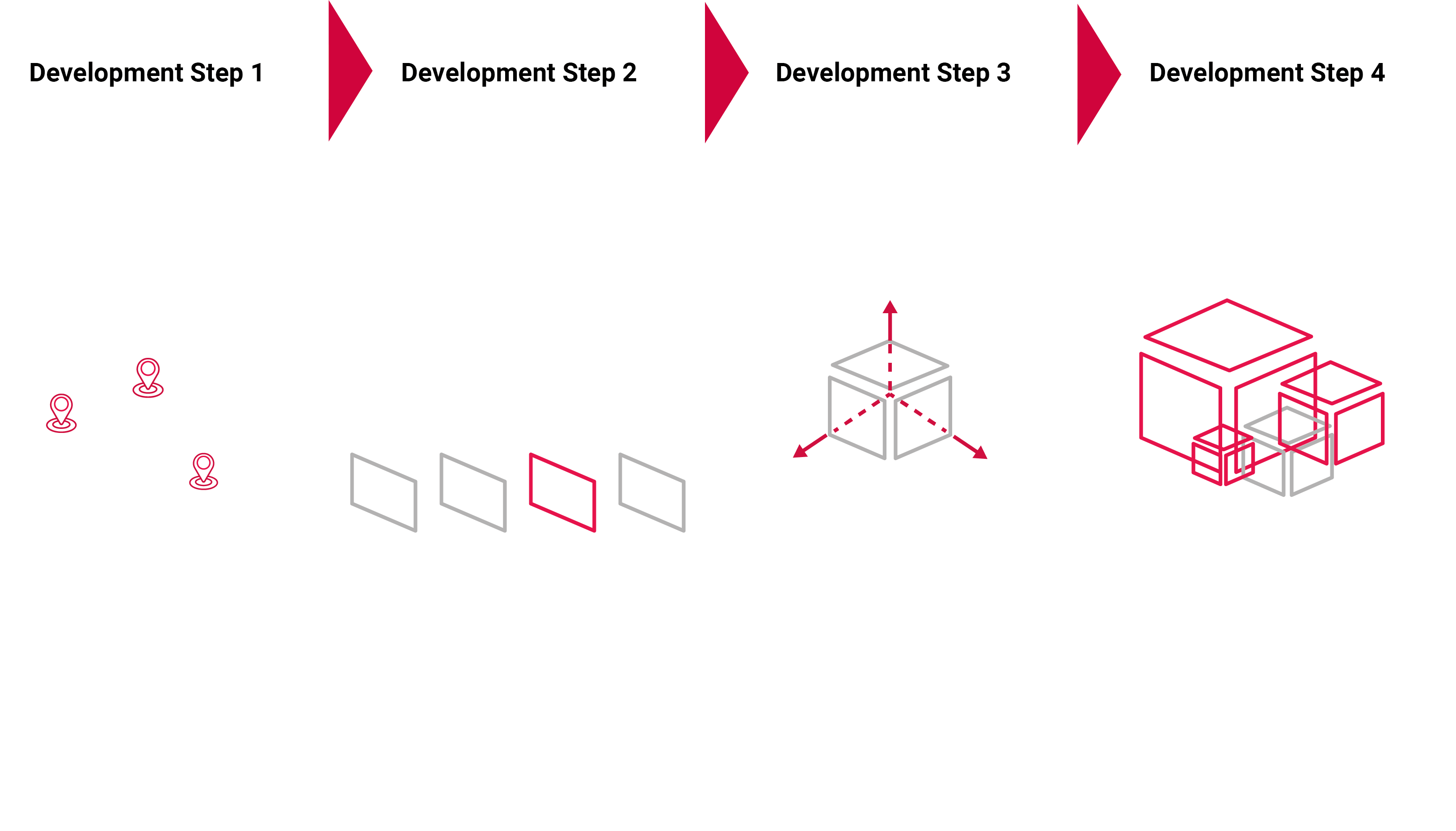 Source: MSX International
The composition of each module looks at the focus of the customer contact area, for example maintenance and repair, parts store or lead location. Each module is then individually configured in line with the analysis report and the final format is 'designed', offering an appropriate appearance in keeping with the rest of the site and its ability to be combined with other formats, or to take on a new format entirely.
Identifying the necessary formats
The new retail architecture comprises different modules and customer touchpoints based on internal services at the relevant customer contact area. The format of these modules will differ depending on the analysis report. A fully functional retail site can offer services across all customer contact areas, such as a flagship store, for example. A part functional retail site will only have one focus area, such as sales, lead or repair. And an experience format, which provides information on the brand, brand cooperations or vehicle, could take the form of an experience center, online asset or virtual showroom which can be accessed by the customer from home, online, in-car or within the community.
The necessary format change is also led by the dispersion of internal skillsets. As in-car technology becomes more complex and retail networks become more agile, centralized teams can deliver services to both the dealers, agents and consumers in new formats. Each new touchpoint format is process, data and behavior driven and has its own purpose, whether it be to generate customer leads and assist in the relationship management of the brand, or to deliver technical support remotely to entire networks via centralized business development centers.
Select a model that saves costs and brings the customer closer
Disruptors are more agile and lean and are able to change their network structure within a year, which is impossible for traditional OEMs. Having the right retail model in place will transform carmakers improving their cost effectiveness and network coverage, extending their customer reach, and driving customer loyalty. It will also offer them the flexibility to adapt to future industry changes.
They can also optimize their existing network of physical sites by defining roles for each based on their focus and location, the behavior of the customer and the main client perspective at each stage of the journey. For example, the focus of existing dealers may shift and be further enhanced by new formats which complement dealer services and offer more flexibility to the customer and cost efficiency to the business. The new retail model can also introduce services to more isolated areas which would have otherwise been too costly to reach.
Customer Journey: Pre-sales Phase
Brand Discovery, Lead Generation, Configuration …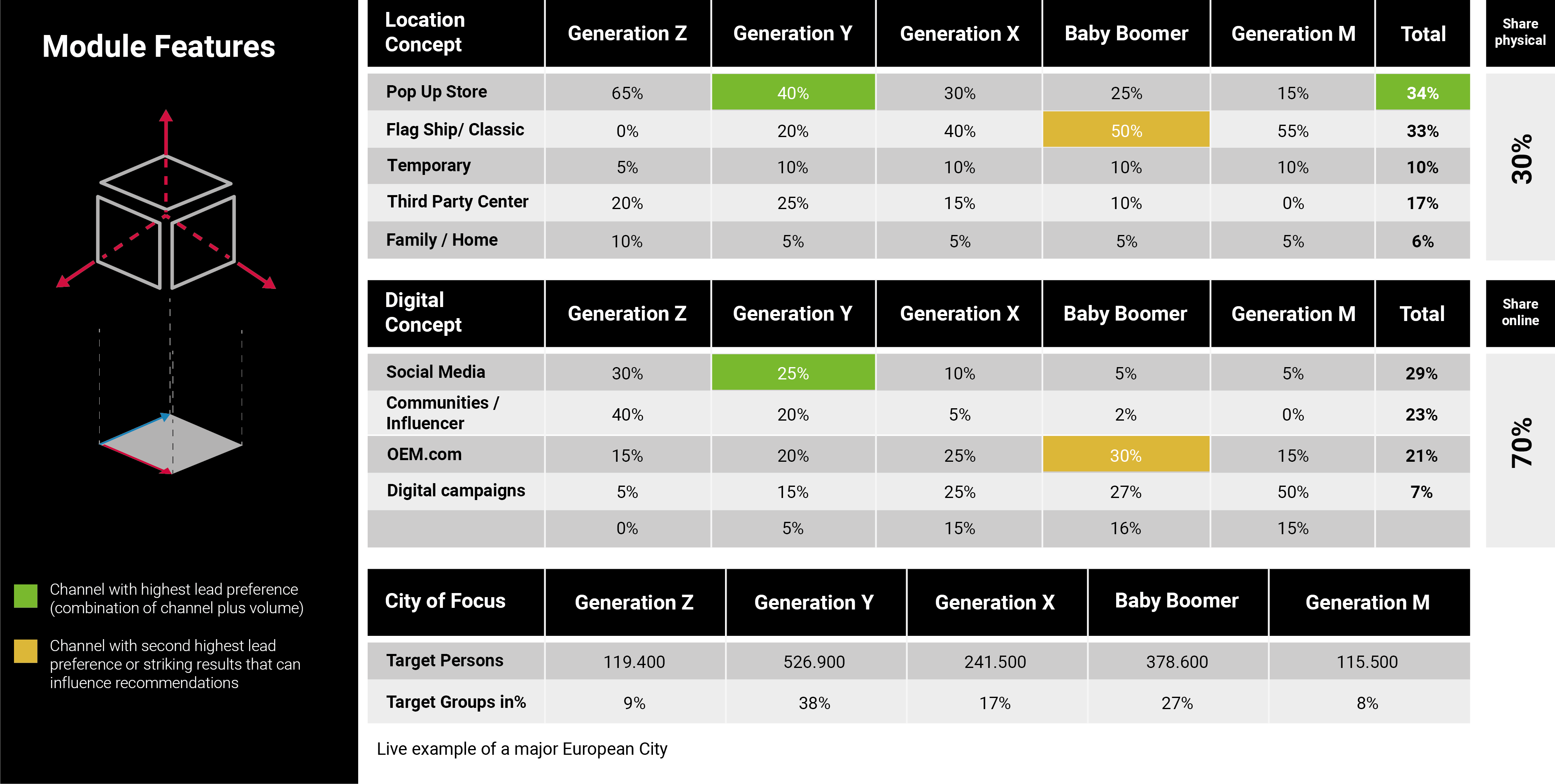 Source: MSX International
Total group : 2,500,600 (of which 1,060,000 are reachable) Source: MSX International
Total group : 2,500,600 (of which 1,060,000 are reachable)

Source: MSX International
What it all means for the customer
Customer's expectations have been driven by the seamlessness, convenience and personalization of modern retailers and this expectation now extends into the automotive world. However, the traditional sales and aftersales services that have been provided until now have instilled a level of confidence in the consumer, with a combination of online services and physical touchpoints. To avoid consumer anxiety amid the transformation, these new retail formats must remain connected with the traditional retail setup.
This new approach will future proof the retail network and provide the flexibility to continue to adapt in this competitive industry. This complex transformation requires specialist support and MSX experts are on hand to help develop a new approach. By working in partnership with brands, we can establish a more agile network that puts the customer firmly in the driving seat.
About the Author:
Dirk Bott
Vice President, Global Sales Operations
Dirk joined MSX International in May 2012. He oversees global sales and contributes to the growth of large OEM key accounts such as BMW, Mercedes, VW Group, Geely Group and others. In his 20 years' experience, prior to his engagement at MSX, he held different VP roles at European OEMs in sales, product, MI, training and strategy in regions that include China, USA, Europe and globally. Dirk can be reached at dbott@msxi.com.