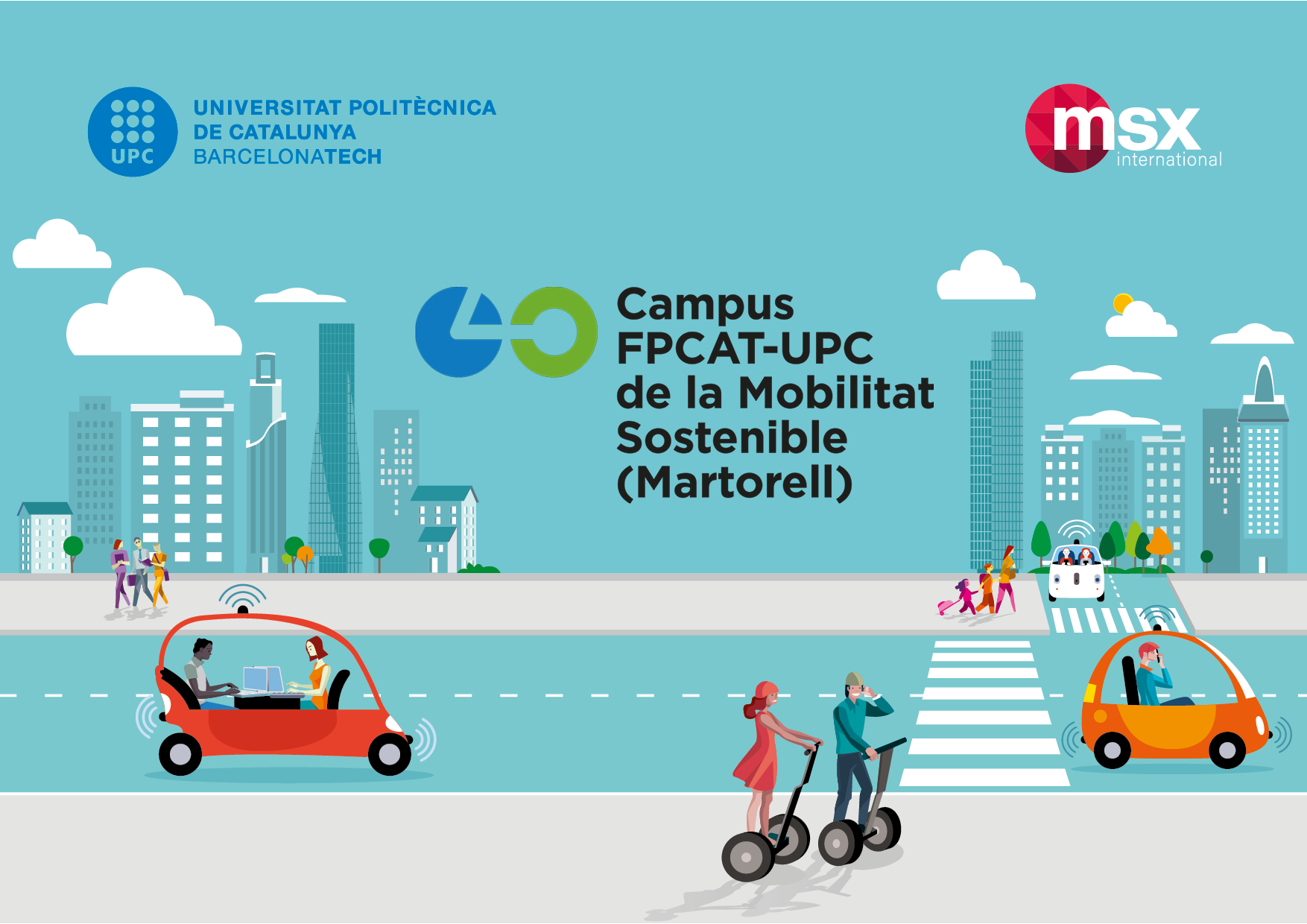 MSX and UPC join forces to further develop the Center of Sustainable Mobility
The new strategic partnership aims to establish an international reference training center for the automotive and mobility sector in Catalonia (Martorell).
Barcelona, December 5th, 2022
The Universitat Politècnica de Catalunya BarcelonaTech (UPC), a public research and higher education institution specializing in the fields of engineering, architecture, science and technology; and MSX International TechServices (MSX), a global organization providing technology-enabled business solutions and services to the mobility industry, have signed a strategic partnership agreement to further develop the Center of Excellence, the UPC Martorell Sustainable Mobility Campus (CMS – UPC Martorell). This agreement is part of UPC's strategy to identify and build strategic alliances with key industry innovators and to successfully develop this project.
The strategic agreement between UPC and MSX will be based on the academic collaboration of the two organizations in accordance with their respective areas of expertise in offering cutting-edge training, promoting talent and developing activities that facilitate innovation. The core training themes of CMS – UPC Martorell will be driven by the transformation of the mobility industry, emphasizing emerging areas such as autonomous and electric vehicles, and innovation in mobility.
Training topics will include:
The mobility industry faces enormous challenges and is undergoing momentous change, driven by new mobility models and market participants, and a growing demand for sustainable vehicles from regulators and consumers. This campus will apply the latest technologies to education and embrace new trends in the automotive industry.
As a strategic partner in this innovative project to set up a training center for sustainable mobility, MSX contributes its extensive experience as a company that operates in more than 80 countries, and which specializes in digital retail transformation and customer experience. Today, the company partners with leading auto makers globally, enabling them to compete successfully and gain momentum.
In March 2022, UPC won the tender – requested by the Generalitat de Catalunya – for the management and operation of the Martorell Automotive Vocational Training Center (CFPA) for the next 15 years. The project has become a training and innovation model for the transformation of mobility, resulting in the current FPCAT-UPC Campus for Sustainable Mobility (Martorell). MSX was one of the companies in the bidding process.
About MSX International
MSX is a leading provider of technology-enabled business process outsourcing (BPO) services to OEMs in more than 80 countries. MSX's deep automotive industry expertise, combined with advanced data analytics and custom software solutions, improve the performance of automotive dealership networks by increasing revenue, reducing costs and enhancing customer satisfaction. The company's broad BPO services suite supports OEMs across Warranty and Technical, Parts and Service, Channel Management, Customer Engagement, and Fleet and Mobility. MSX employs more than 5,000 team members worldwide.
About UPC:
UPC is one of the leading technical universities in Europe, contributing significantly to the industrial and production sectors through the transfer of knowledge. It is linked to around 2,000 companies, and every year, educates more than 6,000 undergraduate and master's students and more than 500 PhD students. It is among the universities with the highest job placement rates for its graduates – 93% are offered work shortly after graduating, and is well positioned in international rankings. It also leads university fundraising efforts in Spain for research, development and innovation projects financed by the Horizon 2020 program.