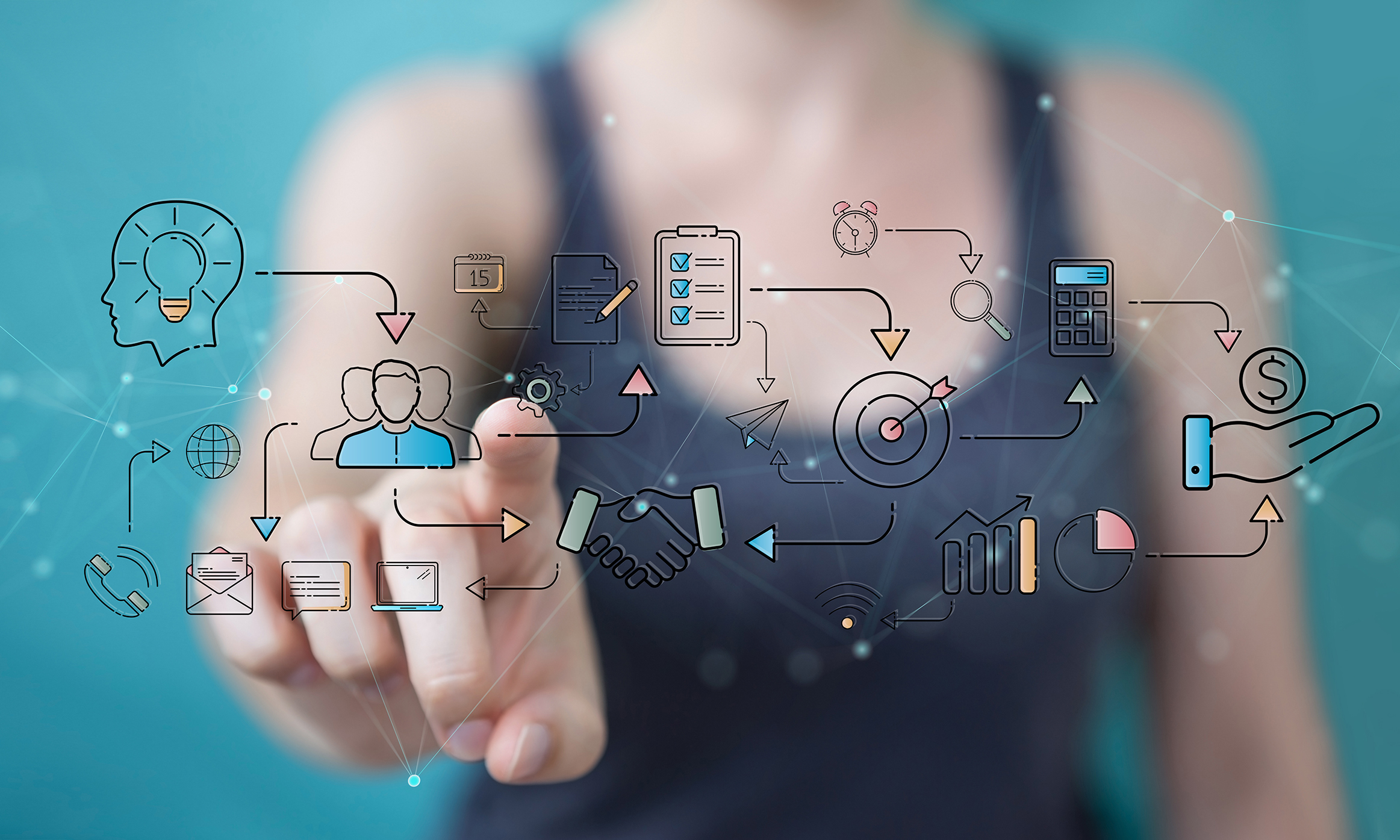 A new retail world: Managing the transition to an agency model

The phases of a customer journey, from generating awareness to developing customer loyalty, remain similar for new retail models as they are for the traditional retail experience. But these models have tipped the balance of responsibilities – and touchpoints – dramatically. A single customer journey contains as many as 5,000 interactions between different stakeholders – sales teams, finance departments, test drive teams, administrators, and valets, for example. Until now, many of these tasks were managed by retail networks, but agency or direct-to-consumer sales models mean many more interactions occur between customers, their laptops, and the OEMs themselves.
OEMs adopting new retail models in accordance with their individual direct-sales parameters are having to manage the logistical challenges of this transformation while ensuring customers remain as unaffected as possible. The addition of more online processes will offer greater convenience and a simpler journey for the consumer. But for businesses, there's a lot to consider. Few manufacturers are set up to support customers with purchases, repairs, and other services without involving dealer networks or without developing additional renumeration models. When a customer requests a test drive, for example, the dealer normally manages all interactions between stakeholders. But with some agency models, the OEM must provide a base from which all test drives take place which is accessible by multiple agents, and which contains the right vehicles at the right time. There are many benefits of agency model set ups, but they come with challenges that can only be resolved with planning and experience.
It's also an expensive and complex transition. Manufacturers must address the needs of consumers making high-value purchases and be responsible for a significantly larger proportion of customer engagement activities. They must streamline interactions within the customer journey and reduce complexity, while cutting costs elsewhere. Through process automation and better integration of retail systems, around 1 in 5 of the 5,000 interactions can be eliminated, meaning a faster, more effective customer journey. Businesses can also reduce structural costs and increase connections with customers, but it's important to remember that in nearly all models, retailers – or agents – will continue to play an important role.
"Whether customer interactions are carried out in person or virtually, OEMs will be obliged to deliver high-quality, accurate responses quickly, to reassure individuals and encourage them to complete the buying journey."
Why retail models are changing
The increasing popularity of electric vehicles (EVs) has accelerated the need for OEMs to adopt agency and direct-to-consumer sales strategies. They are the ideal product to promote and sell online because customers can more easily configure a vehicle without the need to be physically present in a showroom. Other connected, autonomous, and shared mobility trends are also driving the change in retail practices to align with the buying habits of a more tech-savvy consumer.
However, improving customer experience in line with expectations is now the biggest reason OEMs are transforming their retail models. MSX industry analysis reveals that most young car buyers are likely to buy their next car online.
Across all industries, customers now expect an omni-channel retail journey in which they have a seamless experience across both online and offline touchpoints. Car manufacturers have little choice but to provide a more convenient, personalized approach to engage customers and retain their loyalty.
Distribution of retail services today and in future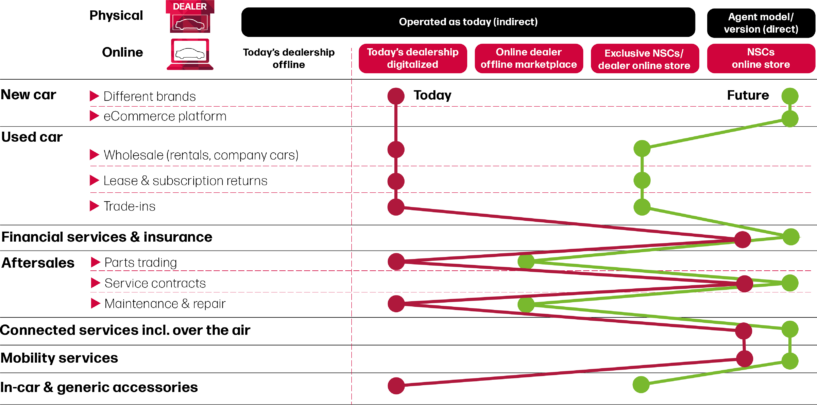 Source: MSX International
Distribution of retail services today and in future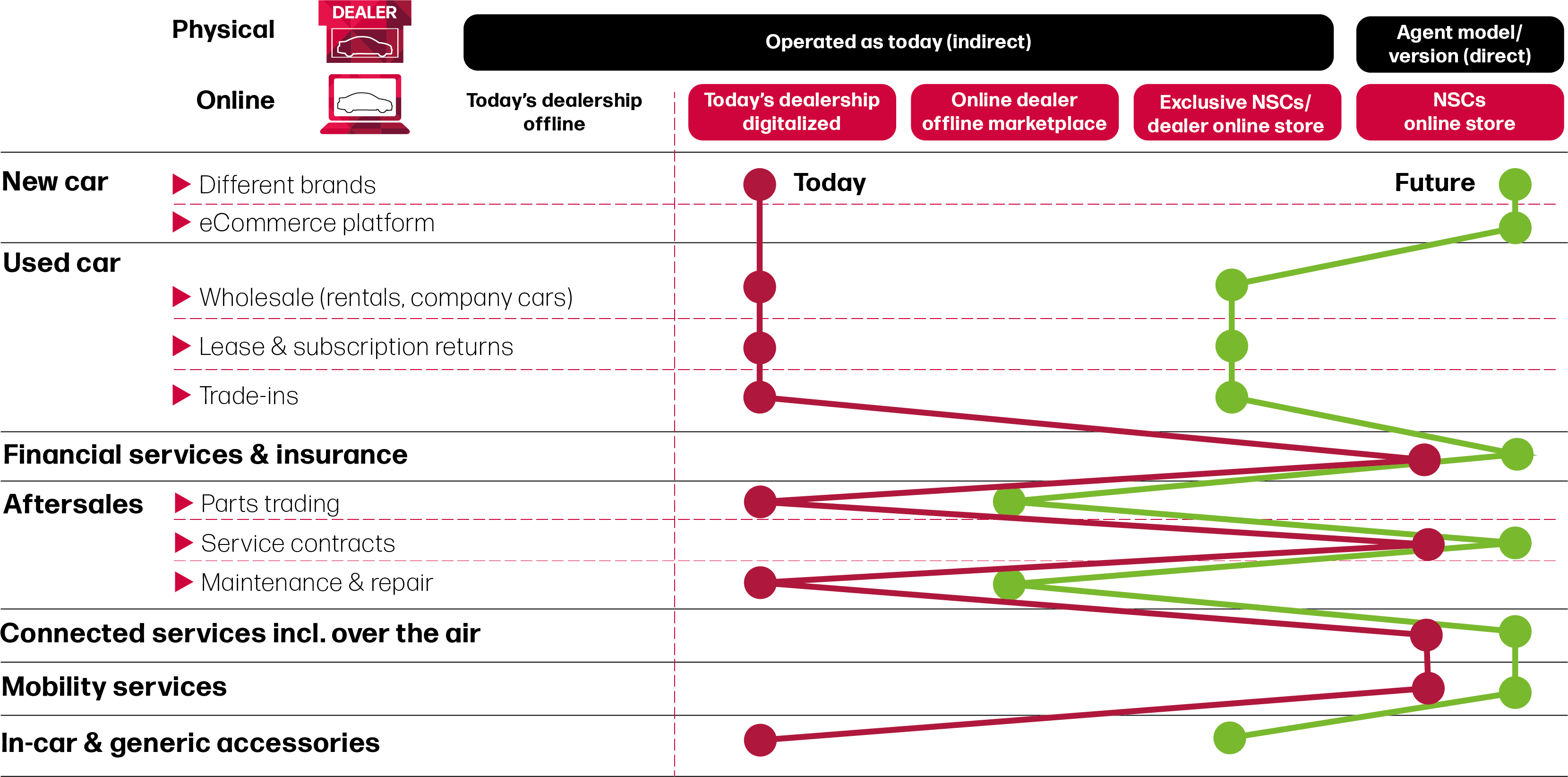 Source: MSX International
How OEMs are making the transition
The amount of activity an OEM will manage in its new retail model depends on multiple factors, from the region in which the business operates, to the type or quantity of product lines, and the customer demographic and its affinity with technology. OEMs' strategies will differ from those of disruptors – new entrants without legacy retail processes that need to be restructured. Some manufacturers will continue to work with partners who will take over responsibilities such as aftersales, but any level of new retail model will still require them to handle more than they have in the past. Proper business analysis that breaks down the management of aftersales, used cars, leasing, and insurance, is vital, as is the mapping of touchpoints and interactions. Most organizations are employing the help of experienced suppliers to help them choose the best models and deploy digital tools to aid their transformation in a way that's cost-effective and lean. It's a process than can take six months to a year with support, and significantly longer without.
The restructure of an OEM also involves a change of internal skill sets and an effective communication strategy to engage the internal organization and the retail network, defining individuals' roles in the business and the benefits of being part of it. The effective redesign of dealership to dealer agent and the reskilling of employees are vital to the success of the agency model, and their buy-in is essential. The effects on customer experience
Customers who prefer researching or purchasing products from home will experience fewer physical touchpoints, replaced by online options that mirror their retail experiences with those of other industries. The manufacturer must ensure that this process is seamless for the customer – ideally the customer doesn't need to know their interactions are no longer with the dealer but with the OEM itself. In fact, manufacturers have an opportunity to significantly improve the retail experience, not just by introducing an omni-channel experience, but by adding more convenience-led tools and by personalizing the journey with the help of data-driven processes.
Consumers who are more attuned to a change in the retail model may invariably have concerns about the quality of service an OEM can offer or the length of time they may have to wait for a response to an enquiry. The manufacturer's success in alleviating these concerns will depend on the flexibility of its communications. Whether customer interactions are carried out in person or virtually, OEMs will be obliged to deliver high-quality, accurate responses quickly, to reassure individuals and encourage them to complete the buying journey.
New retail models can mean that a vehicle's price will remain consistent, regardless of the channel the customer uses to purchase it. With many buyers still used to negotiating discounts on their vehicle purchases, OEMs must communicate to customers the benefits of fixed pricing. Buyers no longer need to haggle or shop around for the best price and can have confidence that the agent is available to support their needs, not to make a sale. OEMs must also carefully manage the timing, cross-border sales strategies, and competitive actions of each launch.
Adapting to new retail models – a phased approach for OEMs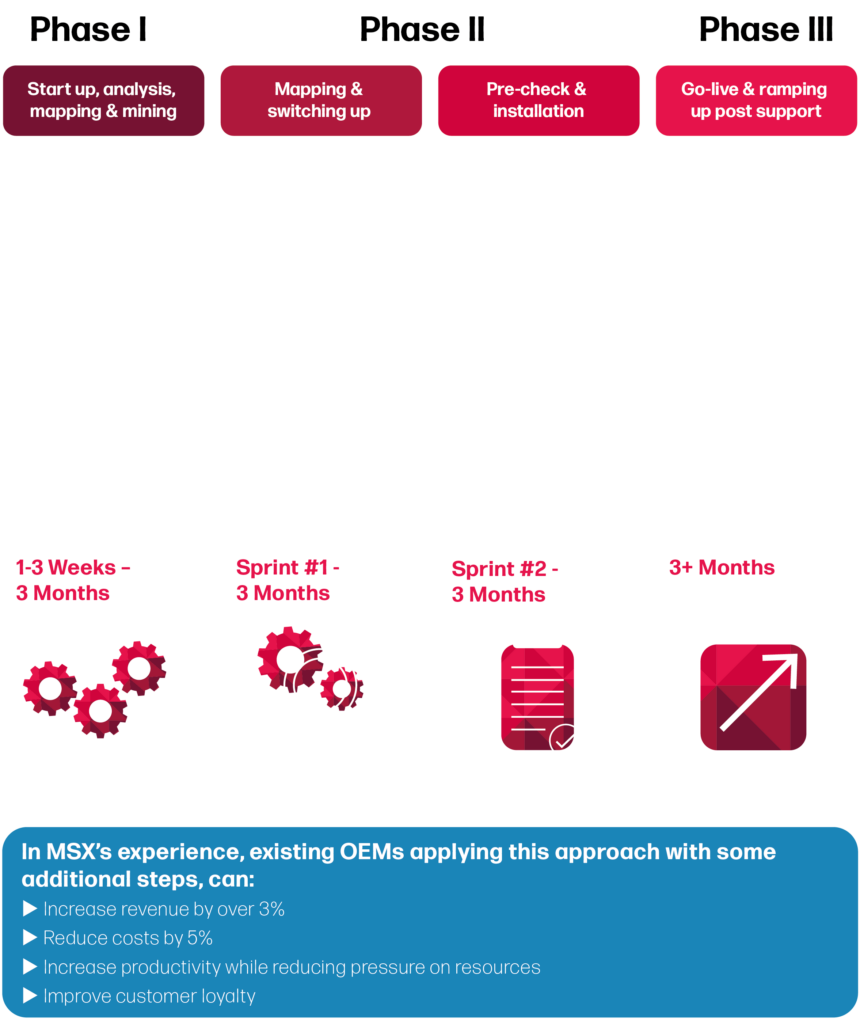 Source: MSX International
Adapting to new retail models – a phased approach for OEMs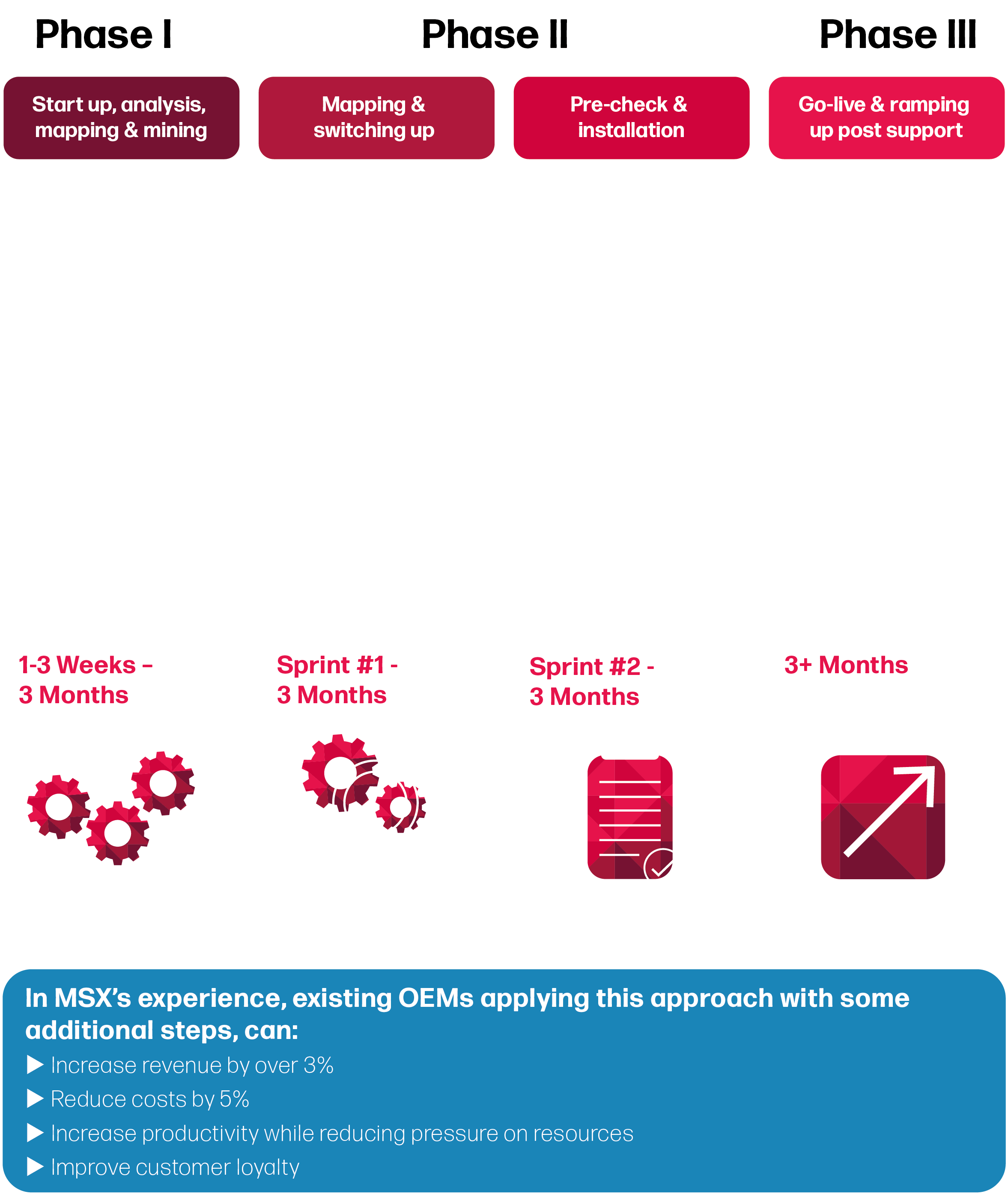 Source: MSX International
What new retail models mean for businesses
Over time, OEMs' investments in infrastructure, tools and training will pay off as businesses save on the significant structural costs of traditional retail models. But planning is key to success. It's crucial that OEMs who are adjusting their online/offline touchpoints and taking on more responsibility, map new processes across different departments and consider the needs of established internal hierarchies and functions. The process for new market players or newcomers will also vary.
Only by getting the planning right can the business improve the speed of transactions and promote products and services consistently across markets, managing the customer experience to a standard that best represents the quality of the brand. It can reduce structural costs, but still guarantee the profitability of the partners within its network.
Meanwhile, the new responsibilities internally and across dealerships will evolve with the introduction of new job titles and skill sets that help connect the employee to the brand and expand the scope of their roles. An agent's interaction with customers will be transformed from one that primarily pushes products and services on them, to one that's focused on providing professional, personalized support and on building relationships that have the potential to last a lifetime. But this is a complex transformation that will take the right balance of interactive processes and timing – a challenge that can only be met with dedicated resources, the right skills, and experience.
About the Author:
Dirk Bott
Vice President, Global Sales Operations
Dirk joined MSX International in May 2012. He oversees global sales and contributes to the growth of large OEM key accounts such as BMW, Mercedes, VW Group, Geely Group and others. In his 20 years' experience, prior to his engagement at MSX, he held different VP roles at European OEMs in sales, product, MI, training and strategy in regions that include China, USA, Europe and globally. Dirk can be reached at dbott@msxi.com.