MSX International & Paddy O'Brien launch: MRA – The Car Dealer's Game Changer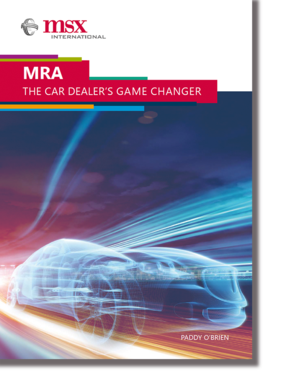 This book aims to inspire today's modern car dealers to re-think their approach, based on a proven, simple, and sophisticated performance model – developed from real-life businesses.
April 1st, 2019 – MSX International, a leading global business process outsourcing company, is delighted to announce the launch of MRA – The Car Dealer's Game Changer (The MRA book), written by automotive industry veteran Paddy O'Brien.Automotive retail businesses that constantly succeed, are those that generate healthy and consistent returns over time. In the book, MRA – The Car Dealers Game Changer, the reader discovers a unique way of recognizing and driving key elements within their business model that maximize profitability on their returns, which matter most to the sophisticated investor.Through careful examination and analysis of successful car businesses' spanning five continents for more than thirty years, the author highlights three driving factors of profitability that most forcefully impact business results, known as MRA (Mix– Retained – Activity).Generally, the return's equation is interpreted in various ways around the globe, yet this book illustrates that by merely looking at the traditional return on sales (ROS) numbers, dealerships are dwarfing their optimum business outcome. Astute investors are far more focused on their return on capital employed (ROCE) or return on the assets (ROA) as a more accurate way of assessing results. This innovative MRA formula is surprisingly simplified in this book, while encouraging readers to follow 'world-class best practices' principle of putting science into motion in order to boost performance and improve revenue.The return on assets (ROA) concept employed in the MRA approach, measures and assesses business outcomes in a way that is significantly more beneficial. Key outcomes such as the return on assets (ROA) and the return on funds employed (ROFE) appeal to any investor that might show an interest in supercharged automotive retail results. The MRA model encourages dealers and investors to change their traditional approach to assessing the true value of an investment in automotive retail."The MRA model has proved to be instrumental for many auto retailers around the world and I am delighted that MSX International has the opportunity to present this book to the industry we have served for so many years. Surely, The MRA book can be of great value for dealers focusing on improving returns and operational performance – as well as for car manufacturers seeking to assess how sustainable their dealer network is in reality"
About MSX International 
Headquartered in Detroit (US) and Colchester (UK), MSX International (MSX) is a leading provider of technology-enabled business process outsourcing (BPO) services to OEMs in more than 80 countries. MSX's deep automotive industry expertise, combined with advanced data analytics and custom software solutions, improve the performance of automotive dealership networks by increasing revenue, reducing cost, and enhancing customer satisfaction. The company's broad BPO services suite supports OEMs across Warranty and Technical, Parts and Service, Channel Management, Customer Engagement, and Fleet and Mobility. MSXI employs more than 5,000 team members worldwide.
Press contact
Ioanna Dimopoulou
Head of Marketing, PR and Communication
Subscribe for latest news