Improve warranty management accuracy and efficiency with AI and automation

by Pasquale Aloi, Global Solutions Leader
In the world of automotive warranty management, two major innovations are reshaping the industry landscape: artificial intelligence (AI) and automation. These advanced technologies are revolutionizing the way we handle warranty processes, from start to finish. By streamlining and automating tasks, manufacturers can improve efficiency and accuracy, while AI-powered solutions provide valuable insights into warranty claims, enabling OEMs to make data-driven decisions. These powerful solutions not only impact warranty management but also influence other areas of automotive operations such as servicing and repairs, and vehicle design and development.
Embrace the complexities of warranty processing
While automotive warranty processing presents intricate challenges, further exacerbated by the rise in alternative powertrains, teams are actively embracing these complexities. As they navigate through multiple  IT legacy systems and disparate data sets, there's an opportunity for streamlining  operations, minimizing the risk of errors and gaining enhanced visibility into the dynamic landscape of warranty processing. The following graphic demonstrates how a change in the claim selection process can significantly increase savings.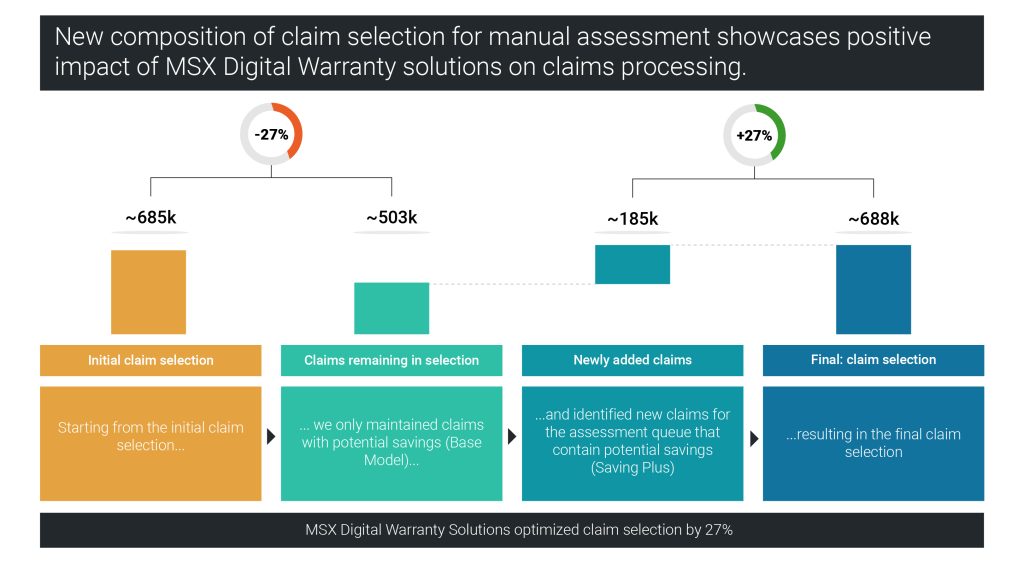 In the example above, 27% of the initial claim selection was identified as not producing any savings or not being a compliance risk, and therefore automated and removed from the assessment queue. The queue can now be topped up with a further 27% of newly added claims and repeat the process. This allows for significantly increased savings with the same number of claims, and with no investment from a human perspective.
We see between 20 and 40% of the claims not producing any savings or not being a compliance risk. And then we repopulate – So, you can see we go from 685K claims and we reduce 27% of their claims. But then we put 185k claims back into the system. So, the total number of claims reviewed is more or less the same, but we promised the OEM US $80 million of savings in three years. With the same number of claims, no investment from human perspective.
Unlock process optimization and compliance
While humans have limitations in terms of processing information and multitasking, digital warranty solutions offer invaluable assistance. By harnessing AI and automation, OEMs can handle more claims in less time and streamline warranty processes, enabling more accurate decision-making and enhancing overall operational performance.
The primary focus of OEMs when it comes to warranty management is compliance with their policies and procedures, ensuring repairs are performed as prescribed and maintaining the quality and reliability of their vehicles. But what is equally as important is achieving cost savings. Finding a more cost-effective solution to their warranty management helps OEMs improve profitability, enhance customer satisfactions and remain competitive.
Digital warranty solutions not only offer the compliance and cost-efficiency desired by most OEMs, but they can also help standardize the warranty approach at a global level, reducing variations and inconsistencies in warranty practices and enabling OEMs to gather and analyze warranty-related data which can be used to support better decision-making and help identify trends, patterns and potential areas for improvement.
Optimize efficiency and achieve savings with AI
With millions of claims to process, OEMs can select only a limited number for manual review. Identifying those that generate savings or lack compliance can be difficult. An AI-driven claims assessing tool uses algorithms to score all incoming claims according to criteria such as potential savings and probability for deficiency or potential risk. It highlights the claims that will generate savings or are not compliant with the OEM's policies and procedures. The claims that are high risk are then sent for manual review, and the low-value, low-risk claims are selected for automated processing.
But implementing digital solutions alone won't achieve these results. Human knowledge of AI combined with automotive, warranty and technical expertise ensures that the algorithms are accurate and that the machine delivers accurate data. An integrated control agent continually reviews both the input and the output, conducting regular A/B testing on the algorithms and making any necessary changes to the criteria to ensure the tool continues to identify all claims with potential savings.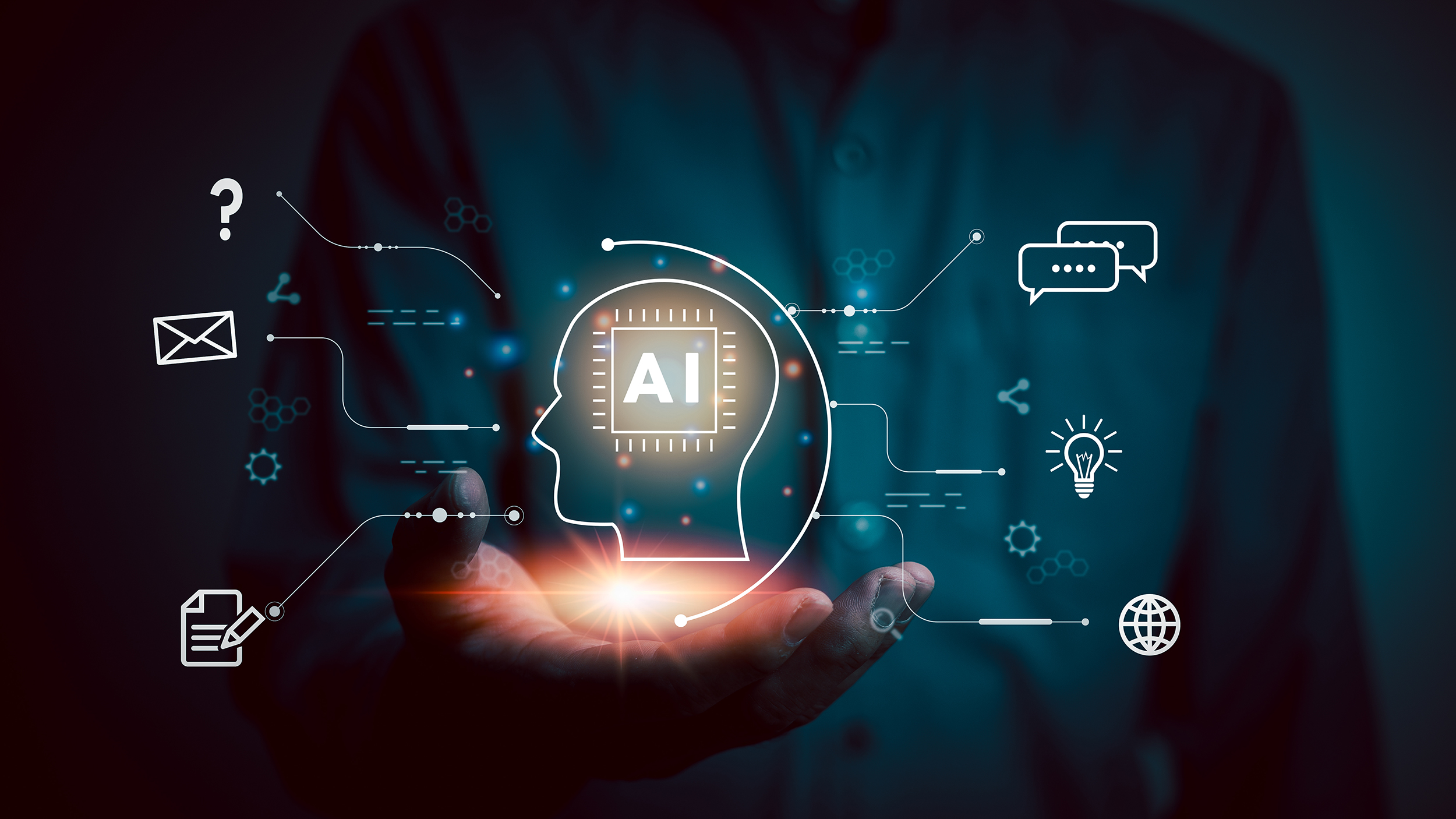 This model has the potential to considerably reduce an OEM's warranty spend. By reviewing and scoring all claims in real time, the solution can change the mix of manually processed and automated claims in the backlog, sending only those low-risk claims for automatic processing and maximizing potential savings.
Leverage automation for seamless claims processing
Introducing automation into your digital warranty solution helps deliver consistency at scale, ensuring that claims are treated in the same way regardless of who processes them, and providing the same experience to dealers across the network.
In addition to processing low-risk claims, automated tools can also handle smaller tasks within a claim assessment, such as repetitive actions or routine tasks. This ensures that agents remain focused on completing the tasks that require manual input, using their knowledge and skills to generate savings for the business. It also means that every single investment adds value to the organization.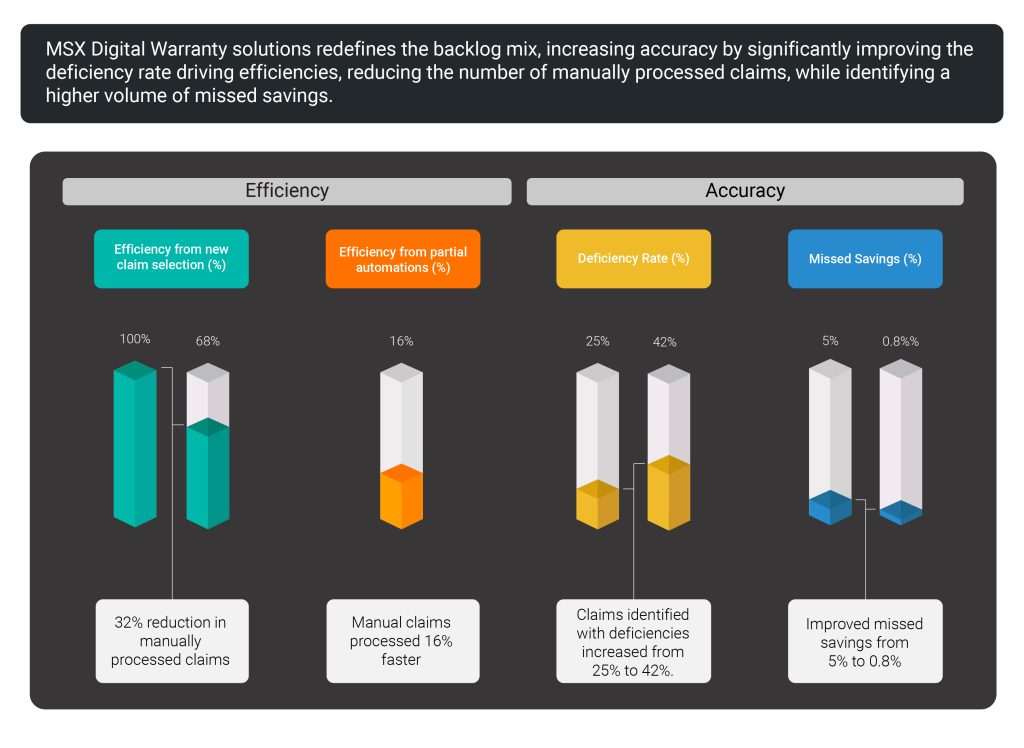 The above example shows how MSX was able to improve efficiency and accuracy with the introduction of automation. We reduced the number of manually processed claims by 32% and improved processing times for those manually processed claims by 16%. We also increased the percentage of claims identified with deficiencies from 25% to 42%, meaning that fewer claims with savings were missed.
We did a project with Peugeot Citroen and we identified a 16% improvement in efficiency, but unfortunately, we didn't have the time to develop the automation perspective further, so we could go higher than 16% and say we can achieved between 15 and 30% efficiency improvement with the introduction of automation. And this means making people more efficient, processing more claims, and just focusing on the right things to look at.
Harness data insights for continuous improvement
Digital warranty solutions not only improve warranty processing, but they also facilitate the gathering and analysis of warranty-related data. By monitoring the performance of a solution on an ongoing basis, results can be fed back into the integrated control agent module for further A/B testing, challenging new rules and fine-tuning the algorithms for additional product enhancement.
These solutions can also find areas for improvement and identify emerging trends and patterns, sharing actionable insights with the network for continuous development and helping define strategies based on the needs of the industry.
MSX Digital Warranty and Repair Efficiency solutions can help brands take control of their warranty operations, increasing efficiency, reducing processing times, and accelerating warranty claim decisions. Through the introduction of AI and automation, we can generate real value for businesses by cutting the cost of warranty claims handling and auditing, improving accuracy, and reducing warranty waste. By lowering claim processing times, we also help businesses increase customer and partner satisfaction.
For more information on our Digital Warranty solutions, get in touch today.
About the Author:
Pasquale Aloi
Global Solutions Leader
Pasquale is Global Solutions Leader of the Warranty and Repair Efficiency Value Stream at MSX International. He manages the day-to-day warranty offering for MSX, driving solutions to a new level of excellence.

Pasquale has worked in roles within MSX for 15 years, including his most recent position as BPO Solutions Manager. His deep passion for the automotive industry and strong interest in data analytics enable Pasquale to identify opportunities for improvement, and he works alongside the organization's sales and operational teams helping them add value to a growing client base. He can be reached at paloi@msxi.com.