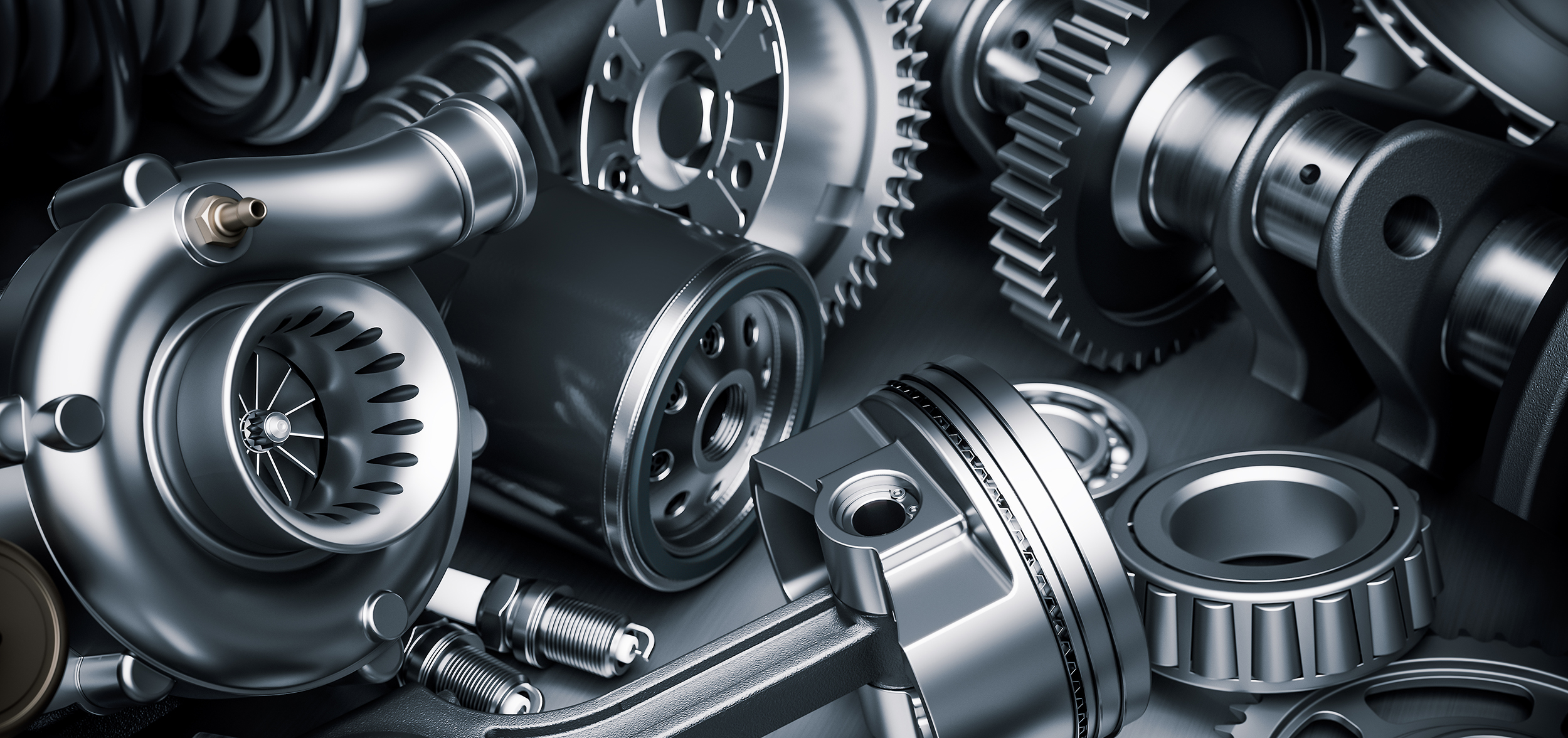 Exploring new opportunities in the wholesale parts industry

by Rikard Asbjornsen, Global Solutions Leader, Fleet Readiness – Parts & Accessories Distribution
Many wholesale parts businesses have already experienced challenges driven by the rapid advancement and adoption of electric vehicles (EVs). But despite the number of EVs on the road starting to rise, there is still a substantial ICE vehicle parc, presenting huge opportunities for wholesale parts. Brands are developing strategies to maximize that opportunity and to get the most out of the existing, and still growing, ICE and hybrid parc.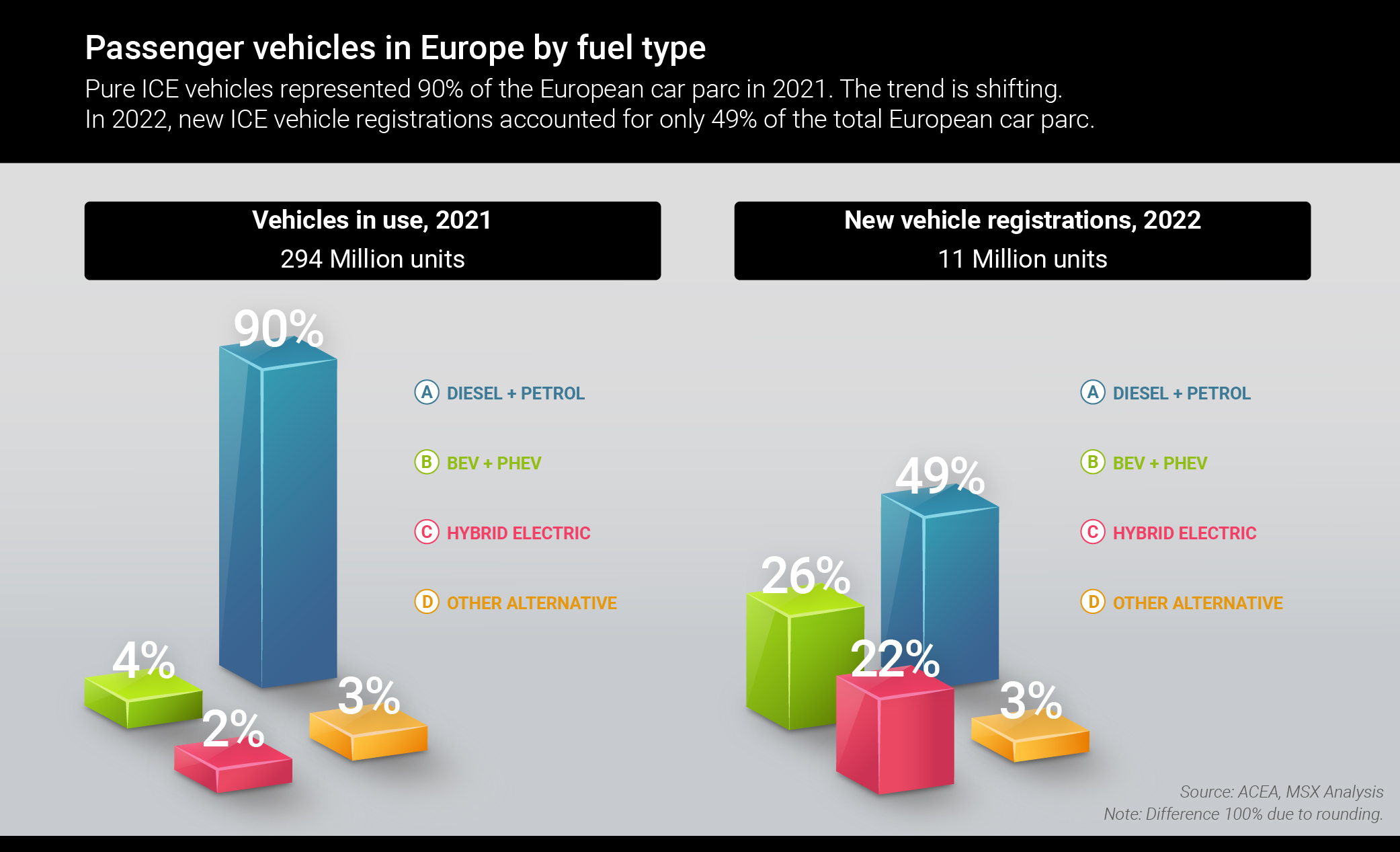 Unveiling the untapped potential of customer retention
Customer-centricity remains paramount, particularly given that customers often opt for independent repairers post-warranty, driven by cost considerations. Recent research supports this trend, revealing cost as the primary driver for consumers choosing aftermarket servicing, while many also feel dealerships are perceived to have a higher level of workmanship and trust. In many markets, there is legislation that states vehicle owners don't have to take their vehicle to the main dealer for repairs at all. Providing the independent repairer fits parts of an equal quality, then the warranty is still covered. But by pinpointing the areas where sales are declining and identifying new opportunities, OEMs can attract drivers back into their networks for servicing and maintenance needs.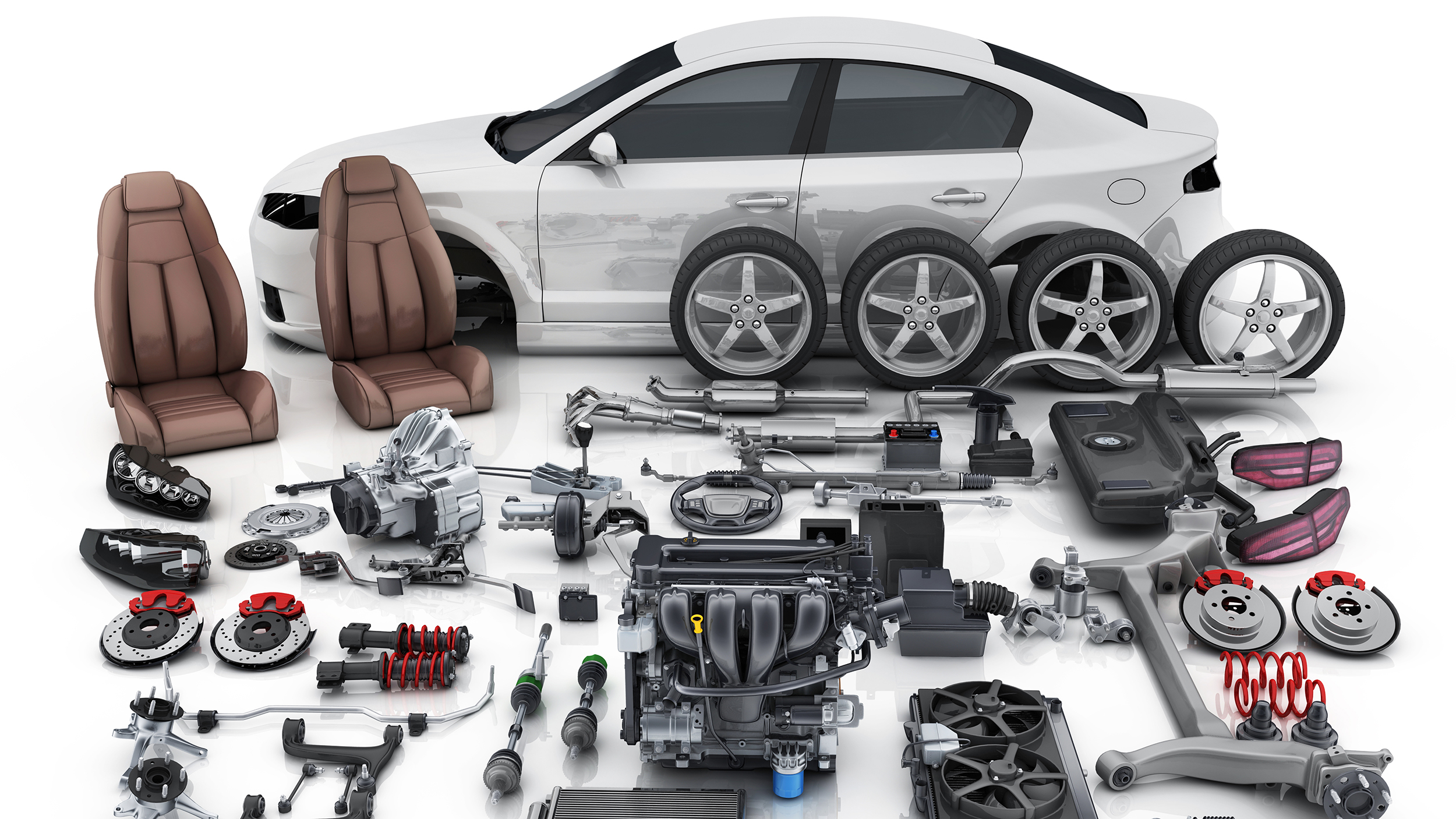 The challenge intensifies with subsequent vehicle owners who may have bought their vehicle from an independent used car dealer and therefore lack dealer affiliations. Losing these customers to the independent repairer network means that the vehicles are no longer being fitted with OE parts and those parts sales are being lost. This creates further opportunities for franchised dealers to increase their penetration of OE parts in the independent network so that at the very least, they can ensure the vehicles being lost from the dealer network are still being fitted with parts sold by the OEM.
Combating the independent wholesaler
Networks of independent wholesalers from all over the world joining forces to supply parts to independent repairers, further strengthening the competition for OEMs. For example, Amazon Business provides a platform for businesses to connect with suppliers, utilizing its innovative tools and successful ecommerce platform to help simplify their buying processes.
The foundation of a successful independent wholesaler hinges on four simple factors – ease of ordering, availability, a delivery schedule to fit their needs, and competitive pricing. These four factors will determine whether an independent repairer buys from them or someone else. Unlike a franchise dealer, independent wholesales offer a wide range of parts for multiple brands meaning that independent repairers can order parts for multiple brands with one phone call and receive them in one single delivery.
Many also have a range of added value services to help their customers repair vehicles and to build customer loyalty. This includes training, business advice, marketing support, specialist tools and technical information. And this well organized, growing network of independent organizations that are designed with the independent repairers needs in mind is creating increased competition for OEMs.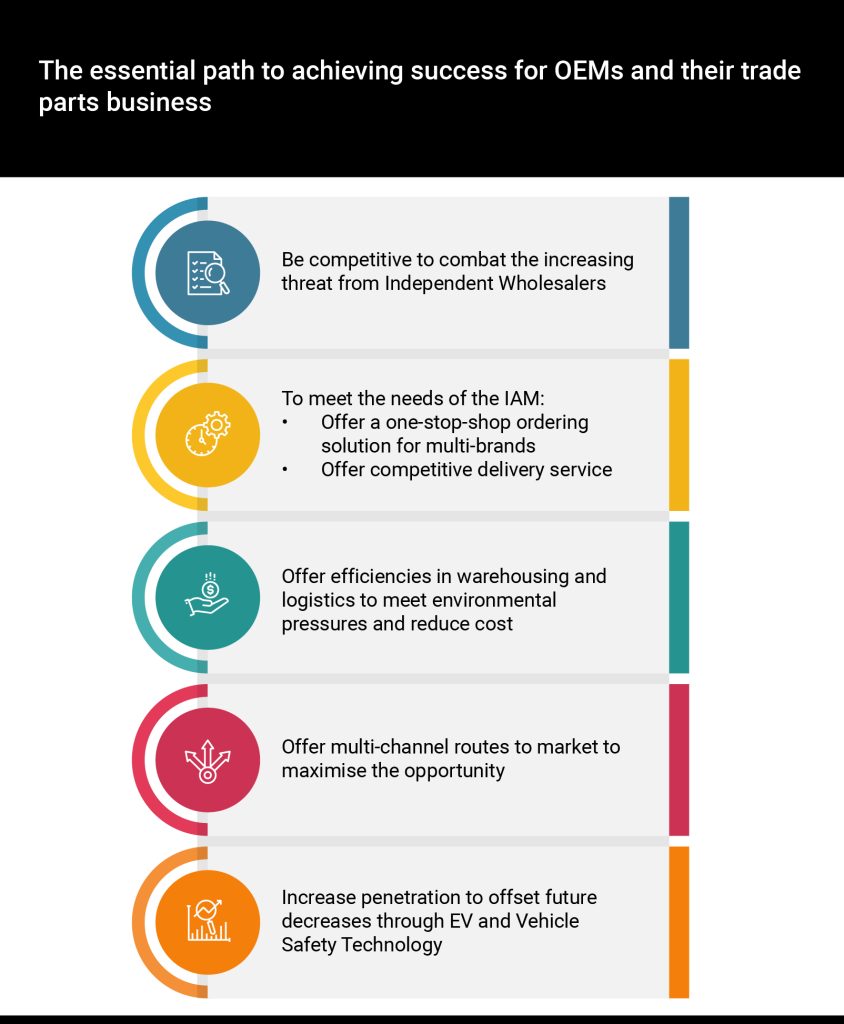 Developing a successful partnership
But, there's a significant advantage that OEMs hold over independent wholesalers – they can offer OE parts. It's industry recognized that independent repairers prefer to fit original parts because they're quality assured and guaranteed to fit first time. And while parts pricing certainly has a role to play, it is often the service offerings that better align with their needs that prompt customers to seek parts from alternative sources.
This opens up a world of new opportunities for OEMs to offer additional services and improve their partnership with independent repairers. By introducing an efficient and effective ordering system, be it dedicated phone lines with prompt pick-up or an e-commerce platform that includes a stock availability function, customers can easily place their orders online. Additionally, a dynamic distribution strategy aims to ensure that repairers can get the parts when they need them. To further complete with the independent network of parts wholesalers, OEMs should aim to offer a range of delivery options to meet customer's needs, including regular delivery schedules, or through mobility-as-a service (MaaS) providers for ad hoc and express deliveries, which, despite being more costly, would offer a superior service. Ensuring stock profiles meet the needs of the trade business will also put dealers in a good place with independent repairers. And lastly, offering competitive pricing adds another layer of advantage. However, previous studies conducted by MSX examining IMT Trade Parts business revealed that independent repairers value the quality and assurance provided by genuine OE parts and acknowledge the associated price premium, with 46.8% of all respondents willing to pay an average of 10-20% more for OE parts compared to non-genuine alternatives, concluding that OEMs do not necessarily need to lower their pricing to match that of independent wholesalers.
A one-stop shop for Independent Repairers
Despite having all these factors in place, independent repairers still have to place multiple orders to source the parts they need for each brand of vehicle they have in for repair. Even multi-franchise dealers can still have dedicated ordering systems for each brand.
The ultimate solution will see OEM brands join together to provide a one-stop shop to independent repairers, offering a selection of branded OE parts through a single, central contact center. By introducing this single point of contact, OEMs can still distribute parts from their existing warehouses through a combined logistics network and fulfil a customer's order in one delivery.
Transform a department into a dedicated business unit
Currently, most trade parts businesses are managed at a departmental level within a franchise dealer, in the same way as a service or a new car sales department operates. To further capitalize on this area of the business, dealers could separate out their trade business and create a distinct business unit within the organization that allows them to operate independently, with a dedicated sales function specifically for trade parts.
In addition to establishing the team structure, the introduction of a variety of value-added services, such as specialized tools or a technical hotline for independent repairers, not only assists dealers in cultivating strong relationships but also opens avenues for engaging with customers and effectively promoting their trade parts enterprise.
A dedicated sales team will allow dealers to proactively enhance their trade parts business. This involves examining upcoming service appointments and identifying opportunities for upselling. However, many retailers are currently ill-equipped to execute this strategy. Substantial staff retraining and restructuring will be necessary to effectively transition the department into a wholesale parts enterprise.
The need for a unified approach
Today, the point in which a customer switches from the OE network to an independent repairer is fairly evident. And under European legislation, OEMs must provide independent network access to technical repair methodology, although this often incurs a fee. In addition to the cost of the technical repair methodology, specialist equipment and tools are often needed to repair a particular brand of vehicle, and many independent repairers are finding themselves with insufficient volume to justify the investment needed.
To further optimize these opportunities, OEMs could look to franchise their brand and officially sanction independent repairers, making them part of the brand's network as a secondary repairer network. This will offer customers many of the advantages of visiting a dealer but at a lower price point. Once a new car customer leaves the dealer network, they would take their vehicle to the specialist independent repairer who would be approved by the brand to fit original parts. The brand would provide training, tooling and quality control, and the independent repairer must comply with certain standards and regular quality audits. This collaboration has huge advantages for all involved, keeping the trade parts sales within the dealer organization and enhancing the marketing opportunities for the independent repairer who will offer original parts and identify themselves as a brand specialist.
We're already seeing this collaboration from some OEMs, and it's also prevalent in the collision repair industry, as outlined in a recent article by fleetforward.com , titled 'EVs Save on Maintenance, What About Collision Repairs?'. The article explores how collision repair technicians are partnering with strategic service partners to help with diagnostic and reprogramming tools, further demonstrating the strategy's potential to succeed and greatly benefit all involved in the servicing and repairs arena.