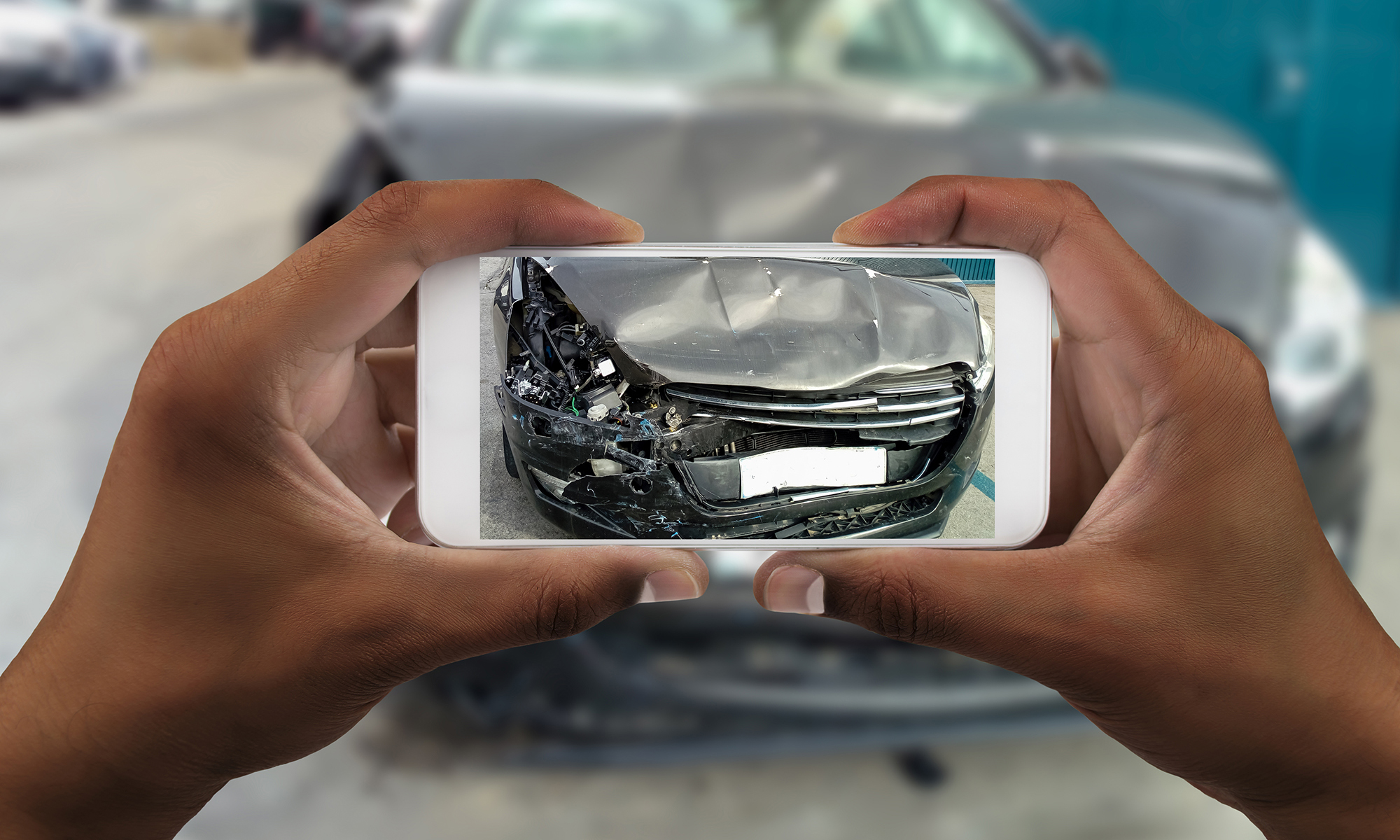 A case for genuine parts: Combating the decline in collision repair revenue

The global pandemic has left the collision repair industry with diminished repair volumes, and increased cost pressure from insurers has led to insolvency and network consolidation. In a recent MSX podcast, automotive experts discussed the collision repair industry outlook and how OEMs can address the downward trend in the use of genuine parts.
The experts are Andy Mills, Global Product Director of Parts and Service, MSX; Tony Bartlett, Senior UK Account Manager, MSX; Paul Collins, Collision Development Manager, MSX; Glyn Jones, Group Estimating Manager at KC Autos; and Pablo Linares, Director of Solutions Consulting and Innovation, GT Motive.
The article below summarizes their discussion. You can also listen to the full podcast here.
"Many OEMs are exploring the green parts sector more closely, with a view to taking an active involvement in this area of parts distribution. Some are putting their own green parts solutions in place, usually in partnership with salvage and supply businesses."
An industry reeling from disruption
The global pandemic has profoundly affected the collision sector. With drivers spending less time on the roads, there are fewer accidents or vehicles needing repair. Meanwhile, drivers have responded to financial uncertainty or unemployment fears by deferring even the smallest repairs needed to their vehicles to save money.
Today, more than a year after COVID-19 first made headlines, the sharp decline in business continues to cause financial stress for collision repairers. There has been little reprieve for independent businesses, but even the larger networks have suffered irreparable losses, including UK chain Nationwide Accident Repair Services, which was forced into administration in late 2020.
Classed by governments as essential services, repair outlets are allowed to remain open throughout lockdowns. However, the MSX Crash Repair Barometer – published in conjunction with Solera – shows the volume of repair estimates fell by nearly 80% on a year-on-year basis in the UK at the height of the pandemic. Many businesses with multiple branches were forced to close several of their sites, order books diminished significantly and bodyshops were forced to make employees redundant. Fortunately for the industry, the latest Crash Repair Barometer shows collision repair estimate volumes are now approaching 80% of pre-COVID-19 levels in Q2 2021.
The effects of COVID-19 on the European aftermarket in 2020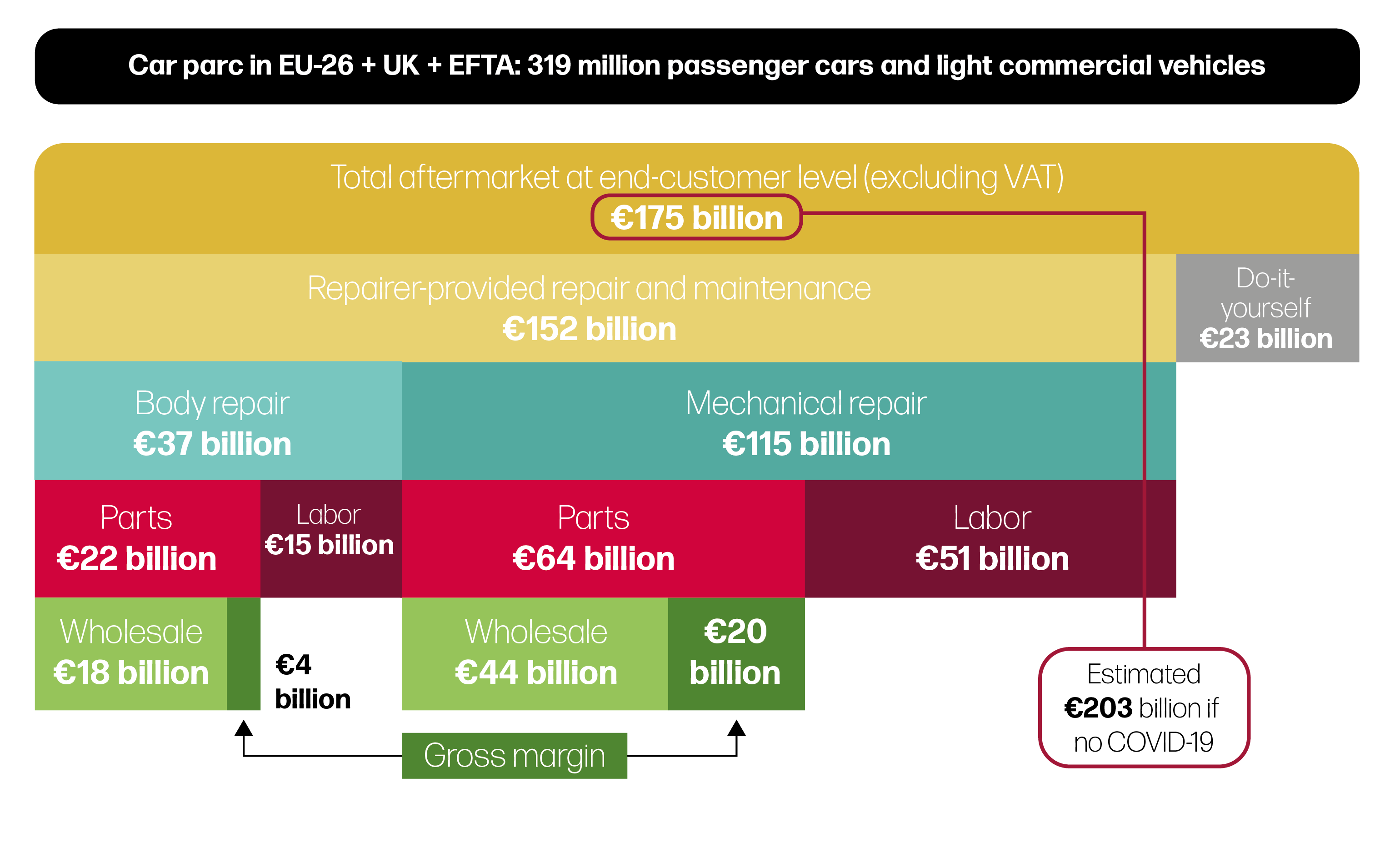 Source: ICDP estimates and interviews, ACEA
Insurers face unmitigated change
The effects of the crisis on insurers have been mixed. Reduced journey volumes and accidents have, for some, created a windfall benefit, with repair savings running into billions of euros, according to ICDP research.
Many insurers have responded to the pandemic by introducing customer retention-based initiatives, alongside cost and efficiency measures and a renewed focus on strengthening repairer relationships. They have chosen to repair vehicles above standard repair thresholds, contributing to a fall in total loss claims and helping to keep more vehicles on the road. But they have also continued to push the repair networks to reduce the cost of labor and parts.
However, already under pressure due to factors such as price comparison sites, insurers have needed to review their premiums. Policyholders are driving less, meaning mileage calculations are inaccurate, and insurers are having to refund the difference. Meanwhile, organizations offering multiple insurance products have had to pay business interruption insurance to companies forced to cease business during the pandemic, offsetting some of the gains made from reduced accident claims.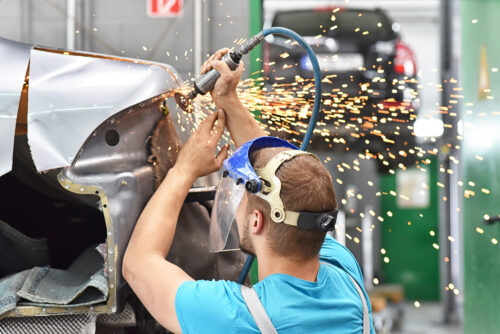 Genuine parts substitution
The bodyshops that have remained open throughout the pandemic have experienced real challenges in getting the parts they need through their normal dealer supply channels. Franchise dealer closures have, at times, led to acute delays and shortages in the supply of genuine parts. In one instance, MSX directly intervened to help a large UK bodyshop group that was unable to complete repairs to 260 vehicles for a manufacturer because it couldn't access the parts through the normal channels.
In contrast, the supply of competitive products from aftermarket parts distributors has been affected less, and these businesses have used the pandemic to strengthen bodyshop customer relationships.
In response, repair businesses are replacing a larger proportion of parts with non-OE parts to try and sustain margins. For OEMs, this trend has become a huge challenge during the pandemic. Manufacturers with solid parts programs that include strong collision strategies have weathered the storm better than others.
Percentage of consumers delaying regular vehicle maintenance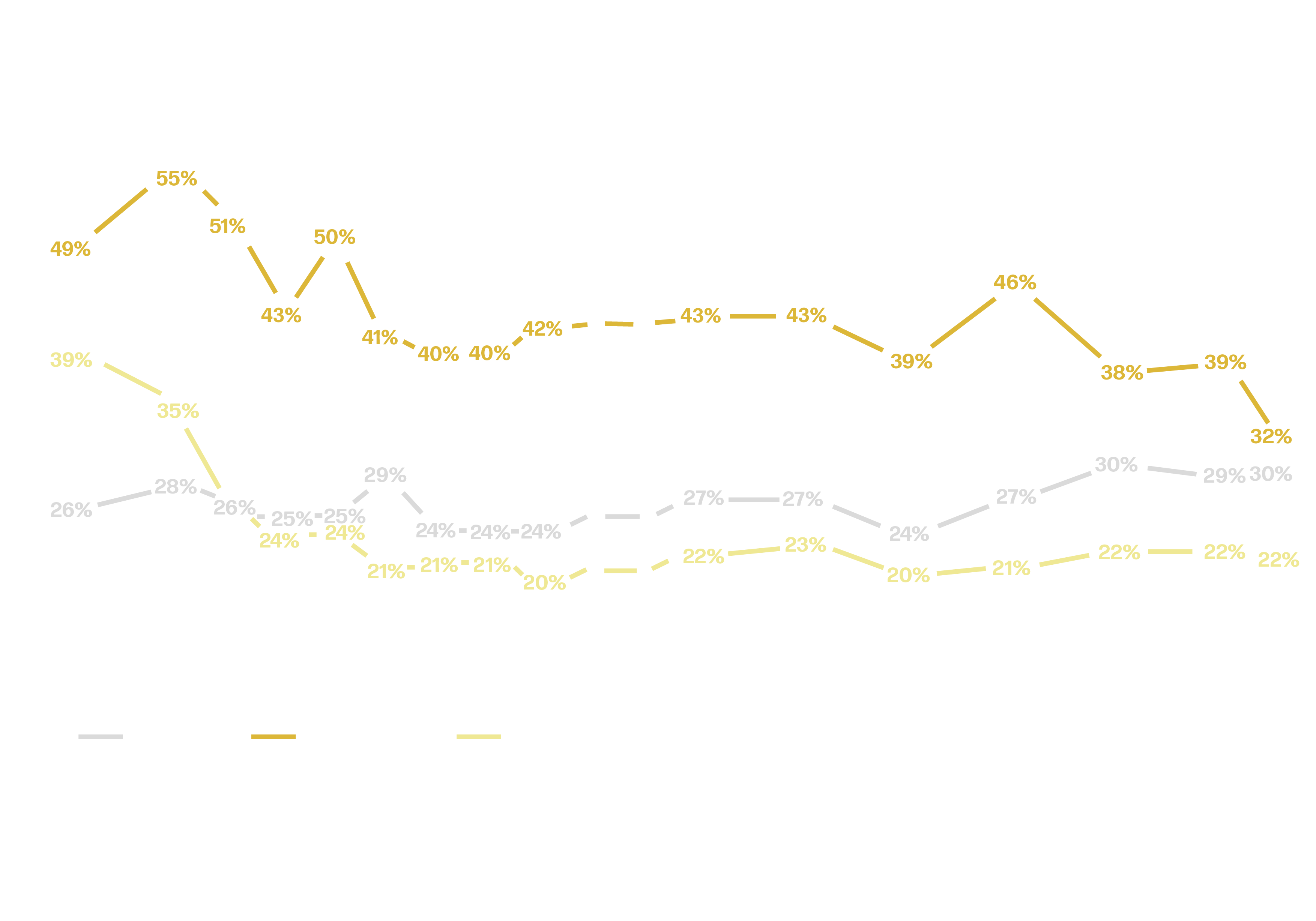 Source: MSX Analysis, Deloitte State of the Consumer Tracker, LMC Automotive Personal Vehicle Parc, Q1 2021​
Recovery from crisis
COVID-19 is not the only factor driving change in the collision repair business. The pandemic has accelerated other pre-existing trends that have influenced the market for some time. According to the ICDP report, the introduction of Advanced Driver Assistance Systems (ADAS), such as automatic braking, has so far only had a very modest impact on collision repair claims. Studies predict that the market for these systems will grow significantly in the decade ahead, with a more significant impact on collision volumes.
COVID-19 has also prompted the increased use of recycled, reused parts, generically known as green parts. Many insurance companies now champion the use of green parts as a way of reducing the cost of repair, and the volume of recycled parts used in crash repair has risen accordingly. Green parts have come a long way in the last few years, with professional businesses becoming involved in salvaging and supply. Other big players, such as Euro Car Parts, now offer a green parts range.
Many OEMs are exploring the green parts sector more closely, with a view to taking an active involvement in this area of parts distribution. Some are putting their own green parts solutions in place, usually in partnership with salvage and supply businesses. And, of course, OEMs can help manage green parts availability through the calibration of total loss avoidance programs.
Generating new opportunities
As lockdowns ease and the automotive industry slowly returns to normal, it remains unclear as to whether accident volumes will fully return to pre-pandemic levels. This uncertainty, alongside the squeeze on parts and labor budgets and the growing ADAS market, will contribute to more intense competition in the sourcing of collision repair parts.
Traditionally, OEMs have used wholesale parts programs and targeted substitution and total loss avoidance programs to promote the fitment of genuine parts at bodyshops. These programs are now more important than ever, and can increase efficiency and reduce costs, meaning insurers, bodyshops and customers all benefit from the use of genuine parts.
But OEMs need to go further. The growth of the green parts market means OEMS should explore ways to embrace this opportunity, such as by introducing green parts offerings to complement their existing parts ranges. And by investing in well-managed, manufacturer-approved programs, OEMs can also avoid the loss of parts revenue on the collision repairs of newer vehicles.
About the Author:
Andrew Mills
Director, Parts and Service
Andy is an economics graduate and qualified management accountant. He joined Impetus Automotive in 1998 and built its software development, insight and analytics services. As a consultant, Andy has delivered high-profile assignments for OEMs including BMW, VW and JLR. In 2019, Andy became responsible for the Global Technology Services division of MSX, and is now Parts and Service Product Director, responsible for launching digital product initiatives that deliver profitable parts sales growth for OEMs. He can be reached at amills@msxi-euro.com.