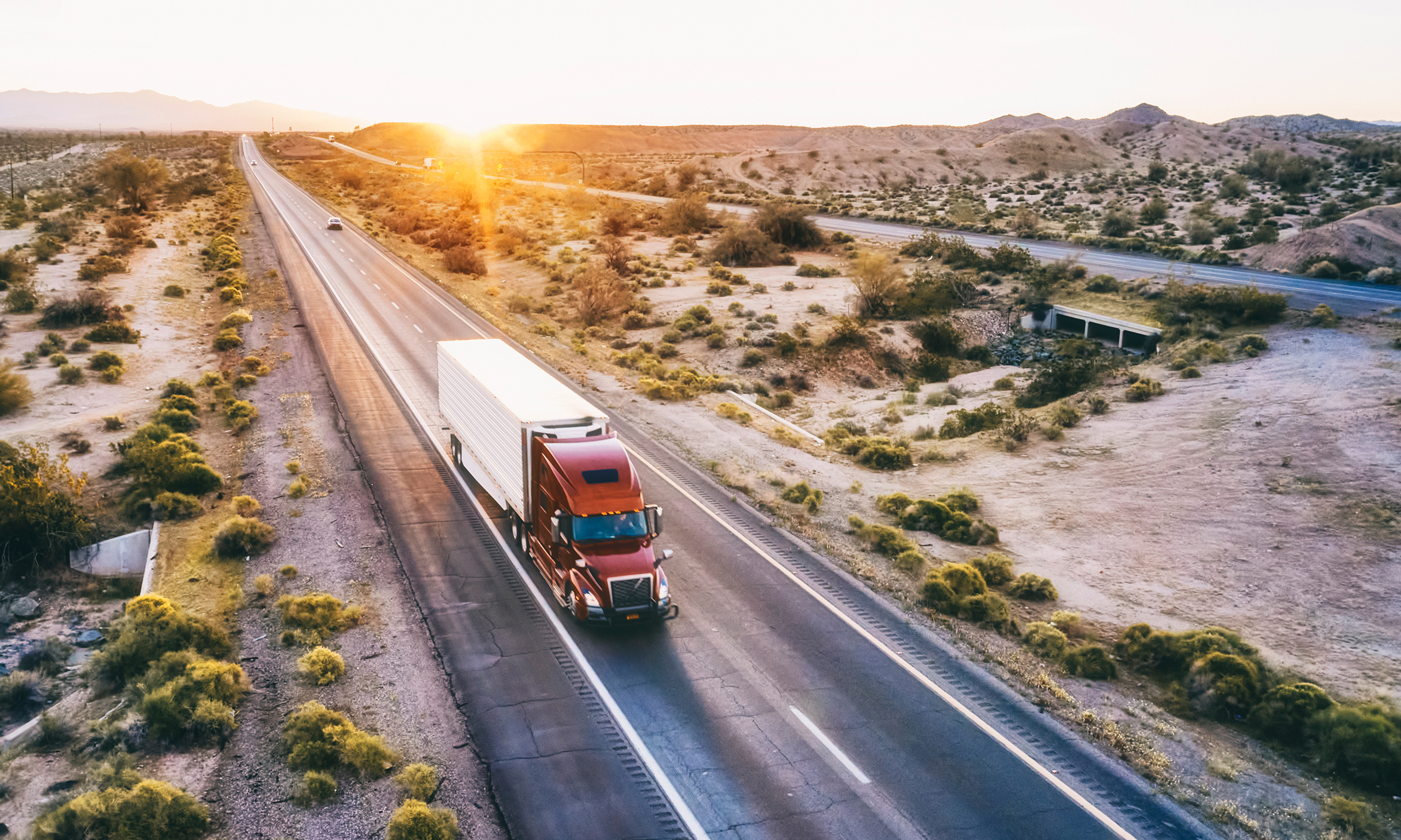 Innovation in trucking: Lowering TCO for a sustainable fleet future
For businesses in the heavy goods vehicle industry, maintaining a low total cost of ownership (TCO) is crucial. Variables such as fuel economy, maintenance and operational costs can significantly impact profit. Fleet companies must be more discerning than ever when it comes to the brands they choose, not just in terms of purchase price and vehicle quality and robustness, but also in terms of the long-term services that manufacturers can offer.
TCO relates to more than just the running costs of the vehicle. It applies to efficiency and the amount of time the truck is on the road – its uptime. Businesses must minimize the time it stops for maintenance and repair, extending its operational life to boost productivity and generate the most profit.
"Electric mobility is a growing trend in the truck sector, and its potential to solve many of today's challenges is extensive, especially in markets where EV infrastructure is relatively well established."
Dedicated solutions that improve uptime
The need for lower TCO in the heavy commercial vehicle industry has inspired the development of many technologies that are now used across the entire automotive sector. Brands are working more closely with fleet businesses to optimize the availability of their vehicles by introducing artificial intelligence (AI) solutions designed to boost efficiency and uptime. AI can be used to measure the optimum interval between services to keep the vehicle running smoothly and minimize the number of times it needs to stop. Proactive maintenance of this kind reduces the chances of more costly breakdowns or technical problems that take longer to repair.
In the past, diagnostics offerings only provided comprehensive information about a vehicle when it arrived in the workshop. But today, fleet businesses are relying more on telematics solutions which use live vehicle data to enable fleet businesses to manage their resources in real time. Fleet managers can now diagnose vehicle issues remotely, direct the truck to the nearest dealer, and notify technicians before the vehicle arrives, significantly reducing the time spent in the workshop. Some brands and their dealer networks provide express lanes in their workshops for fleet trucks. Others offer dedicated workshops where a specialized team of technicians – similar to a pit crew at a racetrack – repairs and discharges the vehicle as quickly as possible.
Telematics data can provide businesses with information about the driving habits of employees and vehicle efficiency. It helps them plan the most profitable and fuel-efficient route, using the vehicle's GPS data and reporting software to measure timings at stopping points and reduce unplanned stops. Some brands are offering specialized solutions to meet the specific needs of their fleet customers. Volvo Trucks, for example, offers Dynafleet services, which can be accessed through its Volvo Connect Portal, enabling the customer to view data such as location, fuel consumption, emissions and vehicle status. And Daimler Truck's Fleetboard offers fleet businesses intelligent connectivity, including performance analysis and driving and rest times. These types of solutions also help customers improve their operational performance by enabling them to load their vehicle more effectively, lower their mileage and boost returns.
Long haul heavy duty truck total cost of ownership forecast, Europe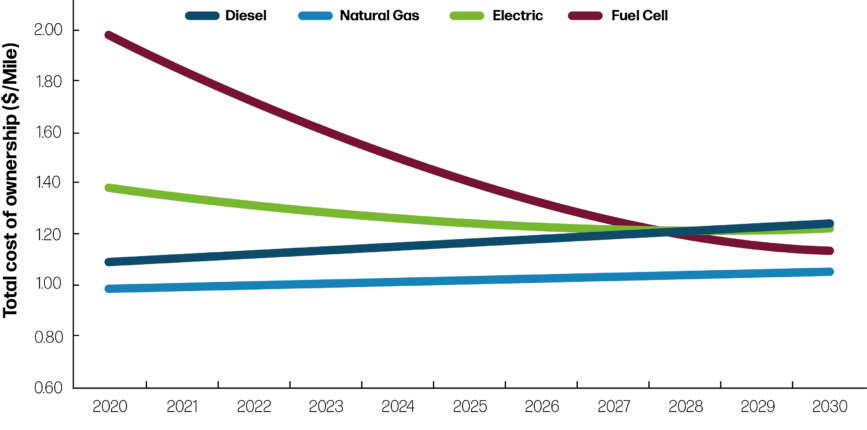 Long haul heavy duty truck total cost of ownership forecast, Europe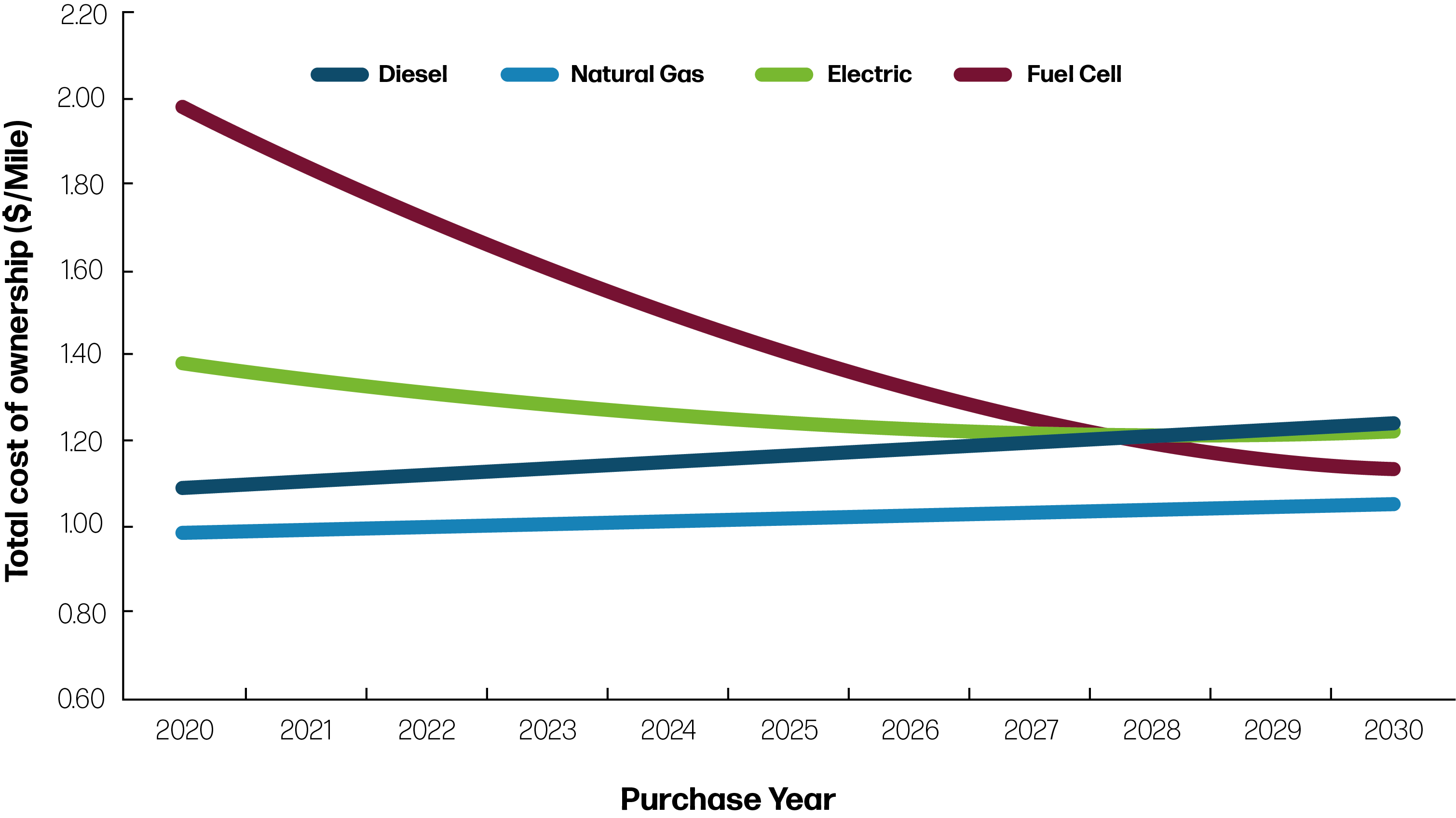 Connectivity for aftersales opportunities
Through in-vehicle connectivity, OEMs can now extend their aftersales focus from one vehicle being serviced in a workshop to an entire fleet of vehicles on the road. Many brands offer wi-fi agreements, enabling drivers to access live information and services on the go for a monthly fee. But this connectivity also provides many return benefits, giving OEMs access to valuable data about their customers' operations and helping bridge the communications void between the initial sale of the vehicle and the time it returns to a workshop for a service or repair. Brands can highlight deficiencies within fleet operations before they become more difficult to resolve, and gauge the best moment to introduce new products and services such as training or parts management.
Using connectivity tools, OEMs can manage and maintain more of the customer relationship directly, taking some of the pressure away from dealer networks. They can also adopt a more consultative approach, become more responsive, and tailor offerings to the specific needs of an individual fleet.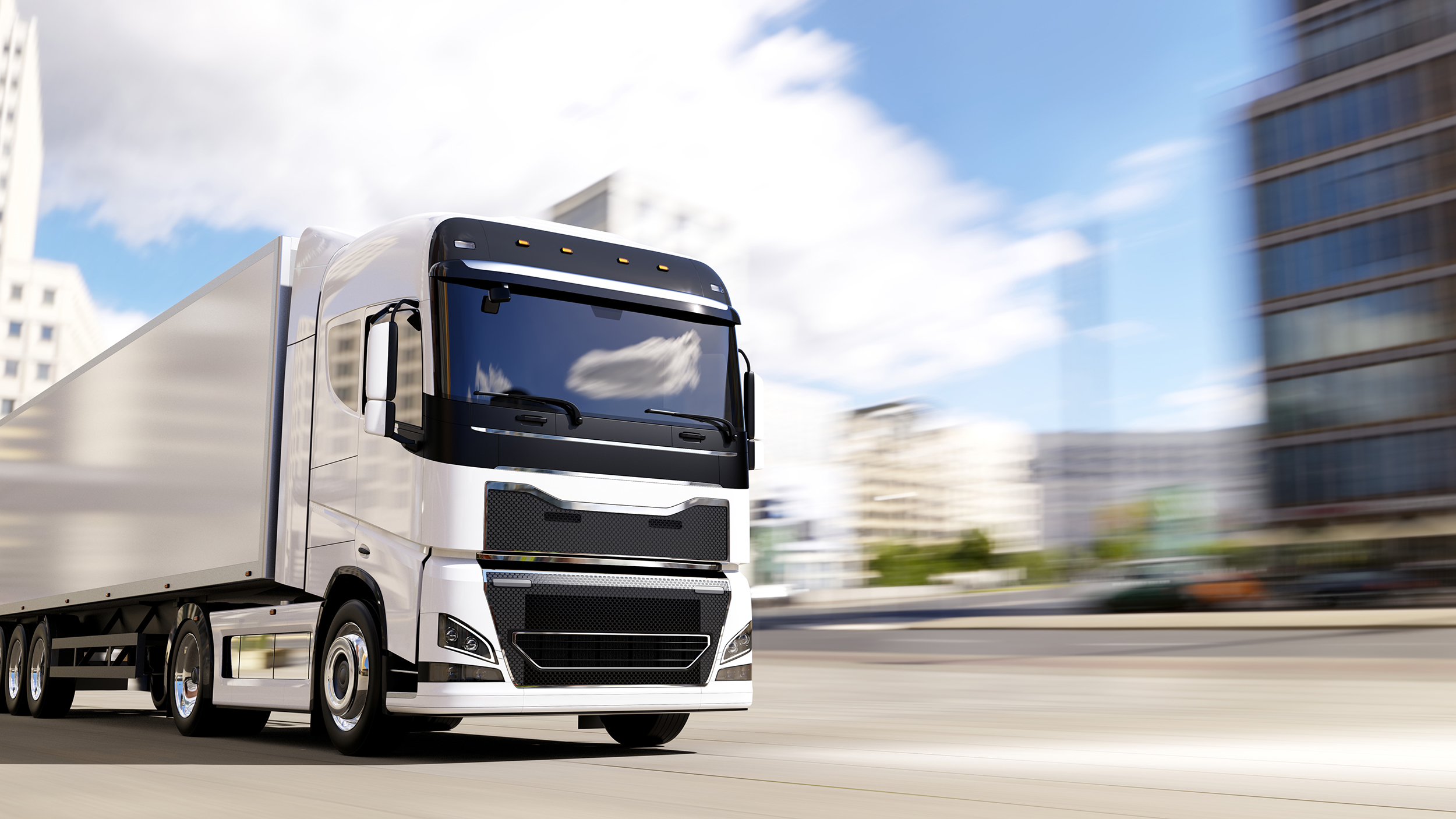 Global Connected Truck Telematics Opportunity, 2022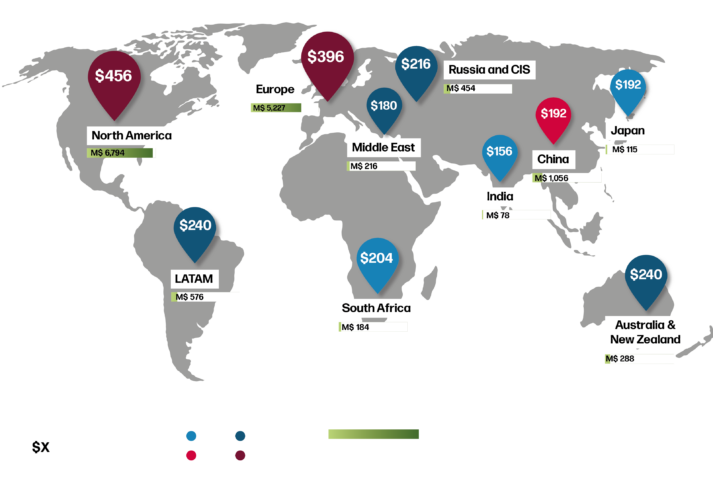 Source: MSX Visualization of Frost & Sullivan data
Global Connected Truck Telematics Opportunity, 2022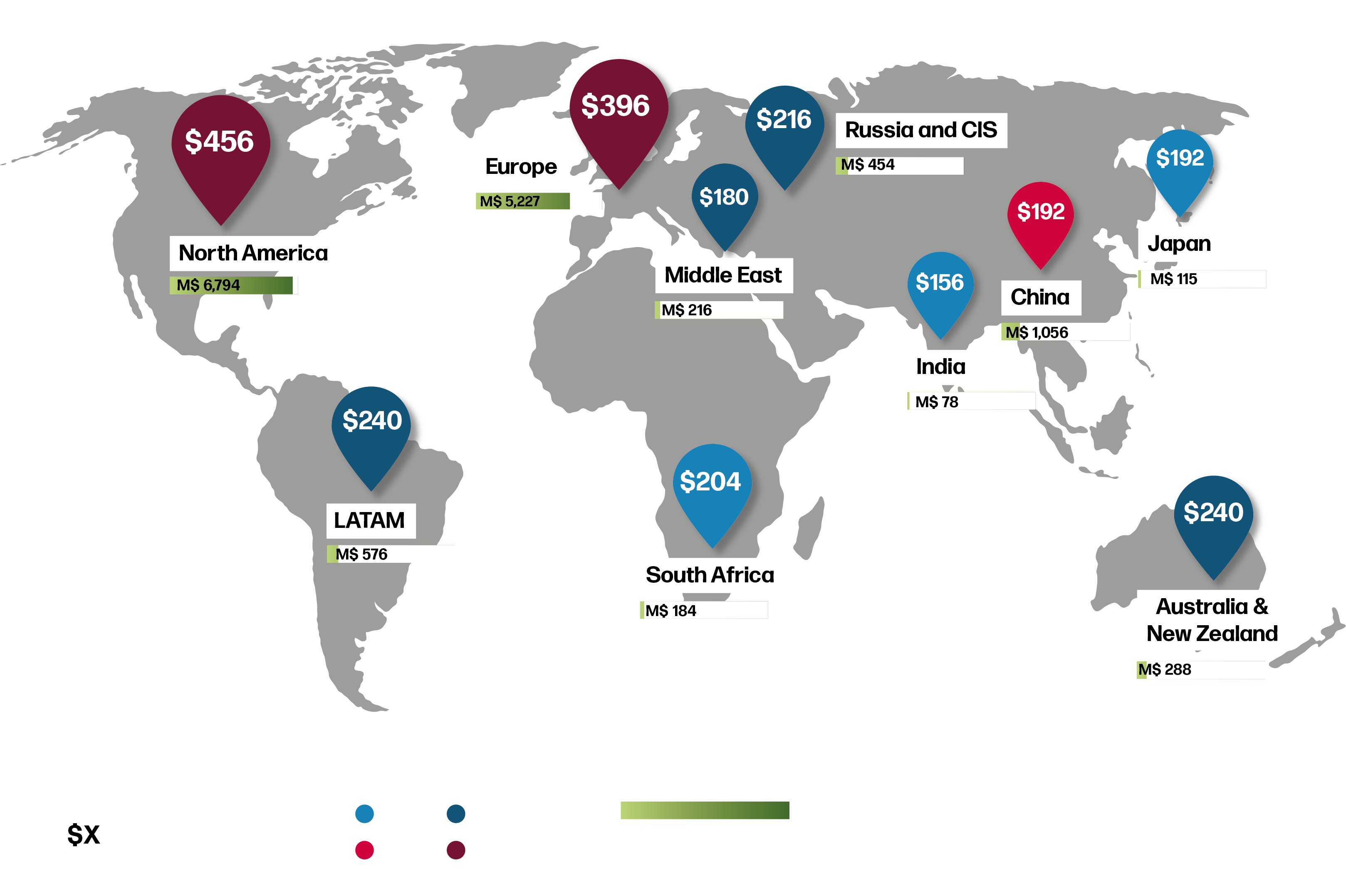 Source: MSX Visualization of Frost & Sullivan data
What's next for truck technology?
Electric mobility is a growing trend in the truck sector, and its potential to solve many of today's challenges is extensive, especially in markets where EV infrastructure is relatively well established. Many manufacturers are investing in battery technology, and other innovations in this area, such as conversion kits, are becoming more accessible. In Europe, sustainable mobility companies such as Pepper Motion are offering retrofit solutions for commercial vehicles which transform diesel trucks and buses to electric. In Australia, Janus, an electric truck maker, has debuted its first fully electric truck which will have a range of up to 600 km depending on the load. Its exchangeable batteries can be swapped in minutes at the company's 'Charge and Change' stations which will be located on major routes to coincide with drivers' scheduled breaks.
Some major fleet companies are driving growth and strengthening their businesses by consolidating or forming partnerships to broaden their reach or enhance their offerings. They can more easily acquire new technologies or pool their resources to invest in innovations or electric vehicle technologies that will help them operate more sustainably and cut costs.
While this is a major opportunity for brands developing EV offerings, there are still many challenges to overcome. A Canary Media report looking into emissions on US roads suggests that heavy trucks, which are responsible for the majority of medium and heavy-duty emissions, will be the slowest to transition to electric vehicles. For fleets, heavy goods EVs remain expensive to buy, and a lack of infrastructure is causing range anxiety for business owners and drivers. But there's little time for delay. In the EU, emissions regulations stipulate that by 2030, heavy duty vehicle emissions must be reduced by 30% from their 2019/2020 levels. OEMs are under increasing pressure to provide lower emission, fuel-efficient solutions to fleet companies.
As emissions regulations continue to be implemented, electric trucks will become the predominant means of urban freight transport, so technology is evolving fast and industry support is becoming more accessible. A recent US Department of Energy report suggests that by 2035, the majority of medium and heavy-duty electric trucks will be cheaper to buy, operate and maintain than diesel-powered trucks. Many OEMs who already have short-range urban trucks in operation, are now progressing to longer-haul production plans, with some models in operation or in trials around the world. Daimler Trucks has a long-haul vehicle, with a range of 500km, currently in development, expected to be ready for production in 2024. Meanwhile, in some markets, government grants or incentive schemes are helping fleet businesses to improve their own charging infrastructure to ease range issues and enable them to optimize routes.
To support fleet customers in their transition towards more sustainable operations, brands must offer solutions that extend far beyond the sale and maintenance of the vehicle itself to the entire customer experience. MSX is supporting OEMs by closing knowledge gaps in their services and helping them deliver future-proof opportunities that respond directly to the needs of truck fleets. Our global experts apply local knowledge and draw on decades of experience to form strategies that help OEMs build confidence, trust and loyalty with their fleet customers.
About the Authors:
Shawn Coyle
Vice President and Global Account Executive
Shawn joined MSX in December 2013 and is currently responsible for driving a global account strategy for MSX's largest customers and for developing and leading the Americas sales team to drive sales penetration and new business. Prior to joining MSX, Shawn served as the Senior Vice President of Manufacturer Relations at Penske Automotive Group (PAG) for five years as well as for Ford Motor Company, where he worked with the company's dealer network before moving into field strategy. Shawn can be reached at scoyle@msxi.com.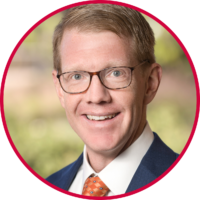 Marcelo Gomes
Operations Director, South America
Marcelo leads MSX operations in South America and Mexico, and is responsible for training, consulting, auditing, and BPO operations with a focus on customer results, service quality and team development. Marcelo has also held the roles of Account and Operations Manager, Project Coordinator and Process Consultant at MSX. He has a financial markets background and holds a degree in Marketing and an MBA in Business Intelligence, and is working on his MBA in Agile Methodologies. He can be reached at mgomes@msxi.com.