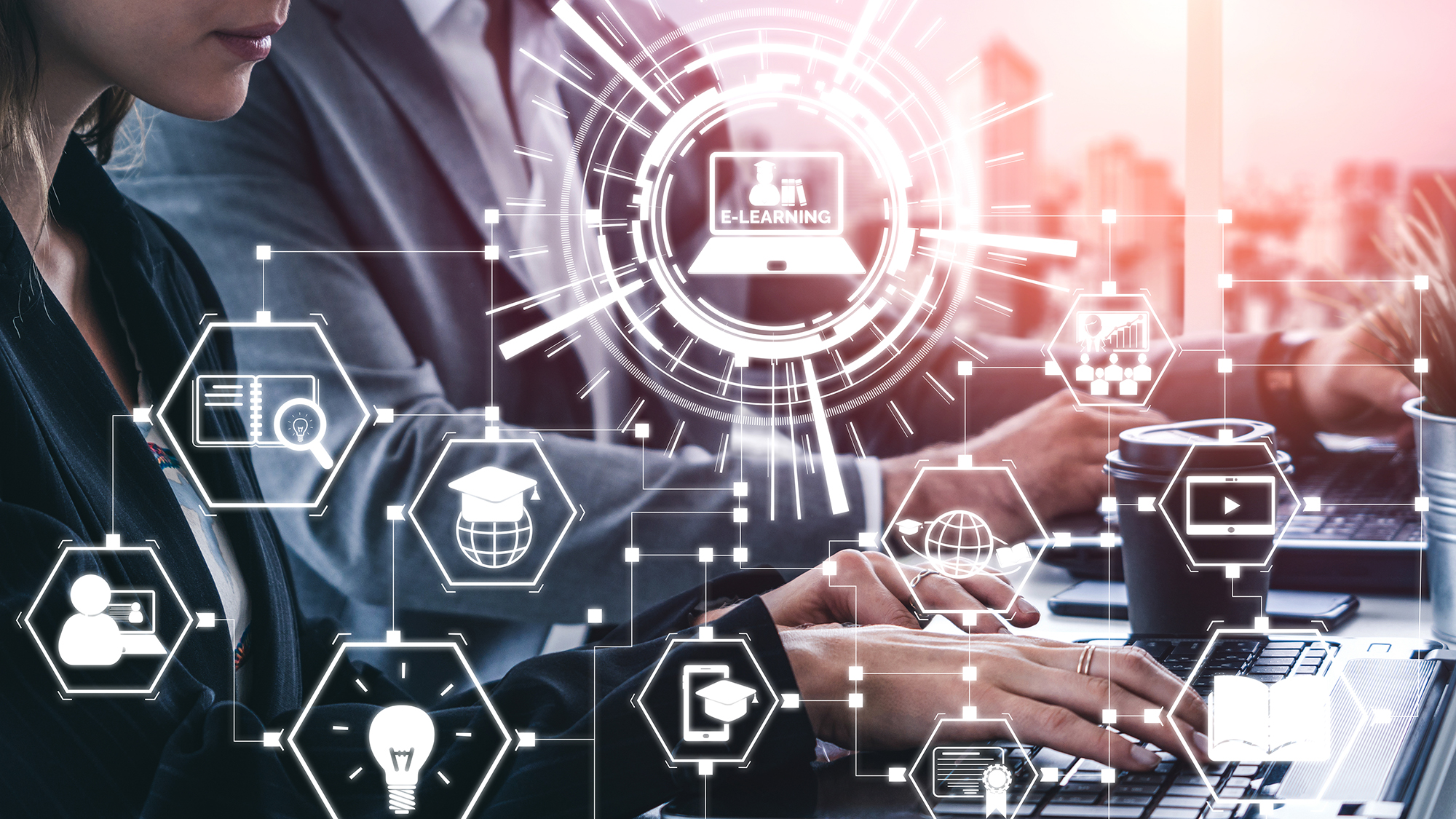 Flexible, remote models are redefining field management

Strong relationships and continuous interactions with dealers are essential to the success of an automotive OEM. Field operations are key in this relationship, providing commercial guidance and support aimed at increasing dealer performance. While they remain effective in many ways, onsite visits are less efficient from a cost and time-management perspective because field representatives may need to travel long distances to reach their stores.
COVID-19 has accelerated the need for OEMs to rethink how they connect with their dealers. While striving to help dealers achieve their performance goals, manufacturers also need to reduce costs to the business. One way they can achieve this is by reducing the number of onsite visits and providing support through centralized resources. Leveraging data and analytics, OEMs can monitor dealer performance closely, identifying the stores that are most in need and providing specific guidance.
"The creation of dedicated teams trained specifically to support and coach dealers remotely, ensures consistent communication at a cost that's significantly lower than that of a traditional field team."
Driving dealership performance
OEMs have access to most of their dealers' key metrics across all revenue streams. These metrics can be weighted based on their importance and aggregated into a performance index, which, in turn, can be used to cluster dealers into performance groups. The OEM can then establish the correct level of interaction with each dealer based on its performance group. High performers will require less guidance, while the dealers that struggle to achieve their objectives will need more attention.
An intervention strategy can be created to address the various levels of performance, allowing OEMs to deliver onsite interaction only where it is needed most. Alternative intervention methods, such as digital learning and remote coaching, complement the in-person visits, and can be directed at the entire dealership or at individual members of the dealer's team.
Digital learning helps instill the fundamental knowledge and skills required by front-line staff and dealer technicians. Digital tools can be used to apply and refine their expertise, helping to improve the consistency and delivery of training throughout the entire dealer network, while offering substantial cost savings. You can read more about digital learning on page 40.
Remote coaching provides continuous interaction between the dealers and a centralized – but dedicated – support team. It allows OEMs to streamline their field operations and offer frequent and consistent communication, helping them to respond quickly to industry, economic and social changes.
Continous improvement – sustainment
Digital field management leverages analytics and AI to amend dealership deficiencies with tailored improvement actions.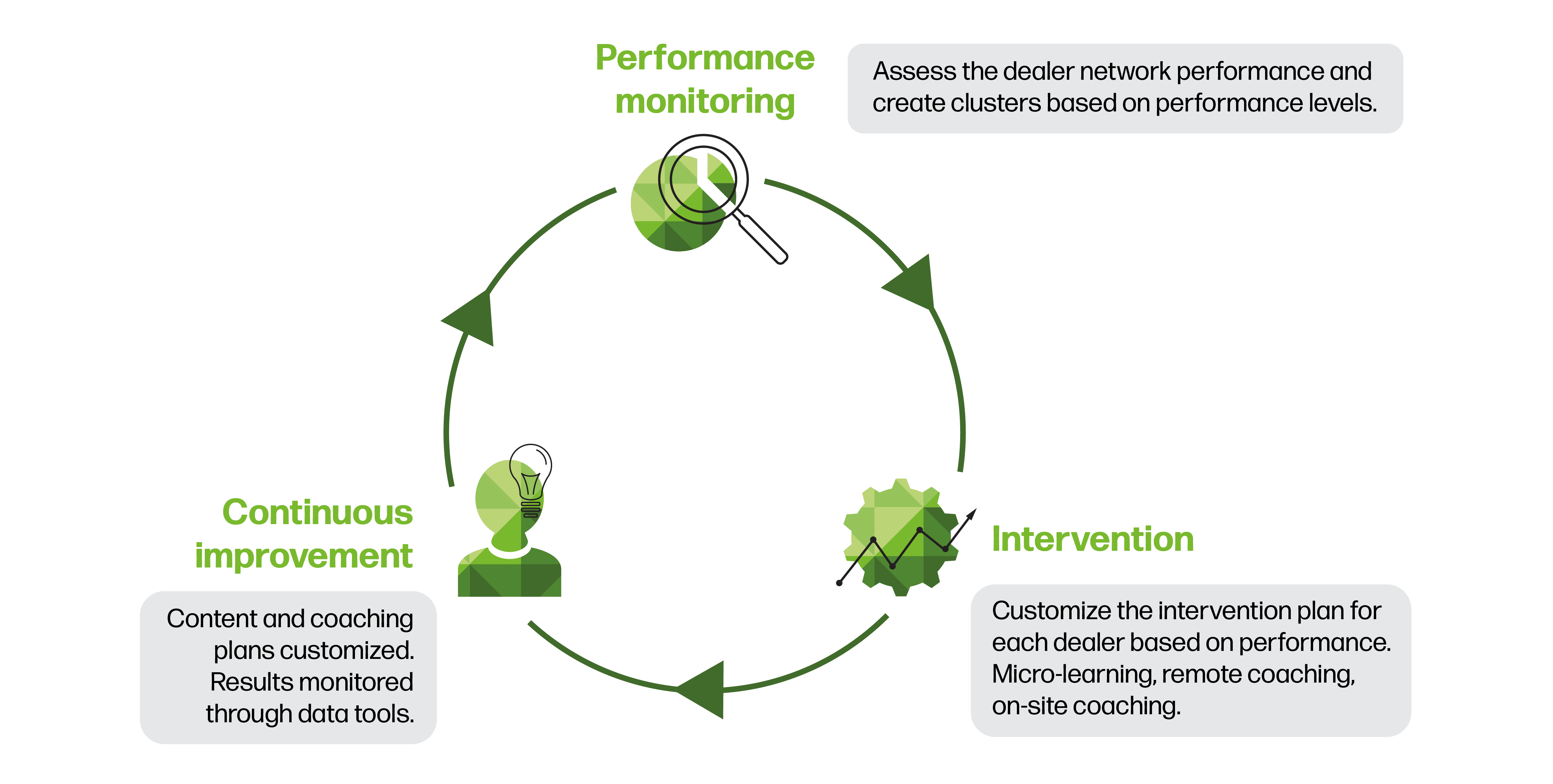 Improve performance with remote coaching
Traditional field representatives spend hours on the road travelling between dealers, counseling stores on how to improve their operations. But large teams of employees working in disparate locations across a dealer network are expensive and can sometimes lead to inconsistencies in support. Furthermore, to make the most of the time spent travelling, the duration of a dealer visit is usually quite long, requiring dealership personnel to drop what they're doing. This is disruptive to dealers' operations.
The creation of dedicated teams trained specifically to support and coach dealers remotely, ensures consistent communication at a cost that's significantly lower than that of a traditional field team. Meanwhile, the individual interaction with the dealer can be shorter and more frequent, helping to reduce disruption. More recently, the COVID-19 crisis has demonstrated the effectiveness of remote coaching in circumstances that restrict travel and face-to-face communications.
The remote coaching teams should operate in accordance with well-structured and clearly defined processes, focusing on three core objectives. The first is communication. Remote coaching bridges the gap between the OEM and the dealer network, providing OEMs with a channel for regular communication with their retailers. OEMs can define the key focus areas such as offers and promotions, program announcements, new product launches and new tools. The speed of communication improves dramatically because it is distributed from one central hub. Communications are also developed centrally, ensuring consistency across all dealers.
The second objective is performance improvement. Constant access to performance metrics allows coaches to identify areas that require attention and discuss opportunities for improvement with dealer managers. This leads to the development of action plans which can be monitored remotely and frequently.
The third objective addresses dealer concerns. The remote coach becomes an important resource in support of the dealer, acting as a liaison with the OEM and helping to address day-to-day concerns such as warranty-related queries and vehicle or parts orders. Remote coaching enables individual coaches to work more productively.
Digital field management – higher performance at a lower cost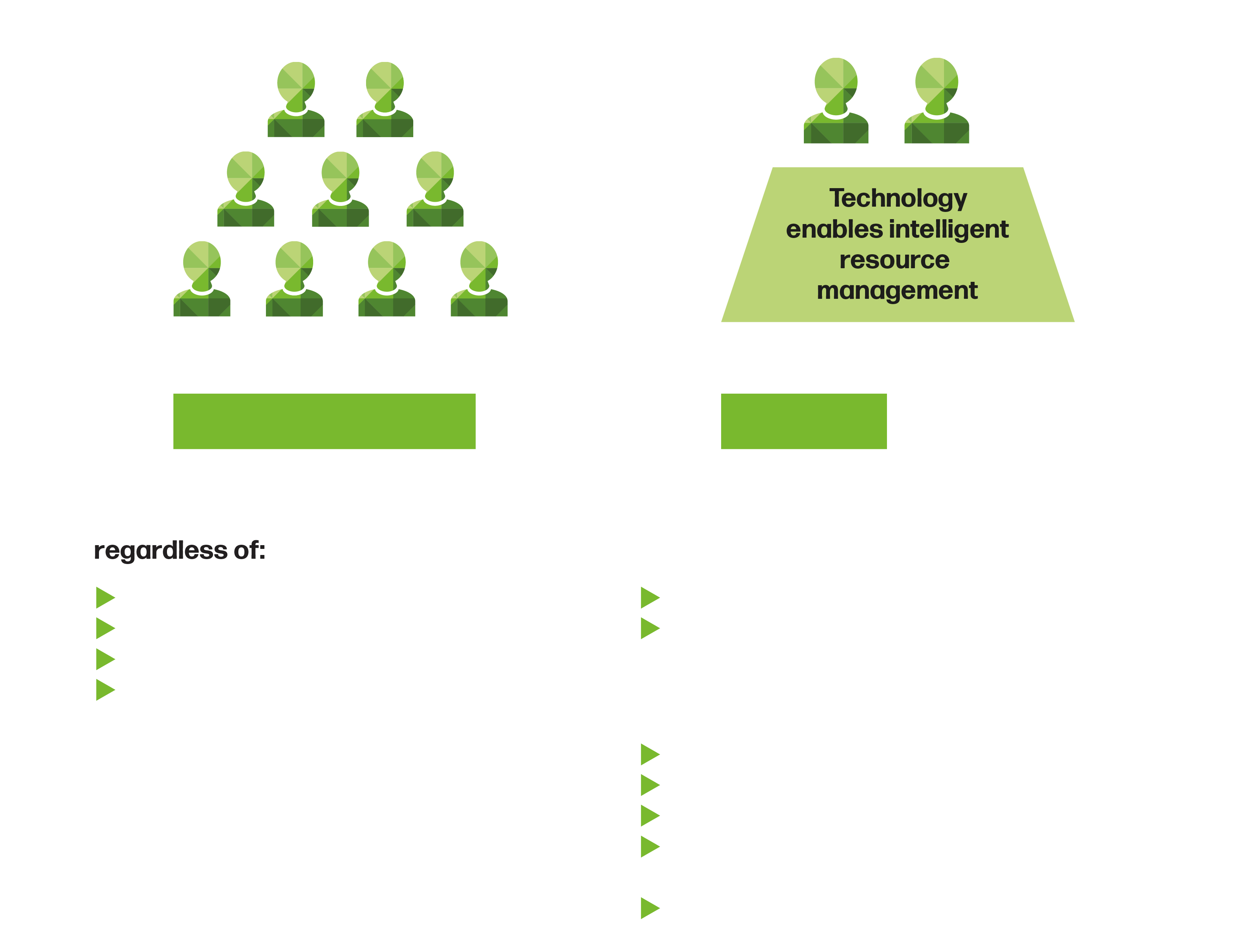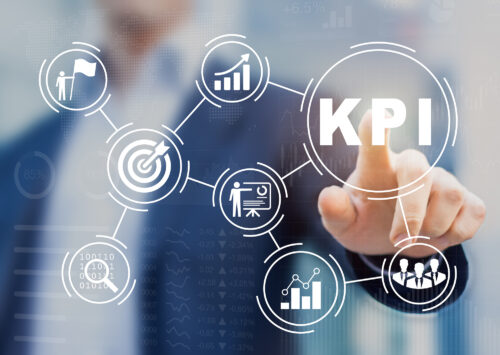 Building a relationship is key
The role of a remote coach mirrors that of an onsite field representative. Building a strong relationship with dealers is key to any successful remote coaching program. Coaches need to be transparent and demonstrate their value to businesses by helping resolve their issues.
To establish a relationship based on trust, it's essential that coaches are dedicated to a specific group of dealers. Thanks to the highly efficient remote model, coaches can reach out to more stores in less time and therefore support a broader geographical area than a traditional field representative.
The benefits of a more flexible support model
Rising costs, the pressure of competition and the challenges brought by the COVID-19 pandemic are prompting OEMs to streamline their business models. While effective in many ways, the traditional field management model offers opportunities for improvement. A combination of analytics, remote coaching, digital learning and the use of smaller, more targeted field teams can lead to a more efficient dealer interaction and support model which benefits OEMs and their dealers.
More flexible support models that include remote coaching allow OEMs to adjust their level of intervention according to actual dealer requirements, reduce waste and improve the impact of their input on dealers' performance. Through more frequent but shorter interactions, dealers receive the right level of support with far less disruption. But it's up to manufacturers to build a strong remote team and use proven processes and technologies to support this new generation of field management.
About the Author:
Andrea Sorrenti
Vice President, Americas
Andrea has been Vice President of Retail Network Solutions in North and South America since October 2010. In this role, Andrea is responsible for managing operations and customer relationships. Andrea is also a Global Account Executive, coordinating worldwide sales and operations for one of MSX's major customers. He can be reached at asorrenti@msxi.com.