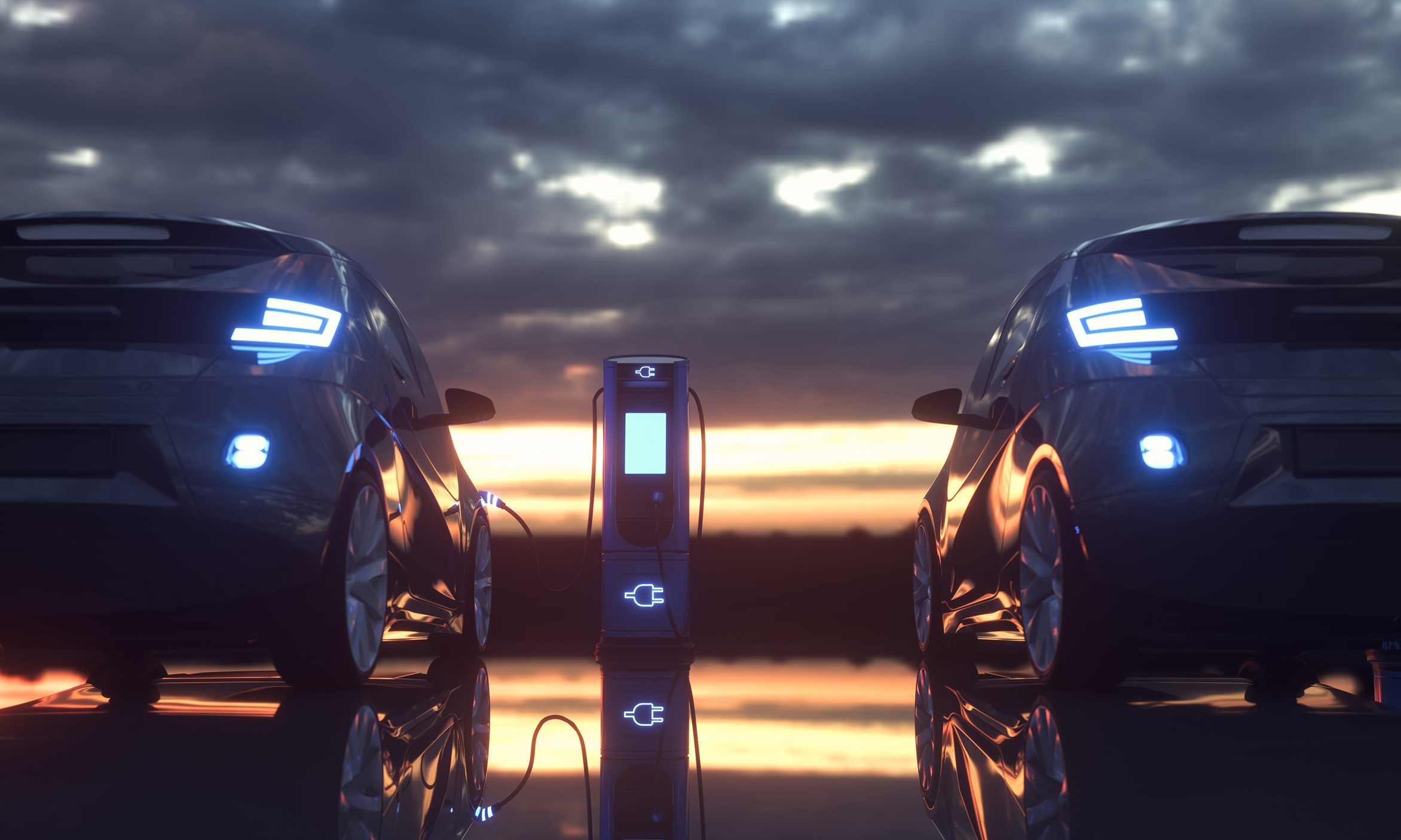 Driving a greener future: How the Nordics are leading sustainable transportation

Governments across the Nordics are developing policies that support green energy and maintain sustainable economic growth. Electric vehicles (EVs) are dominating new vehicle sales in many Nordic countries, likely driven by a mix of environmental policies and favorable incentives. In the following interview, Martin Tornberg, Operations Director Nordics, MSX, explores some of the region's successes and shares his thoughts on the future of the automotive market with the emergence of EVs and new retail operations.
"Sweden's CO2 emissions have fallen by more than 40% between 1990 and 2021 and, as of 2019, the country had the lowest greenhouse gas emissions per capita in the EU. Not only is this a cause for optimism, but energy efficiency is the focus for almost all infrastructure."
What's the current automotive landscape in the Nordics?
Across the Nordic countries, approximately 775,000 passenger cars were registered in 2021, according to data from ACEA. Sales performance was lower than expected due to the impact of COVID-19. Sales have remained relatively flat since 2016 due to shared driving schemes and vehicle leasing options becoming increasingly popular.
However, electric and plug-in hybrid vehicles are now dominating Norway's new vehicle market, accounting for over 86% of passenger car registrations in 2021. This impressive surge has been the result of strong initiatives aimed at reducing CO2 emissions, increasing tax benefits on EVs, and budget-friendly incentives on home charging stations. But while these government subsidized programs haven't directly influenced a change in ownership trends, private leasing in Norway has become a fast growing segment in recent years.
Electric Passenger Car Quarterly Registration Market Share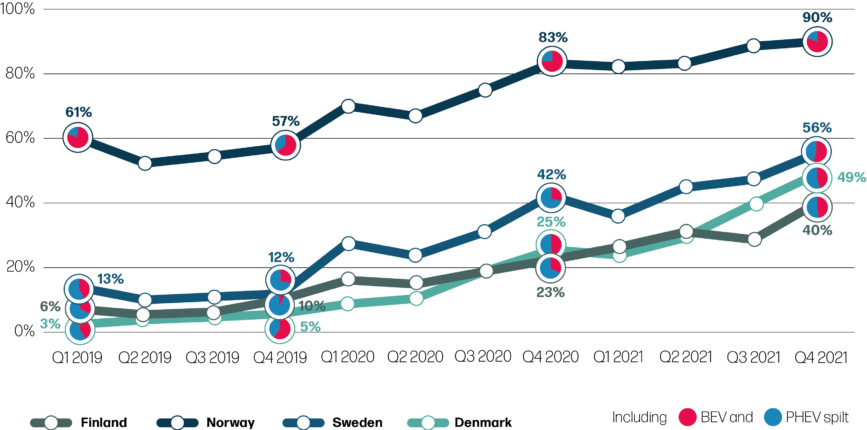 Electric Passenger Car Quarterly Registration Market Share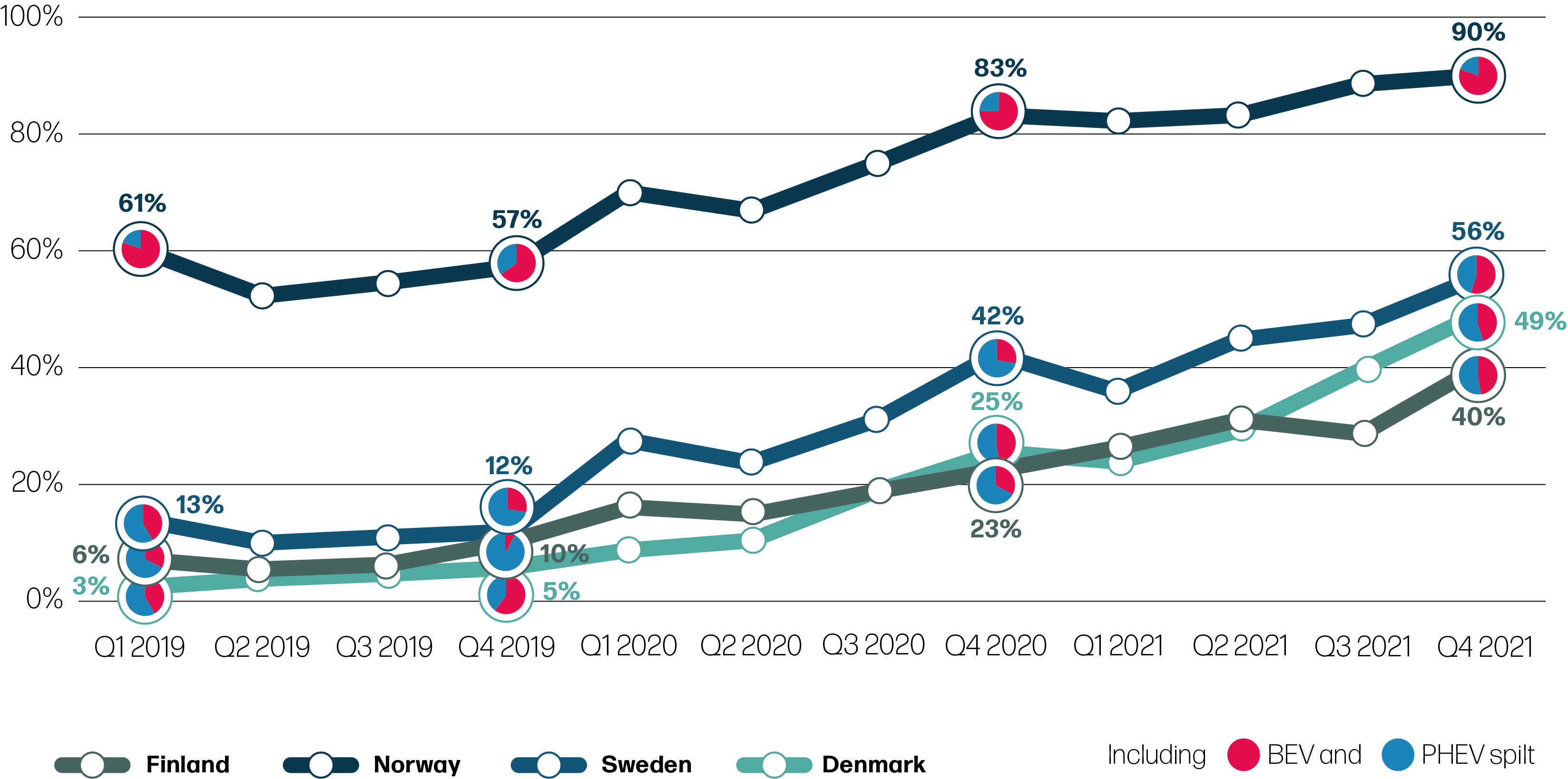 What trends and factors are driving the EV revolution in the Nordics?
Environmental awareness began very early in the Nordics. Sweden was the first country in the world to pass an environmental protection act in 1967 and hosted the first United Nations Conference on the Environment in 1972 – the first time that environmental concerns were raised as a major issue. Investments have been made in renewable energy generation and now there are very few coal or gas plants throughout the region. Consumers also receive a subsidy for installing solar panels on their homes and can sell surplus energy back to the grid.
Sweden's 'Allemansrätten' (Roam) policy gives people the right to access the local countryside to walk, cycle, ride, ski, camp and forage on any publicly accessible land. This freedom to roam promotes an individual's responsibility for the environment where they must respect their surroundings and not litter or cause damage to trees and plants.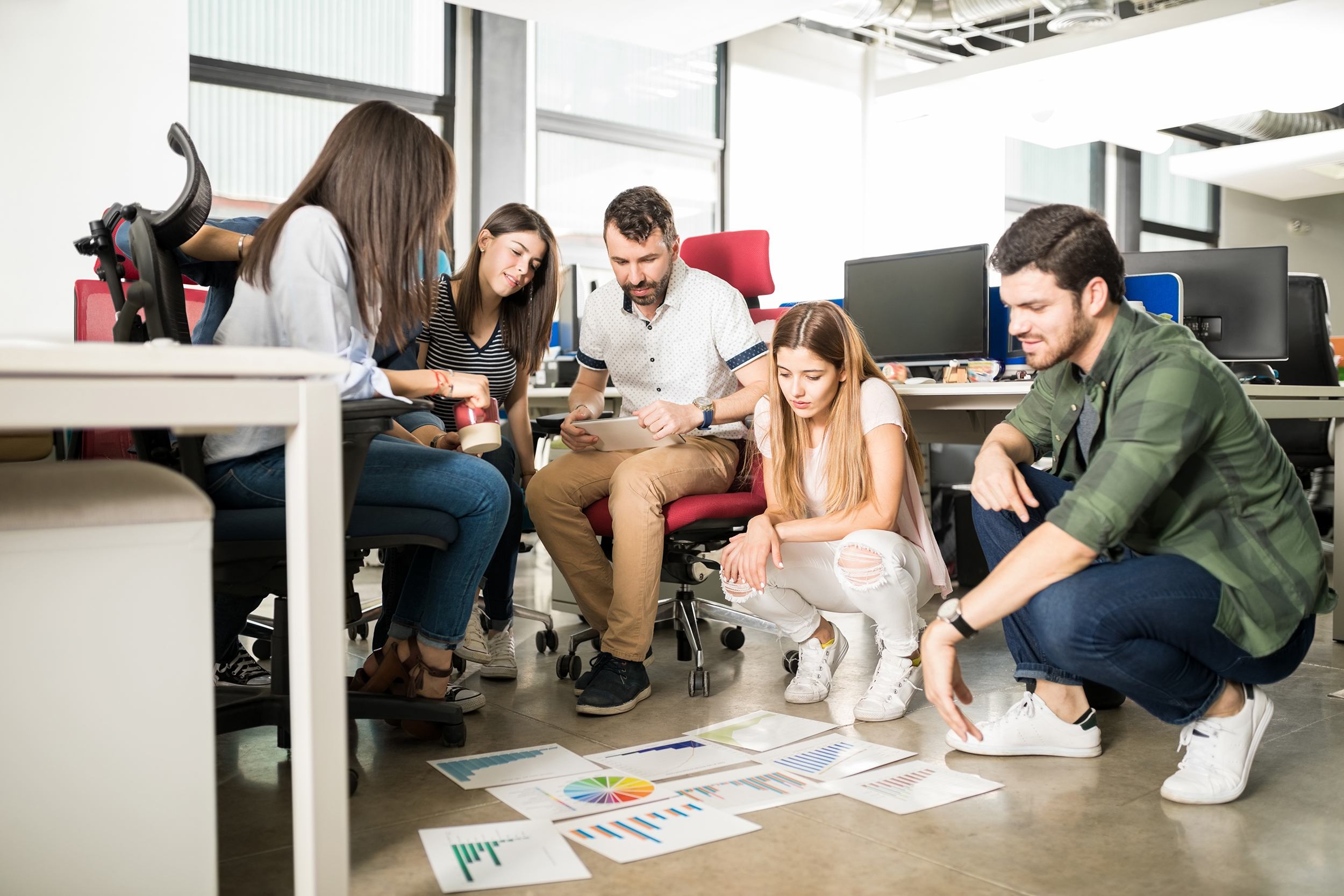 Online systems and self-service tools, such as e-banking and online retail, have been familiar among the Nordic population since the early 1990s. Around the same time, Sweden's home computer drive provided computer access to 850,000 employees and their families resulting in the early adoption of IT skills. The general population is highly committed when it comes to the adoption of sustainable transportation, and this, combined with the relative ease of setting up new businesses in the region, and the general digital fluency of the Swedish people has led to a surge in the number of tech start-ups, including new mobility players.
The notion of paying a fixed service fee every month has been increasingly popular in other industries for some time. EV customers often tend to prefer this flexible way of accessing transportation which minimizes asset ownership and enables them to be more open to new services as they emerge. It also reduces the long-term commitments associated with traditional vehicle ownership and offers peace of mind with uncertainties around depreciation, maintenance and resale.
Why is Sweden's EV market share so much higher than other European markets?
Government incentives subsidizing EVs and heavy taxes on CO2 emissions were introduced early and are equalizing the gap between the cost of owning a traditional ICE vehicle and an all-new EV. Customers receive a €6,000 bonus when they purchase an EV, but to fund that bonus, taxes on ICEs are increased, meaning that the more EVs sold, the higher the taxation is for ICE vehicles.
Furthermore, driving a company car in Sweden is a cost-effective benefit for the employee. Around 260,000 company cars are driven in Sweden, mainly because the benefit value to the employee is less than the market value of the vehicle meaning that the individual contribution is significantly lower than if they were to buy the car privately. This scheme means that consumers can get their hands on a much more advanced and expensive EV for the same monthly fee, or less than that of an ICE vehicle.
Governments in Sweden are also offering grants that pay up to 50% of the cost of charging equipment for individuals and businesses. And while there are a over 15,000 publicly accessible charging points through the country, over 65% of EV drivers have access to charging at home, work or other public places meaning that their reliance on public infrastructure is minimal.
It's also possible that a higher level of education plays a role in the positive attitude towards EVs. Swedish colleges and universities are free and around 40% of the population has some post-secondary education. Consequently, consumers are highly-educated, computer literate and socially aware, which may contribute to their acceptance of new technologies and EVs.
Sweden's CO2 emissions have fallen by more than 40% between 1990 and 2021, and as of 2019 the country had the lowest greenhouse gas emissions per capita in the EU. Not only is this a cause for optimism, but energy efficiency is the focus for almost all infrastructure. Although Sweden is a very cold place to live, its mindful, construction-efficient management means the cost of heating a house is likely to cost less than it does in many other countries.
Rechargeable vehicles in Sweden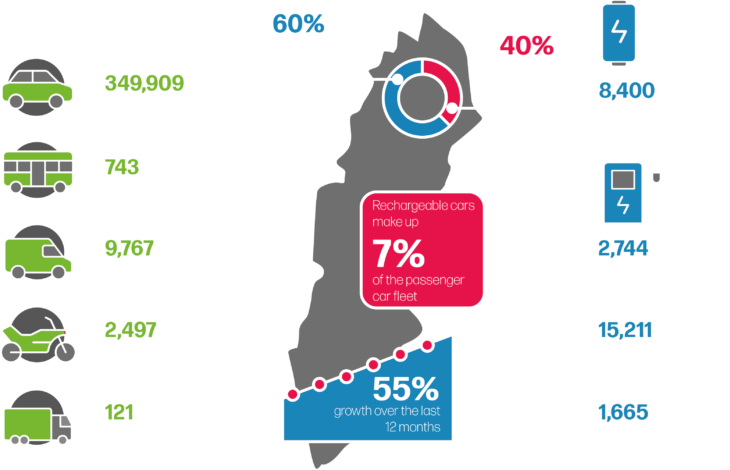 Source: Power Circle, May 2022
Rechargeable vehicles in Sweden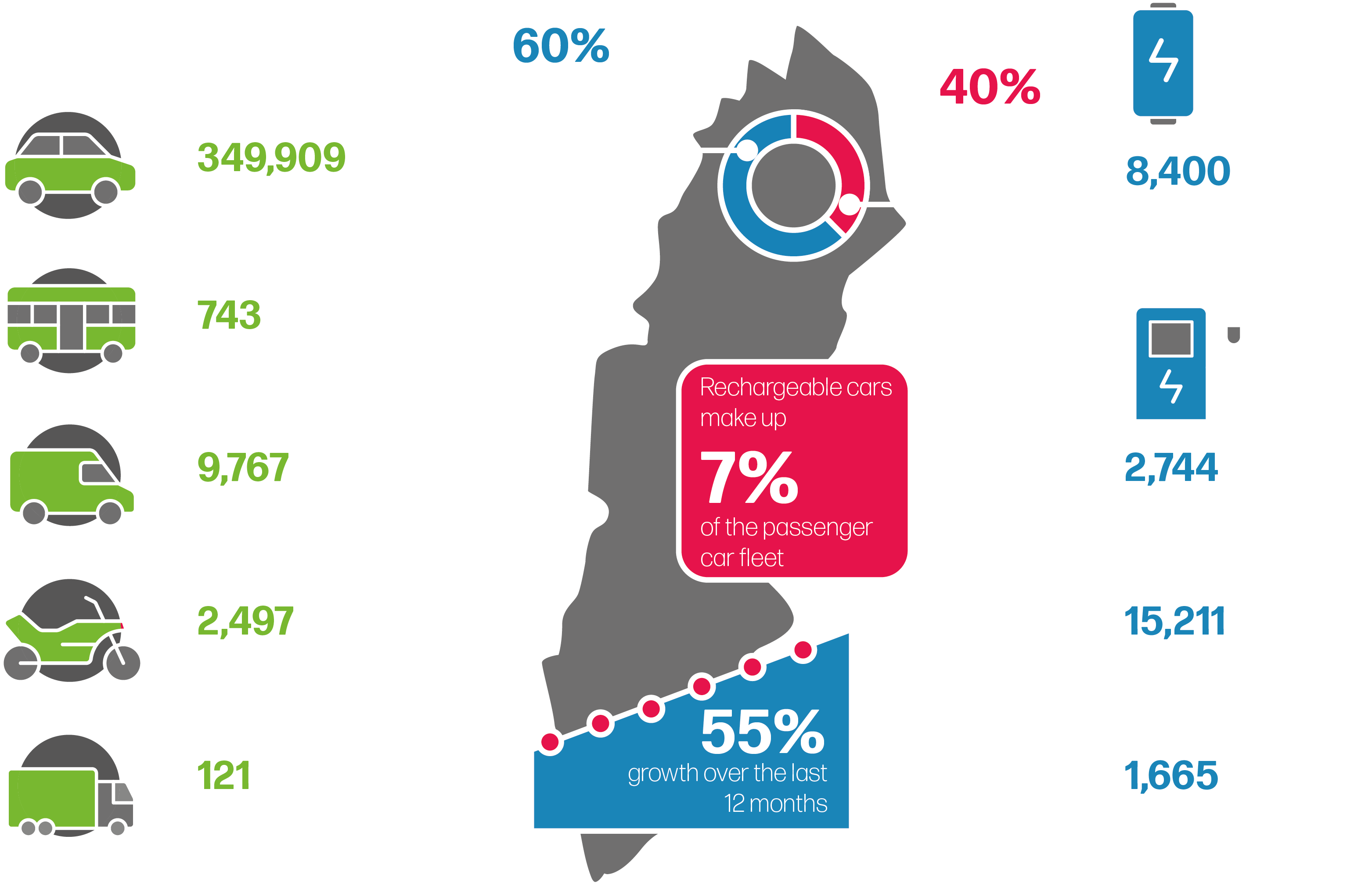 Source: Power Circle, May 2022
What impact are EVs having on the region's automotive industry?
EV brands such as Polestar and Lynk & Co have recently emerged, with Lynk & Co enhancing the traditional private ownership model with rental and shared-driving schemes. Swedish transport company Einride specializes in electric driverless pods which are remotely controlled. Volta Trucks is offering an electric truck concept that makes inner-city streets safer, healthier, and more sustainable. And micro-mobility start-up Vässla has secured €9 million in funding through high-profile, Nordic-based investors to launch its online rental platform offering micro-mobility services to people, delivery drivers, and businesses across the region.
The region has also seen new players in the parts and battery production arena. VW-backed Northvolt is setting up a new battery manufacturing plant in Sweden which will offer OEMs local parts, reducing production costs which could positively impact the cost to the consumer. Another major factor which could have influenced its decision to set up in Sweden is the comparably lower cost of electricity which could ultimately be reflected in the end price of the batteries.
With new players doing so well, it's important that brands who began their EV transition later in the process, can defend their market share. The transformation is also impacting the retail operations of established OEMs. Daimler Group piloted the agency model in the region several years ago with Mercedes-Benz. This shift, which completely transforms the relationship between the OEM and the retail network, introduces agency models and omni-channel programs allowing consumers to experience a seamless transition from the online platform to the physical location with minimal disruption. This transition is on the agenda for many major players in the industry, but so far few have made a decisive move into the new retail space due to the inherent inflexibility of the traditional system.
But the early adoption in neighboring Norway and Finland has undoubtedly accelerated the EV roll out in other Nordics markets, which have been inspired by the speed of the transformation. The successful installation of new retail strategies and charging infrastructure suggests that the EV transformation can be successful in any market.
About the Author:
Martin Tornberg
Director Nordics
Martin has led MSX in the Nordics since 2018. His focus is on innovating MSX services and driving added value to customers, and on growing the company's engaged and high-performing MSX Nordics team. Prior to joining MSX, Martin held European and global VP positions at Volvo Group from 2011 and was also Principal Management Consultant for Capgemini Consulting's Strategy and Transformation Practice. Martin is based in Gothenburg, Sweden, and can be reached at mtornberg@msxi.com.