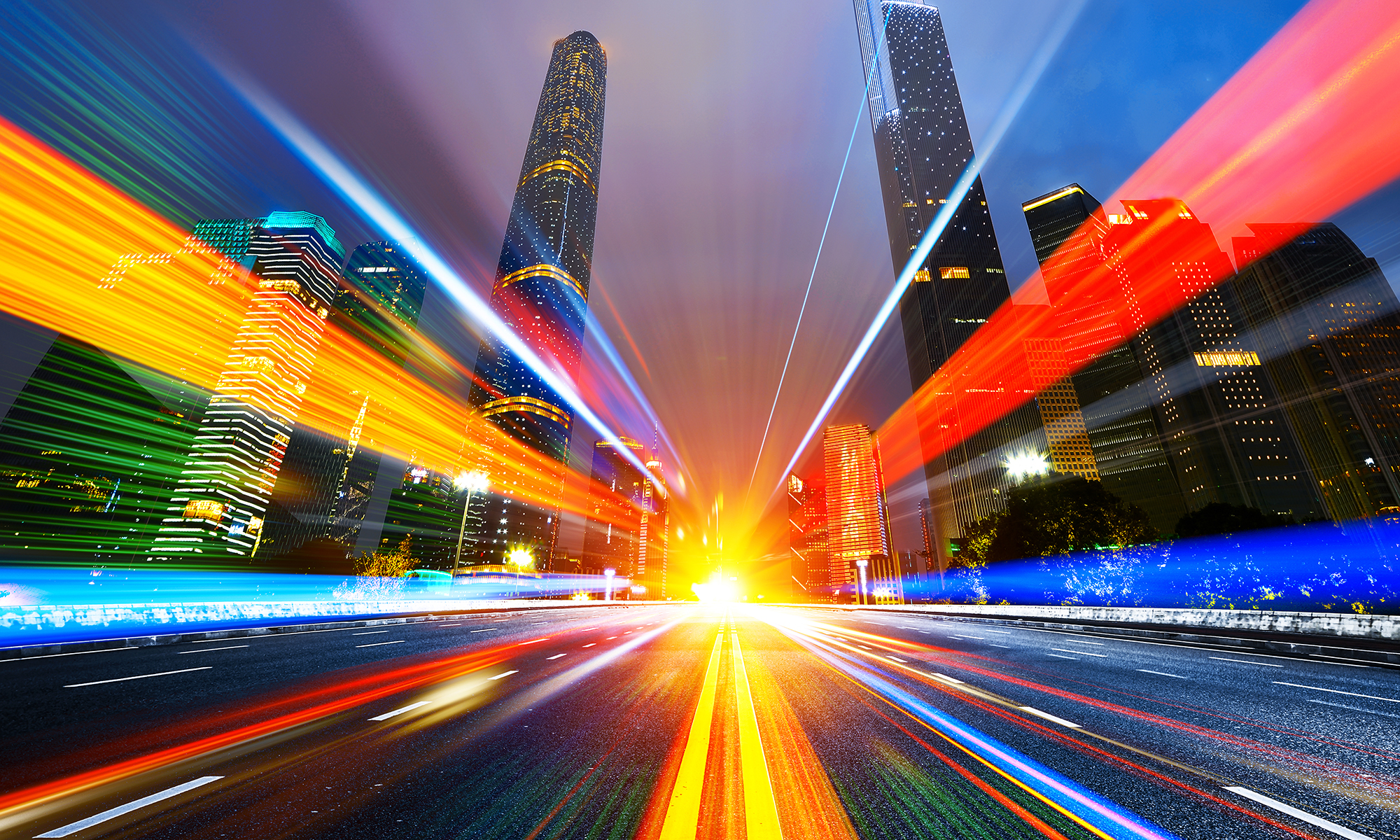 A multi-mobile world: Just a concept or a viable opportunity?

The concept of mobility is evolving. Economic and environmental concerns are forcing people to rethink the way they travel, whether they live in cities or rural areas. Mobility is currently very one dimensional, with people often relying on a single device – a car, a bike, or a train – to move around. Greater flexibility in transport offerings allows commuters to complete their journey more quickly and efficiently. Multi-mobility or flexi-mobility are terms that describe the concept of combining multiple transport options in a single journey, offering customers a more economical and environmentally friendly way to travel.
"It's a transformation that requires very clear choices, creativity, focus, financial investment and risk."
Bringing alternative mobility to the mainstream
Many OEMs are exploring opportunities to package mobility offerings and concepts. Customers will be able to rent a vehicle or use a vehicle for one part of their journey, and transfer to another type of mobility for the next. Manufacturers are joining forces to evolve their existing car sharing services into a single platform, hosting services that enable customers to book public transport, search for available vehicles, and locate charging stations, ride-shares, and parking at the click of a button. Free Now, for example, is an app that integrates the offering of various players in major cities, bringing together traditional methods of transport like taxis, with newer micro-mobility services such as e-scooters. And as businesses like these continue to evolve and prosper, more players will flood the market, creating greater competition and driving down prices.
Cost efficiency will always play a role in how mobility will look in the future. It is not cost efficient to own a car for it to sit unused 95% of the time, and people are questioning whether it is still sensible to invest so much money in owning a car. Equally, environmental consciousness will help drive the trend. A study conducted by Ernst & Young into e-scooter company, Voi, found that from January 2019 to March 2020, its combined micro-mobility initiatives, including battery swapping and high e-scooter utilization, yielded a 71% reduction in the company's operations emissions in Paris.
Social and macroeconomic development will also play their part in changing people's attitudes towards car ownership. The Government Office for Science stated in a report titled 'Decision-making in the UK Transport System' that there has been noticeable change in travel behavior among younger people since the early 1990s. High house prices and cost of living have seen many younger people questioning their priorities, and owning a vehicle is no longer top of the list. City dwellers have little desire to own a vehicle. As well as public transport that provides mobility in urban areas, companies like Flixbus, a European bus service, now offer green intercity transport at low cost. Often, attitudes towards transportation are relative to an individual's stage in life. Those who are raising a family, for example, may decide to own a vehicle when considerations such as convenience, flexibility and safety come into play.
Private vehicles are the most frequently used mode of transportation
Frequency of transportation used, share of respondents, %1, global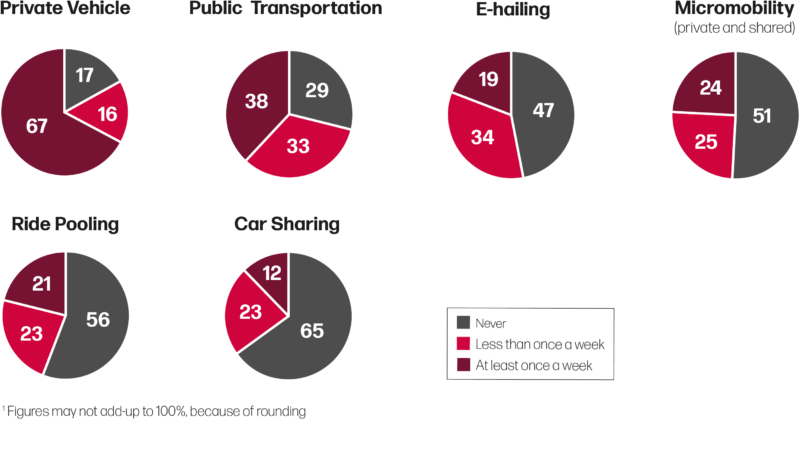 Source: McKinsey & Company, n=7,000 from USA, Brazil, Germany, France, Switzerland, China and Japan
Private vehicles are the most frequently used mode of transportation
Frequency of transportation used, share of respondents, %1, global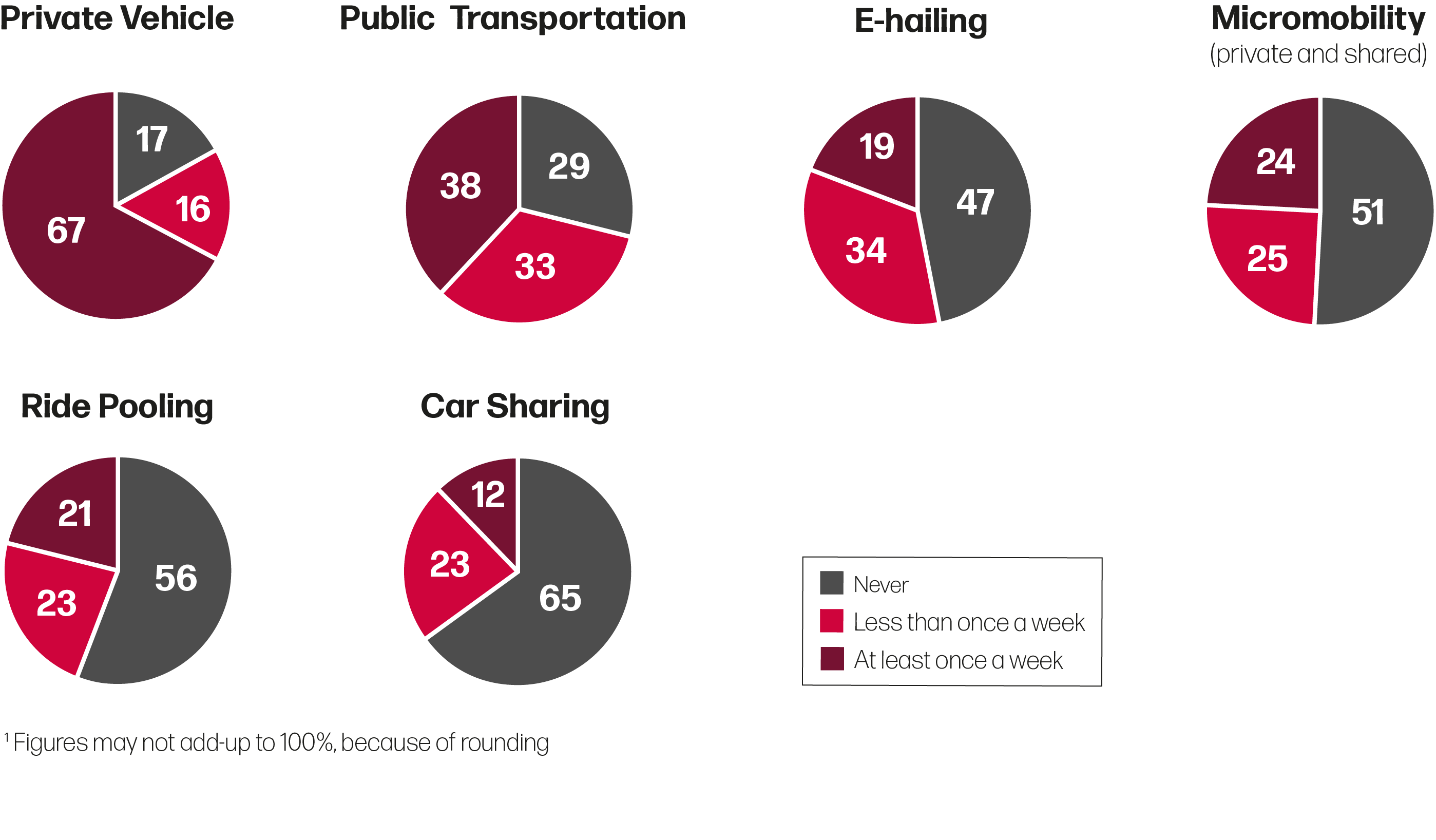 Source: McKinsey & Company, n=7,000 from USA, Brazil, Germany, France, Switzerland, China and Japan
The impact of alternative mobility on the automotive industry
To maintain their stake in the marketplace, OEMs must decide what role they want to play in this transformation. Many will choose to become mobility service providers, allowing them to own the customer relationship and provide multi-mobility services through a single platform. OEMs who recognize the complexity of building models like these will opt to design and build a range of economically viable and environmentally friendly modes of transport that will service mobility of the future.
These complex transformations will result in collaborations between OEMs and other organizations. Foxconn's latest venture into automotive will see the technology company offer an open platform for EVs with functionalities and capabilities as standard. OEMs and new industry players can then build a shell around the hardware and software stack, and launch a new vehicle to the market, either directly or via mobility service providers.
Today, OEMs are focusing on the production of EVs to meet global emissions targets. A heavy investment into the development of vehicles, battery technology and the infrastructure to support EVs is limiting their investments elsewhere. Despite this, every OEM is building foundations for the future, and many will start to focus on owning the customer relationship. As mobility providers, they must adopt more direct customer engagement roles. Partnerships or acquisitions can help plug the skills, knowledge, or intellectual property gaps in their businesses, helping them create new offerings and allowing them to capture a higher proportion of the market. Manufacturers are signing agreements with tech giants to create a foundation for connected services. But the success of new players in the market will depend on how economically viable their business plans are, and whether they can remain attractive against these established automotive giants.
Finding the right solution for the right location
The success of new mobility services is influenced by the conditions in different markets. New Delhi, for example, is a mega city where transportation is chaotic. To improve its transport network, the city will need to think about mobility in a completely new way, introducing smarter ways to get around, rather than increasing the number of vehicles on the roads.
Many people living in urban areas and busy city locations rely heavily on public transport, with many opting for transport passes over driving licenses. In some cities, the quality of public transport services far exceeds that of private mobility, with trains and buses arriving every few minutes, transporting commuters anywhere within the city quickly and efficiently. The saturation of public transport services may mean alternative mobility providers forge partnerships with public sector transport providers to stake a claim in these areas. These combined efforts could further improve intercity transport, but the challenges lie in finding an agreeable solution as the interests of OEMs and the public sector differ considerably. OEMs are focused on selling vehicles, and so public transport providers and vehicle manufacturers need to be mutually aligned and create a foundational model in cities where they both have a role to play.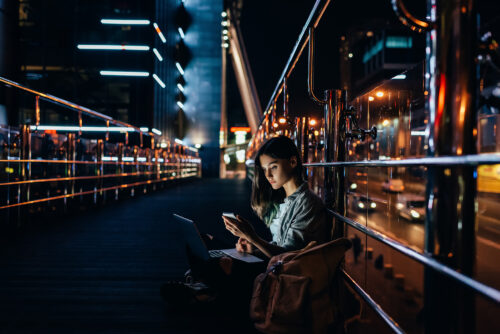 A mobility ecosystem with multiple distributed technologies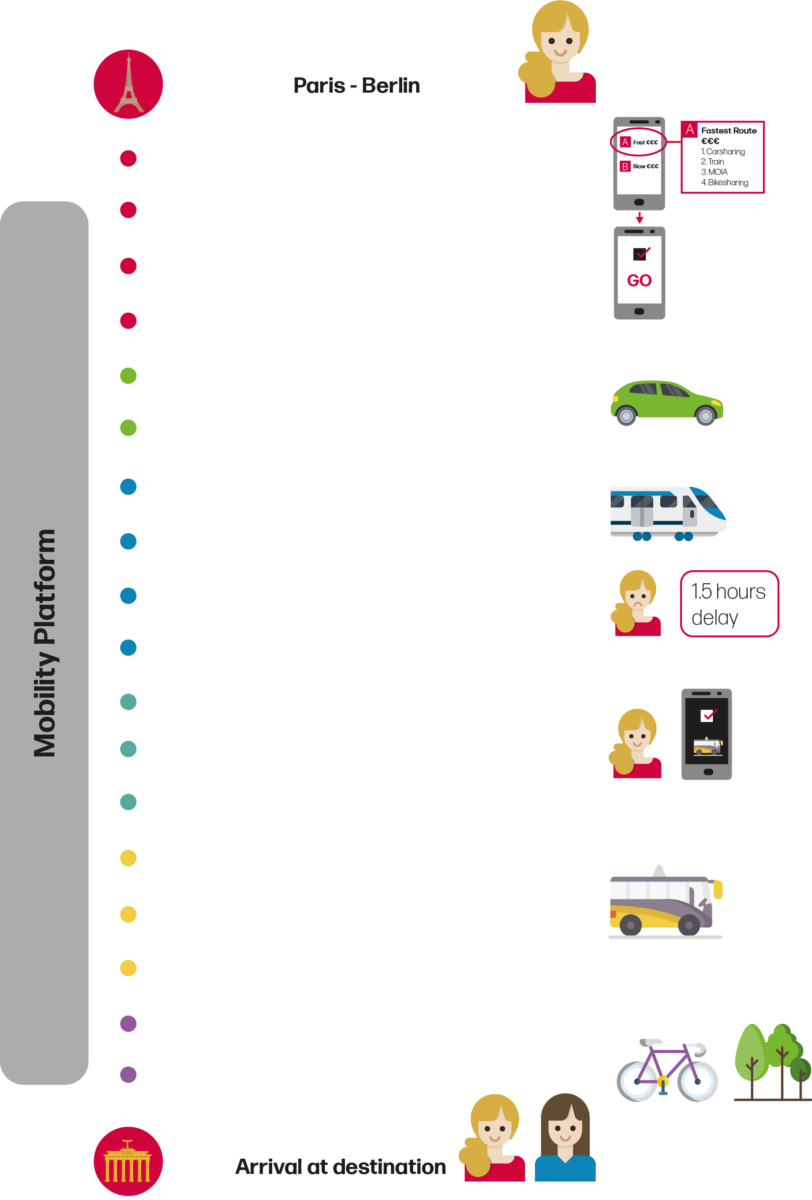 Source: MSX International
A mobility ecosystem with multiple distributed technologies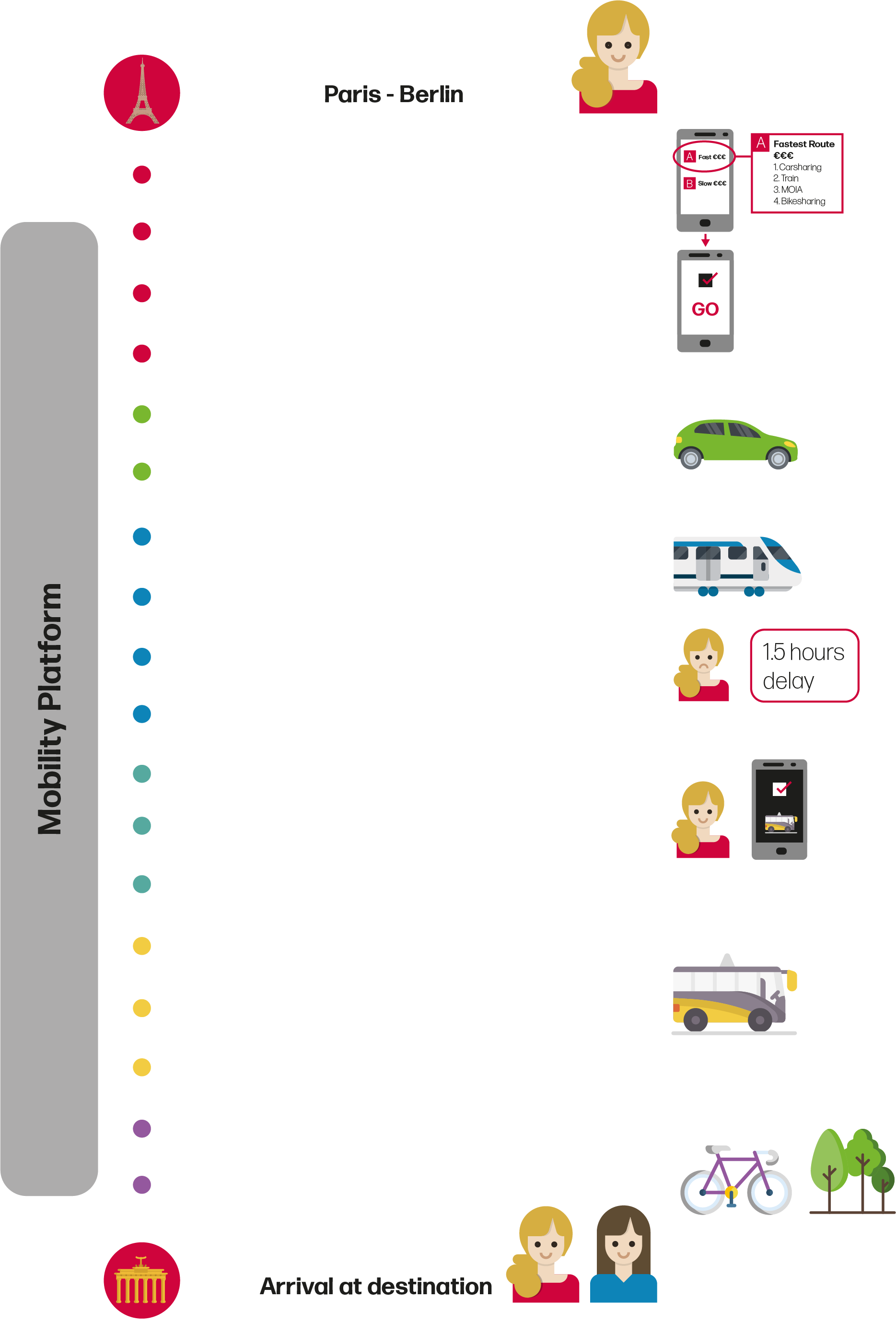 Source: MSX International
The viability of mainstream automation
The true position of autonomous transportation in the industry is yet to be defined, but in some applications – from drones for agricultural purposes to haulage for cargo shipping – it's proving highly beneficial. But there's still hesitation among drivers when we talk specifically about the emergence of autonomous vehicles on public roads. The technology exists to enable a car to maneuver from A to B without a human behind the wheel, but people need to be able to trust the device. Manufacturers must first address a fundamental part of human nature – the feeling of a lack of control over something that could be considered risky or dangerous.
Most fears surrounding autonomous vehicles are limited to vehicles on public roads. Many trains are now autonomous – they're driven along a fixed track. Large jets are partially controlled by computers, but the environment in which they travel is more easily manageable than a busy road. As soon as the number of different modes of transport on the roads increases, such as e-scooters, buses and trams, and infrastructure becomes more complex, the desire for people to be in control of their vehicle will only increase. Autonomous driving needs a purpose, but it may remain limited to drones and trucks on dedicated highways.
Transformation is the key to success
Some people will always want to own a car. Some will prefer to drive a car without the commitment, and they will choose subscription models. And others will rely on mobility models only when they need it. Whatever their decision, it's an easy transition for consumers.
But for manufacturers, the challenges are huge. They will have to make bold choices in terms of what they're going to do, where they spend their money and how they're going to bring their new business to market. Finding people with the right mindset to drive ideas forward whilst gaining consumer acceptance will also be difficult. After decades of delivering their brand in the same way, OEMs must suddenly adopt entirely new business models and make them just as successful as traditional ones. It's a transformation that requires very clear choices, creativity, focus, financial investment and risk.
About the Author:
Rob van Rijswijk
Vice President of Business Development and Strategy
Rob van Rijswijk, Vice President of Business Development and Strategy, is responsible for key business development activities at MSX International, focusing on developing new data and analytics capabilities as well as managing MSX legacy software enablers. Prior to this role, Rob led the MSX Global Product Management team in developing and positioning the full range of MSX products and services. Rob has a deep passion for strategic innovation and he works alongside the organization's global account executives, helping them add value to a growing global client base. Rob is based in Cologne, Germany, and can be reached at rvanrijswijk@msxi-euro.com