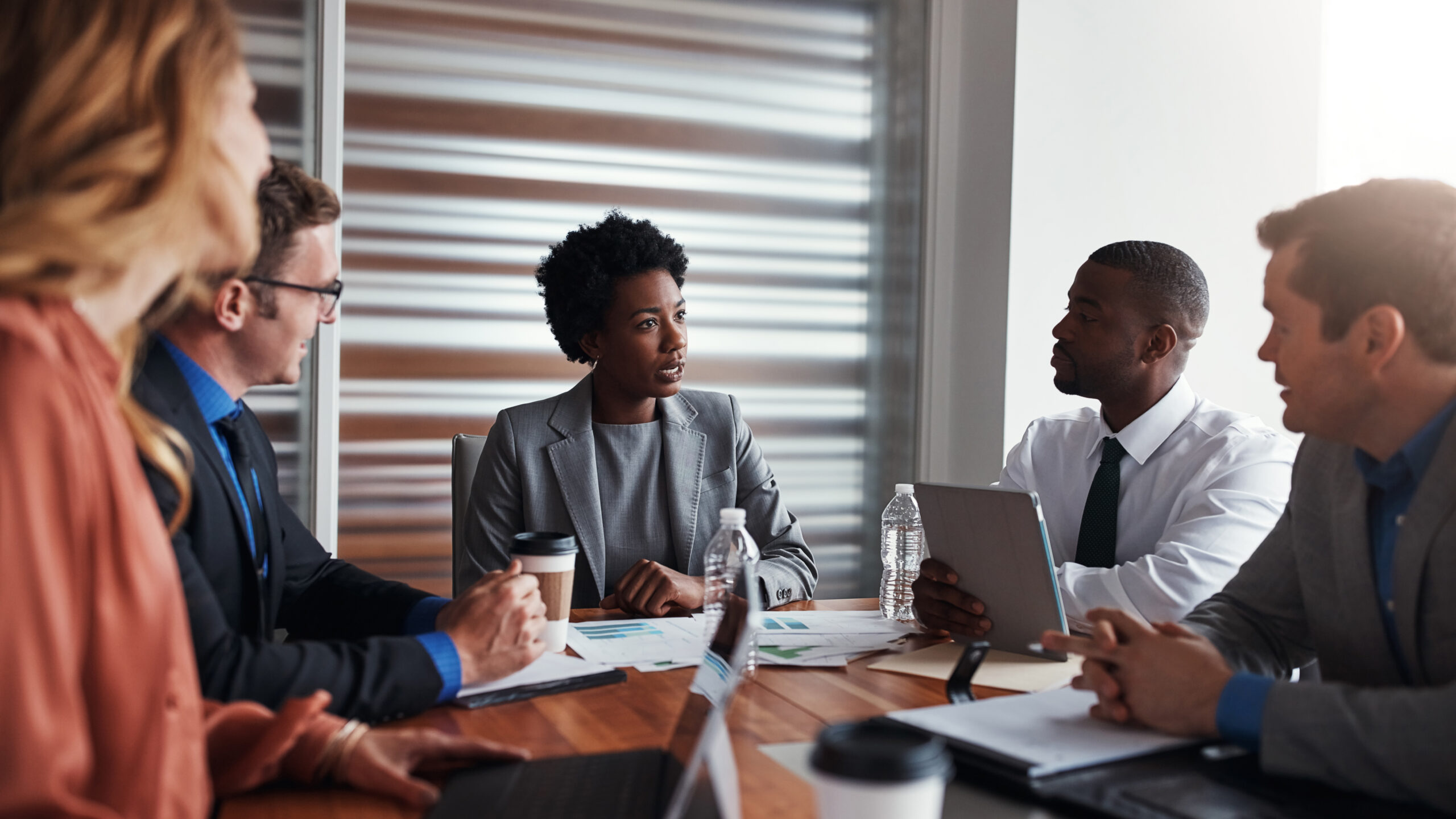 The evolution of the electric vehicle (EV) has profound implications on the way vehicles are serviced and the competencies technicians need to operate in an allelectric environment. There are five major factors that will affect how technical training will be designed and delivered in the age of EVs.
Characteristics of electric vehicles
EVs currently represent a large financial and technological leap for consumers, whereas hybrid vehicles may be considered a more attainable compromise. Because of this, it's likely that beforethe battery electric vehicle (BEV) comes of age, the industry will see a proliferation of hybrid electric vehicles (HEVs) and plug-in hybrid electric vehicles (PHEVs). While BEVs have far fewer components and are less complicated than internal combustion engine (ICE) vehicles, HEVs and PHEVs are more complex. This rise in hybrid vehicles will mean OEMs need to invest in more technical training to ensure dealership technicians can service and repair them.
Technical training needs will change again when BEVs become more prevalent. BEVs have a less complex drivetrain but are often equipped with advanced driver assistance systems (ADAS). OEMs may have to invest more on a per-vehicle basis to ensure technical employees have the necessary skills to carry out repairs.
"It is a significant commitment of time and resources to get a tech through the curriculum."
– JeSean Hopkins, Nissan North America's senior manager of EV infrastructure and sales operations.
Repair profile of electric vehicles
The age of EVs is likely to prompt closer collaborations between automotive manufacturers and electric motor and battery suppliers. BEVs will be designed with more black box components that need to be replaced rather than repaired. These components will be shipped to supplier partners for repair or refurbishment before re-entering the parts supply chain. As a consequence, it's unlikely OEM service technicians will need the same extensive technical expertise to repair components as they do today. Instead, supplier factory technicians will carry out these repairs at supplier plants. It means OEMs may invest in technical training for the supplier's technicians, rather than their own dealership employees.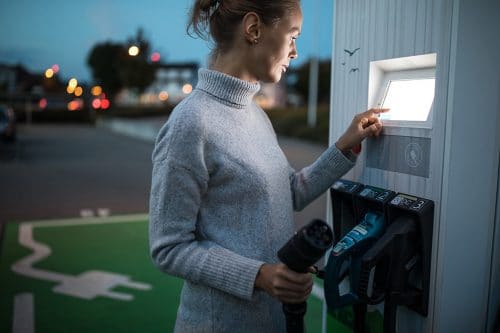 Aftersales network and service model in the EV era
The increase in BEV numbers will also affect the traditional, dealer-led service model. The lower powertrain complexity and a higher number of 'replace versus repair' components may encourage the rise of doorstep service providers. These providers could potentially deploy mobile technicians to unlock a customer's connected vehicle without a key, but instead by using near field communication (NFC) technology, and carry out a routine service or maintenance at the driver's home or workplace. Services such as these will resolve a major obstacle to customers requiring vehicle servicing – having to deliver the vehicle to a service center, go without it for a day and then pick it up again when it's ready.
Currently, multiple brand dealerships have to train large numbers of technicians in a range of locations, but this doorstep model allows manufacturers to deliver centralized training at scale more effectively. This will also support a rise in technology-led learning instead of traditional, classroom-led training.
Technical helpdesk in the EV era
Today's technical helpdesks are almost entirely manual, offering support to dealer technicians on unique, nonroutine issues that they may find challenging to diagnose or fix by themselves. Future technical helpdesks are likely to feature much higher levels of automation, thanks to the rapid evolution of natural language processing (NLP) and the rise of artificial intelligence (AI) and machine learning algorithms. AI chatbots are common in a number of customer-service industries, and are becoming more sophisticated, to the point where some chatbots can now exceed human performance levels.
In addition, highly connected BEVs will have the intelligence to diagnose problems themselves, and even offer stepbystep repair instructions for technicians on their display screens, significantly reducing the need for traditional support.
Responsibilities of technicians in the EV era
The next generation of BEVs will see a significant increase in ADAS and autonomous driving (AD) capabilities. These features require specialized hardware such as autonomous driving detectors, radars and lidars (light detection and ranging), ultrasonic sensors and high-definition cameras. Vehicles will also rely more heavily on software than the current generation of vehicles. And technicians will need to be as comfortable working on the electronic components of a vehicle as they are working on the traditional mechanical components, which will influence the training required to ensure they fulfil their responsibilities.
Technical training in the EV era
Technical training is likely to evolve in three ways, the first being the need for employees to learn entirely new skills and competencies. Technicians' tasks will include downloading data from a vehicle, analyzing it and identifying patterns for diagnosis, as well as diagnosing and communicating problems with specialized hardware. Meanwhile, the rise in doorstep servicing will demand new customer service and administrative skills.
The second focuses on technology-led learning. Current technical training models rely on methodologies such as instructor-led training. Many OEMs have experimented with virtual reality, augmented reality and mixed reality, but the high costs of these technologies mean they're less viable for large-scale adoption. More accessible and proven methods such as microlearning, web-based learning, peer learning and social helpdesks will play an important role in the design of next-generation technical training.
Finally, there is a responsibility for OEMs to focus on health and safety training, especially as technicians will work with high-voltage batteries and power supplies. Most western markets have an established framework of health and safety accreditation, and it's likely the automotive industry will rely on these to create their own industry-wide standards, which will, in turn, guide technical training in the EV era.
Microlearning suitability assessment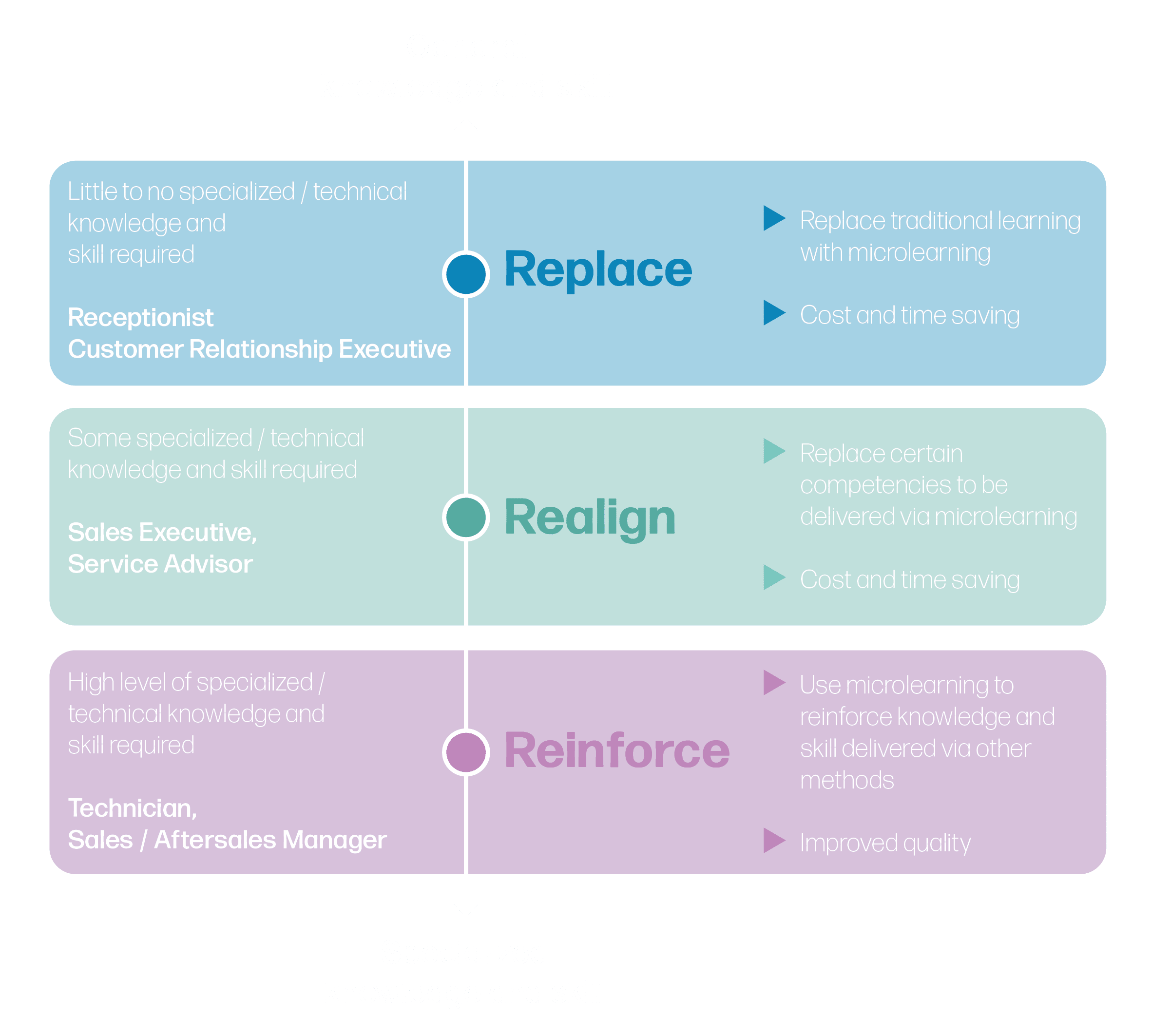 Microlearning is an exciting new learning methodology that reimagines how we deliver training and competence development. Microlearning is based on our understanding of how the human brain absorbs, processes, retains and retrieves information.
Microlearning relies on small capsules of information to deliver learning. Learners are exposed to 'micro' format content at a higher frequency (typically once a day for a few minutes). Research has established that the human brain absorbs and processes information far better in this manner, rather than receiving a large volume of information within a short period of time.
Microlearning promises to deliver meaningful benefits when integrated into your learning initiatives:
Efficient: Microlearning forces learning design to focus on solving a well-defined business problem. This ensures that the learning investment is focused and efficient.
Engaging: By understanding and implementing brain theory and how we absorb and process information, and combining this with game mechanics, microlearning often reports far higher levels of learner engagement.
Enabling: Microlearning lends itself really well to 'learning in the flow of work', enabling learners to apply their newly acquired knowledge and skills in the real world straightaway.
Microlearning offers the flexibility to be implemented as a methodology by itself, as well as in conjunction with other learning methods to deliver higher levels of absorption, retention and application.
'Replace', 'Realign' or 'Reinforce' strategies are a great starting point to integrate this exciting new learning methodology into your competence development initiatives.
About the Author:
Jayesh Jagasia
Global Executive Director
Deeply passionate about the automotive industry, Jayesh helps leading automotive brands improve their retail performance and customer experience. His previous venture was an innovative business that aimed to radically transform the used-car purchase experience in emerging markets. Jayesh has an interest in artificial intelligence, mobility and learning technology, and offers valuable knowledge and skills to the wider MSX team. He can be reached at jjagasia@msxi-euro.com.