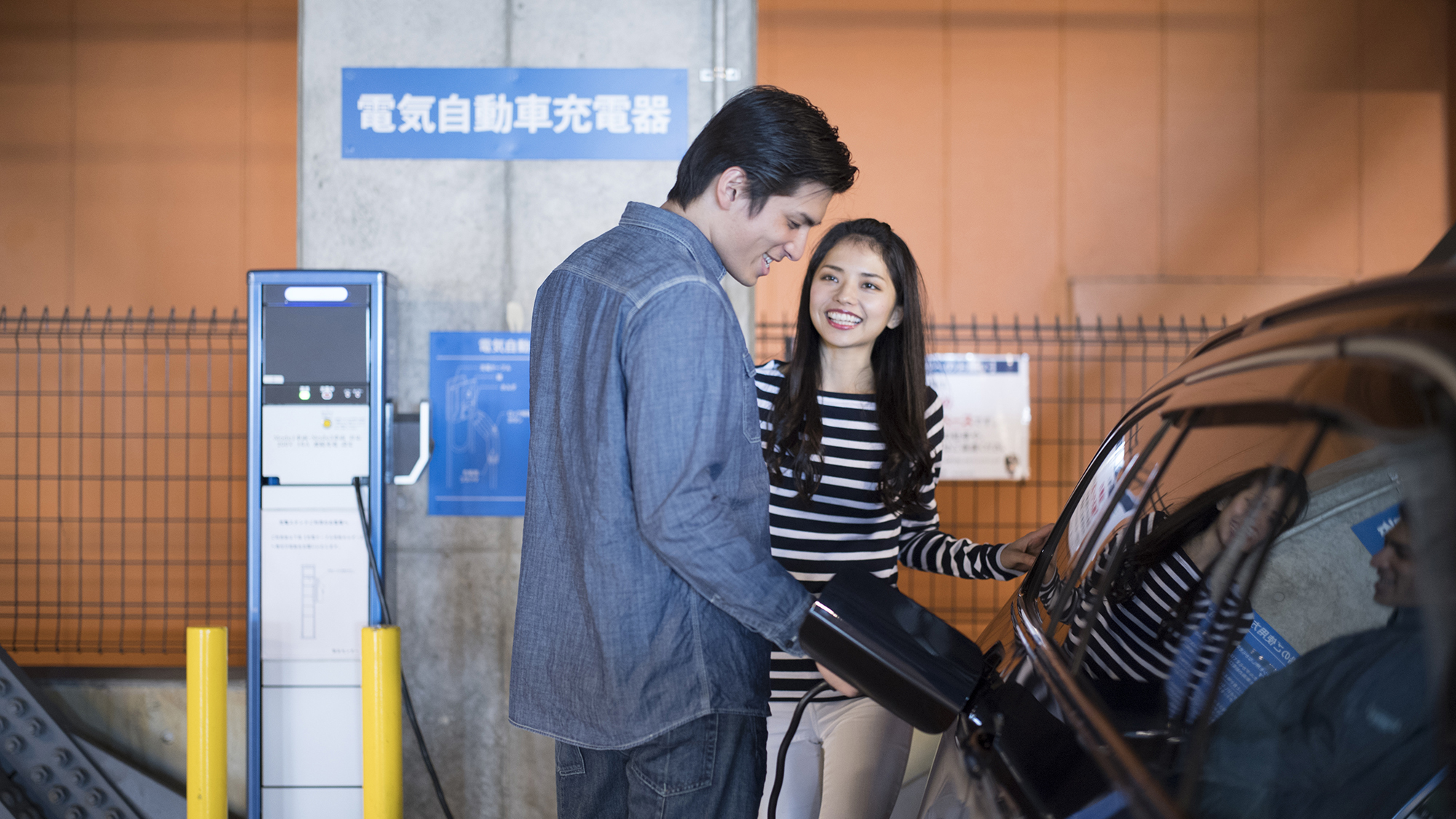 Can OEMs endure the effects of EVs on their parts business?

The automotive industry is unquestionably anxious about the transition to electric vehicles (EVs), especially because of its impact on manufacturers' highly lucrative parts businesses. EVs have fewer mechanical parts to repair or service, so OEMs are bracing for a considerable loss in revenue. While there are some new components, such as plugs and sockets, inverters and powerpack coolers, that don't appear on conventional cars, profits from parts and routine maintenance are still expected to suffer. MSX research suggests the value of ordinary service maintenance and parts repair will fall by around 60% with EVs compared to traditional internal combustion engines (ICEs).
It's a very different process to repair an EV than it is to repair an ICE vehicle, and this is a major challenge for OEMs and their dealerships. The cost to produce an EV is already significantly higher, and the battery is a major part of that – in some instances, the battery can cost in the region of $30,000. In the case of the Jaguar I-PACE, for example, that amounts to 45% of the price of the car. The battery is not just costly to replace if damaged, but also heavy, with some models weighing 600kg. This means more secure and robust support systems will need to be implemented, not just within the vehicles themselves, but at the repair centers that maintain them.
"Once EVs enter the mainstream, they will account for around 20% of R&M workshop operations in 2030 in Europe."
Smart OEMs will find new opportunities
Some batteries permit modular repair, but many are only available in one piece. Understandably, this makes consumers nervous about the expense of a potential battery failure, so manufacturers are exploring ways of mitigating these fears. Typically, batteries are reliable and proven to last many years, so some OEMs offer battery guarantees or long periods of warranty. Others are exploring options to sell the vehicle to the consumer but lease the battery within it, so drivers pay a regular fee for the reassurance of a quick replacement if the need arises.
But it's not all bad news for repairers. Damage or crash repair is one of the largest areas of parts sales, so this revenue should remain largely unaffected because EVs and hybrids are just as prone to collision damage as traditional ICE vehicles. A McKinsey report believes collision parts and service profits may increase from $13 billion in 2017 to between $14 – 15 billion in 2030. This is due to the increase in miles driven and the rise in parts prices.
Meanwhile, OEMs can invest in total loss avoidance (TLA) schemes to improve the likelihood of a vehicle's repair after a collision, subsequently ensuring that the vehicle continues its serviceable life on the road. TLA schemes, with parts substitution technology, intervene in the insurance estimate process and help manufacturers ensure the parts chosen for repair are genuine OE parts.
The industry has also seen an increase in OEM network loyalty, largely because independent vehicle repairers haven't yet extended EV services to consumers.
Derived from these assumptions, our model assesses the impact of BEVs on each aftermaket segment, both on the volume of jobs and on revenues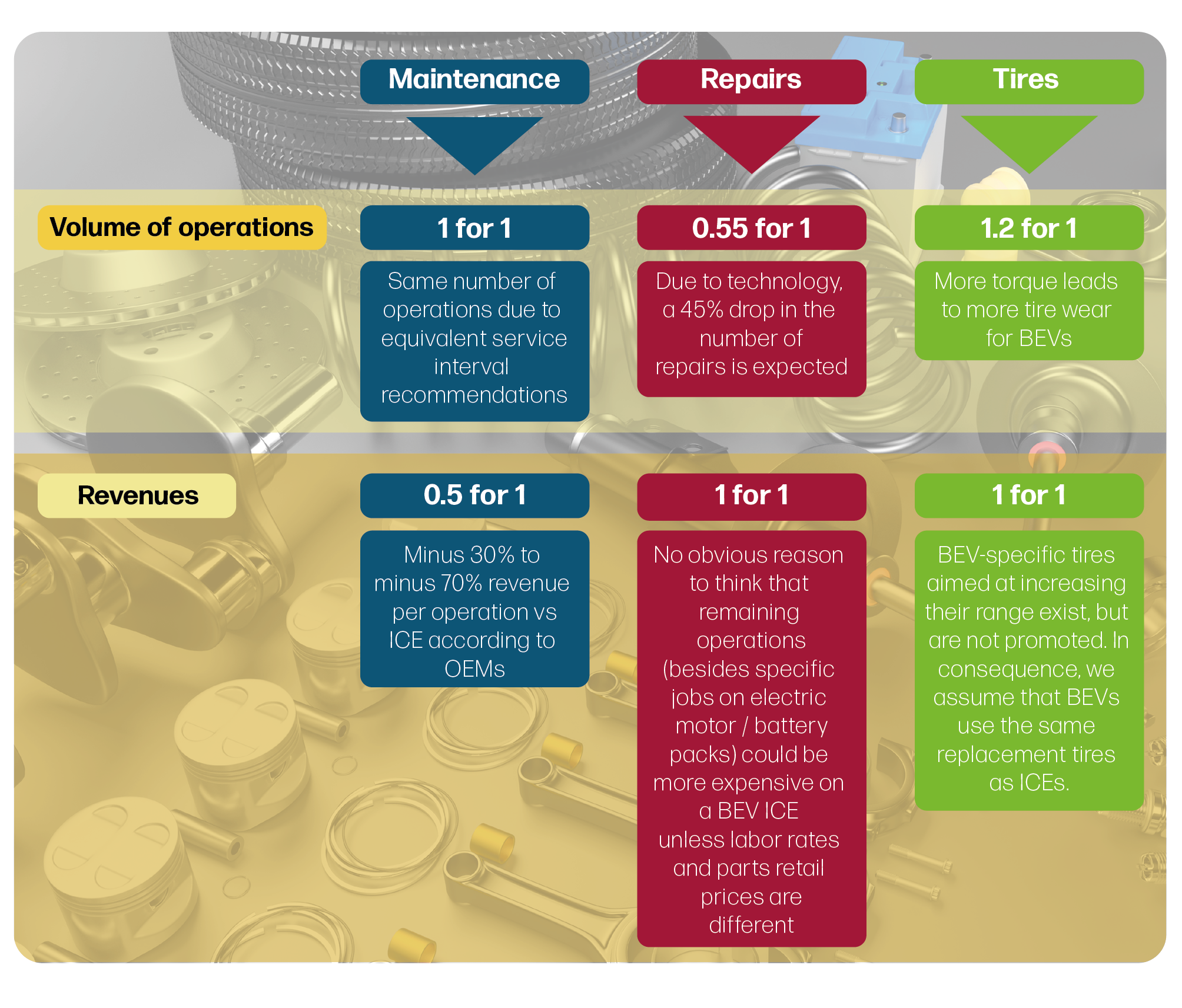 Because EVs are so specialized, many independents have yet to undergo the right training for working with high-voltage electricals. And according to research carried out by the ICDP, a survey of France revealed 89% of battery EV owners only trust the dealer or authorized repairer because of the technological content of their car.
Eventually, manufacturers will refine the software delivery methods that provide upgrades to EV vehicles to improve their performance and range. The over-the-air nature of connected vehicles and EVs lends itself to regular modifications, and it's likely that consumers would be willing to pay for those benefits.
Equally, there may be a market for low-energy accessories. Drivers of ICE vehicles take for granted that they can run lights, screens, heaters and music, because it makes little difference to the vehicle's power and performance. However, in EVs these features reduce power and range. Manufacturers may choose to invest in the development of low-energy, EV-compatible devices, as well as portable chargers and inverters. Meanwhile, there may be increased profit to be found in selling tires. Because EVs are heavy and powerful, they'll need replacing more often.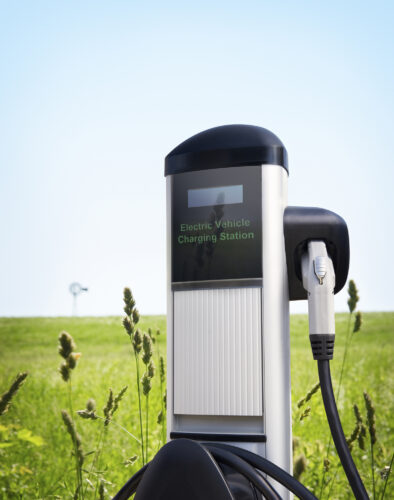 Global replacement parts revenue by type ($bn)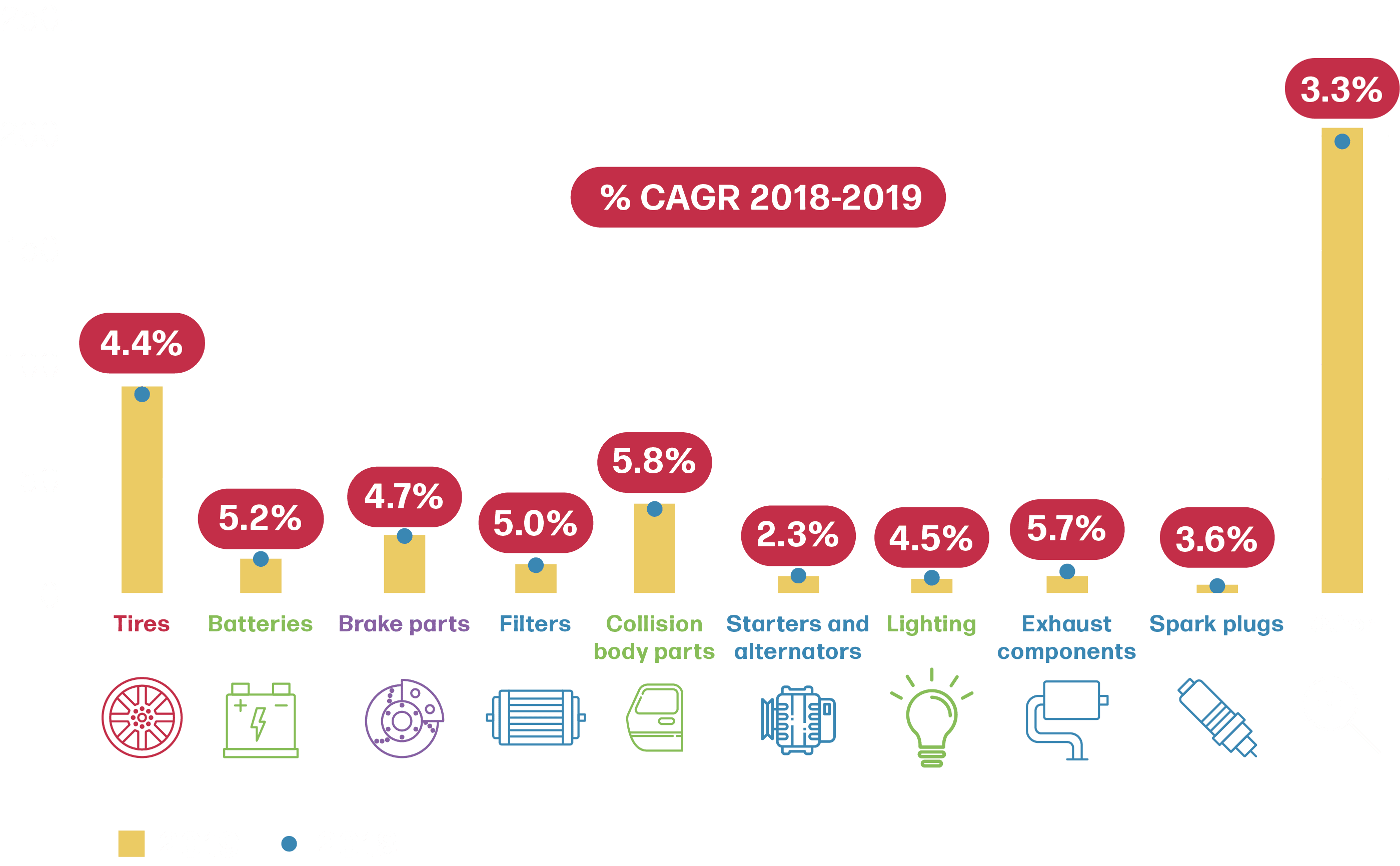 Source: MSX estimation based on ICDP, Statista, Frost & Sullivan, and LMC data
At some point, OEMs will need to make EVs more accessible to the millions of potential customers who live in blocks of flats, or who don't have a garage or can't afford expensive charging wall-boxes and cables. Consumer challenges like these could translate into business opportunities for manufacturers, who may choose to develop easy-charge facilities for their EV models to help generate greater sales and increased loyalty.
Manufacturers and their dealerships must continue to protect their existing parts operations while negotiating alternative, EV-specific business models. But for now, they hold the advantage, because EV components are still too specialized and expensive for many independent repairers to compete with. It's up to forward-thinking OEMs to be among the first to take advantage of the new opportunities and revenue streams EVs generate.
Overall aftersales demand for BEVs is claimed to be far lower than for ICEs, but this does not apply to all components, and so does not impact market segments equally.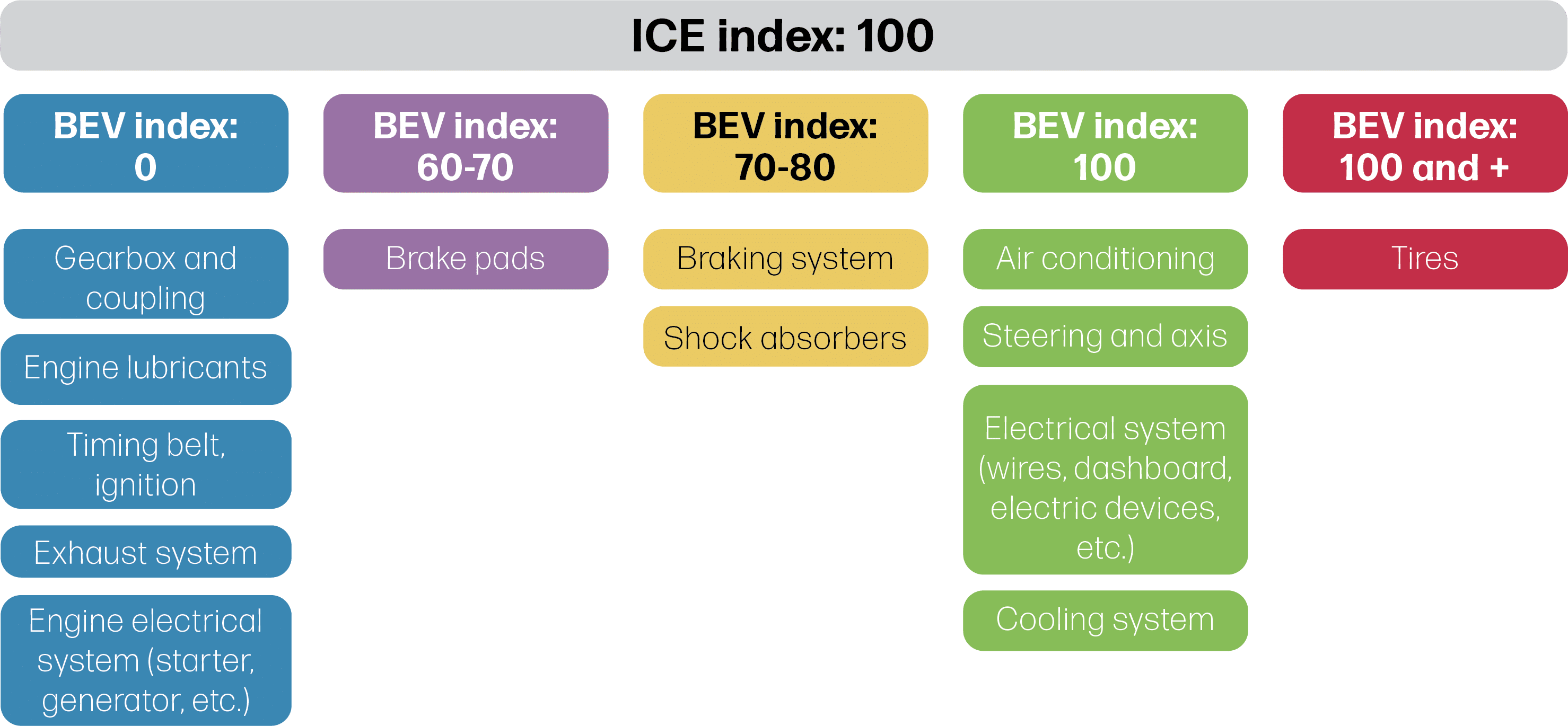 About the Author:
Andy Mills
Director, Parts and Service
Andy is an economics graduate and qualified management accountant. He joined Impetus Automotive in 1998 and built its software development, insight and analytics services. As a consultant, Andy has delivered high-profile assignments for OEMs including BMW, VW and JLR. In 2019, Andy became responsible for the Global Technology Services division of MSX, and is now Parts and Service Product Director, responsible for launching digital product initiatives that deliver profitable parts sales growth for OEMs. He can be reached at amills@msxi-euro.com.