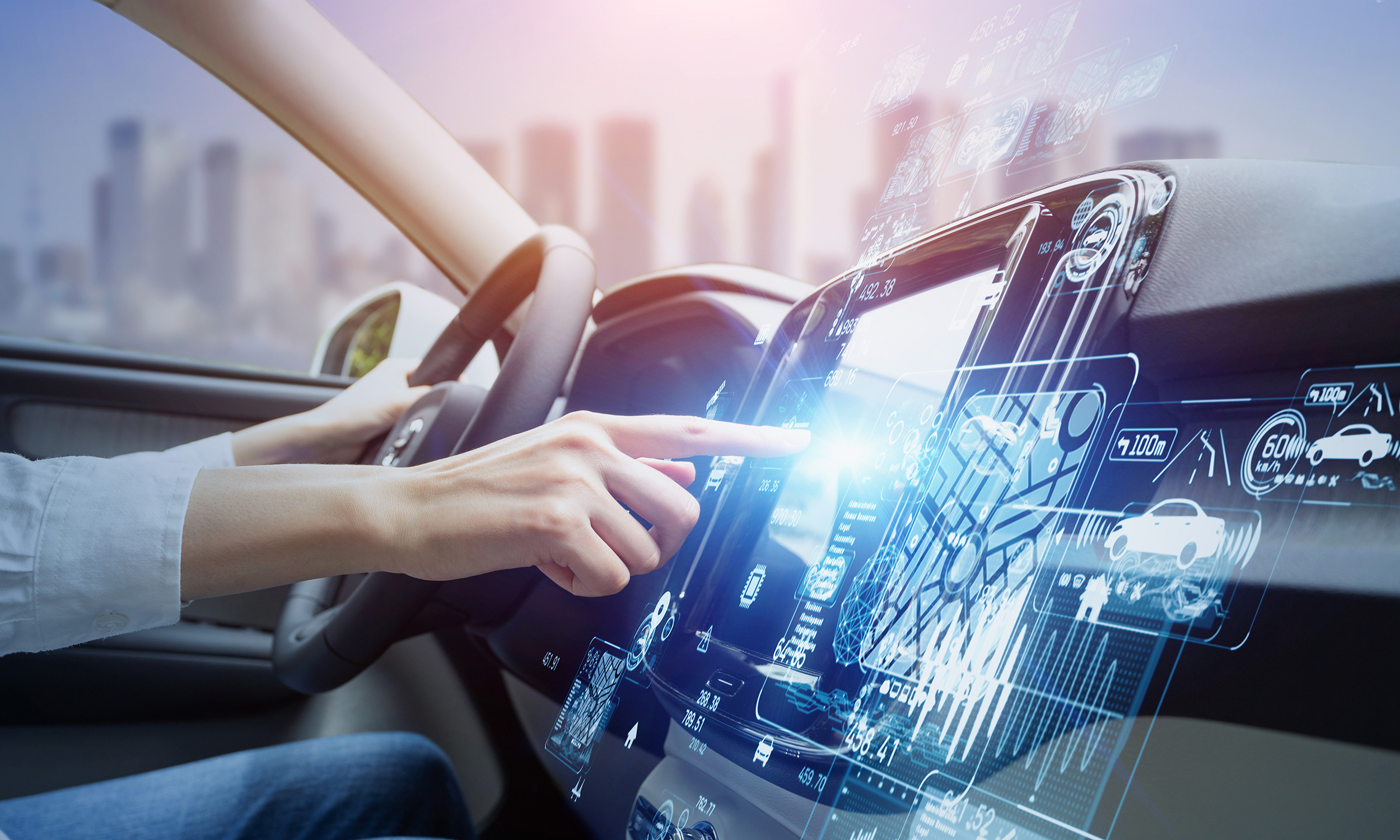 Customer education: A key element of enhanced brand loyalty

The modern vehicle is not only incredibly complex, but automotive advances today are unlike anything the industry has seen for generations. Electric vehicles have transformed the concept of the automobile and the services that surround it, and new distribution models are dramatically altering brands' relationships with their customers. These factors have contributed to a rise in the number of customers who are less confident about managing the requirements of their vehicles or who are failing to make optimum use of the technology available. And many don't know where to turn for help.
Customer onboarding and ongoing customer education can play a critical role in helping owners get the most from their vehicles, and by extension, strengthen their relationships with brands. Not only does it help to familiarize drivers with their vehicles, but it introduces opportunities for brands to continue their delivery of value to customers across a variety of communication channels. Ultimately, a brand's ongoing investment in identifying and fulfilling its customers' needs results in higher levels of product engagement and consumer loyalty.
That said, brands must resist the temptation to apply their conventional dealer training approaches for customer education. Traditionally, brands have relied on a 'push-based' approach to dealer training, developing and sustaining retail competence through a mix of rewards and penalties. The relationship between a national sales company and its network within the franchised distribution model has allowed this model of training to work reasonably well. However, customer education is completely different. Customers can not be expected to follow neatly defined learning paths mandated by automotive brands. Businesses that acknowledge and respond to this reality are likely to set the trend.
"By delivering information with a high value-to-time ratio, brands are more likely to appeal to customers with little time on their hands for learning new information and encourage them to come back for more."
Getting customer education right
Successful, well-designed customer education, which leads to enhanced consumer loyalty, relies on the application of some basic principles. The first is to 'deliver meaningful value', which relates to the standard of content that education offers the customer. Today, brands must acknowledge that the customer's time is precious, and that they're competing for the attention of people who most likely carry a supercomputer in their pocket. It is essential that every piece of education delivers compelling value so that customers continue to engage. For instance, customers whose connected vehicle data shows driving patterns that drain battery will find immense value in a short video – pushed to them via the car's infotainment system or a mobile app – which explains how they can get more from their car's battery.
Second, educational content must be 'bite sized' – short, crisp, concise and to-the-point. By delivering information with a high value-to-time ratio, brands are more likely to appeal to customers with little time on their hands for learning new information and encourage them to come back for more.
Content should be 'contextual', or relevant to individual drivers and their circumstances. The modern car is a connected, Internet-of-Things (IoT) device. It contains hundreds of sensors that capture millions of data points every hour, measuring everything from vehicle speed and dynamics to driver behavior. Connected vehicle data enables businesses to make customer education content that's better suited to individuals. For instance, a driver inputs their destination into the vehicle's navigation system, which allows the vehicle to check the weather at the destination. In the likelihood of inclement weather – a snowstorm, for example – a short video on the in-vehicle screen could provide tips to driving safely in low visibility, delivering immediate value to the driver.
Effective Customer Education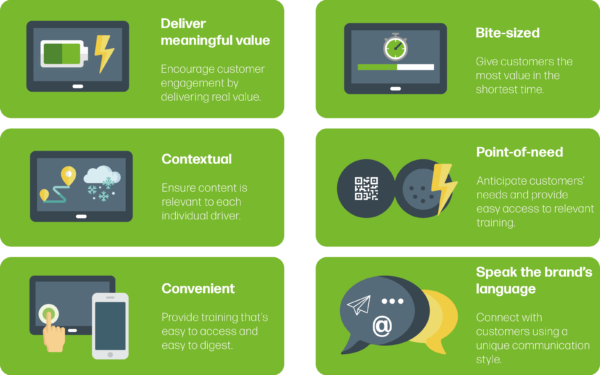 Source: MSX International
Effective Customer Education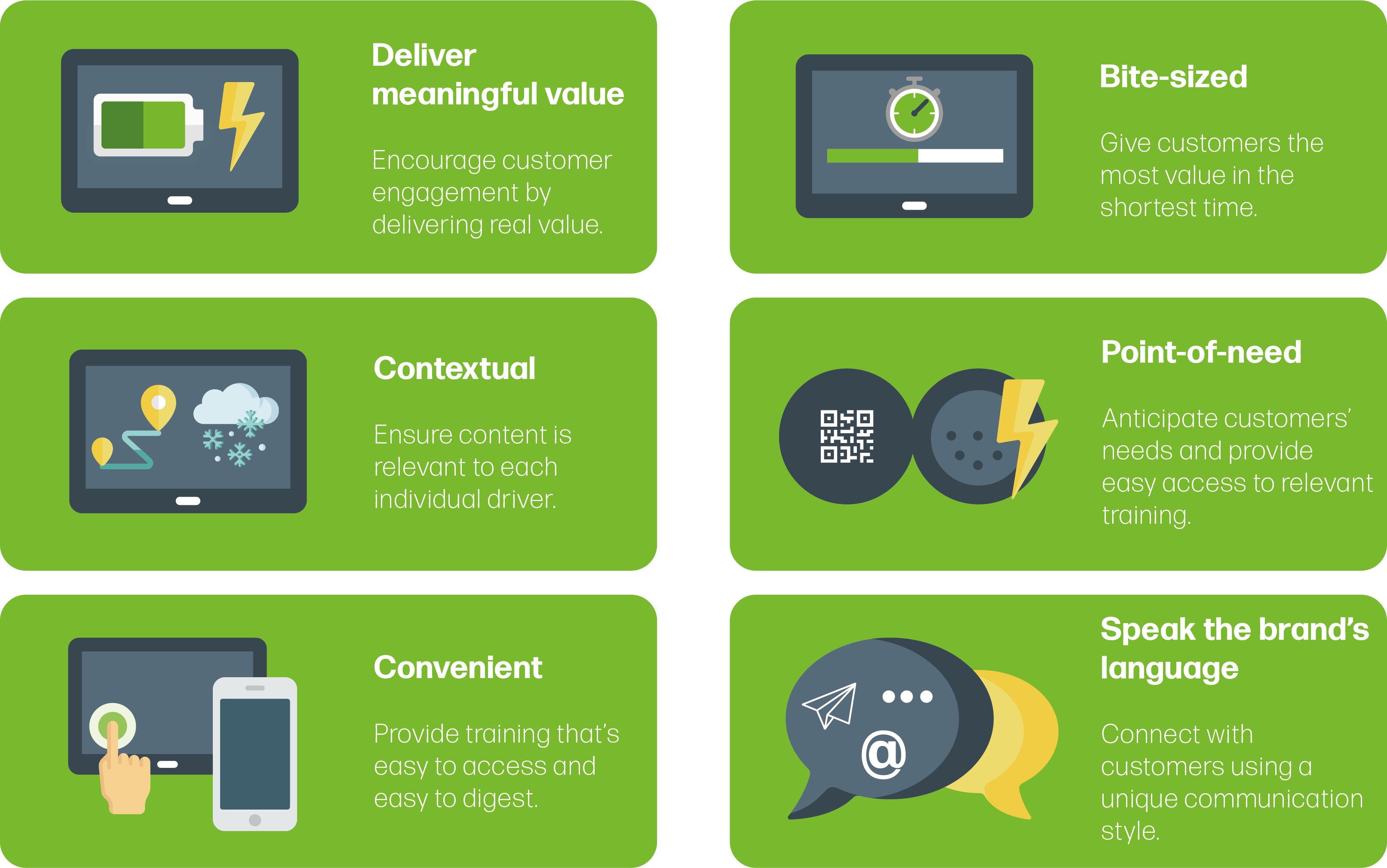 Source: MSX International
Small pieces of content need to be made available to the customer at the 'point-of-need'. Brands must identify specific points of use at which the customer is likely to need help, support or troubleshooting information, and make relevant content available at precisely the right time. For instance, a QR code may be printed on the inside of the charging port to direct customers to a short troubleshooting video in case they are unable to charge their car. This is the precise point at which a driver is likely to need access to this content, making it far more valuable.
Brands must make the process of searching for and consuming these bite-size pieces of educational material as 'convenient' and as easy to digest as possible. There are now multiple digital systems available, including the in-car infotainment screen or the OEM's own smartphone app that offer the means to make the consumer's discovery and consumption of educational content more convenient and user-friendly.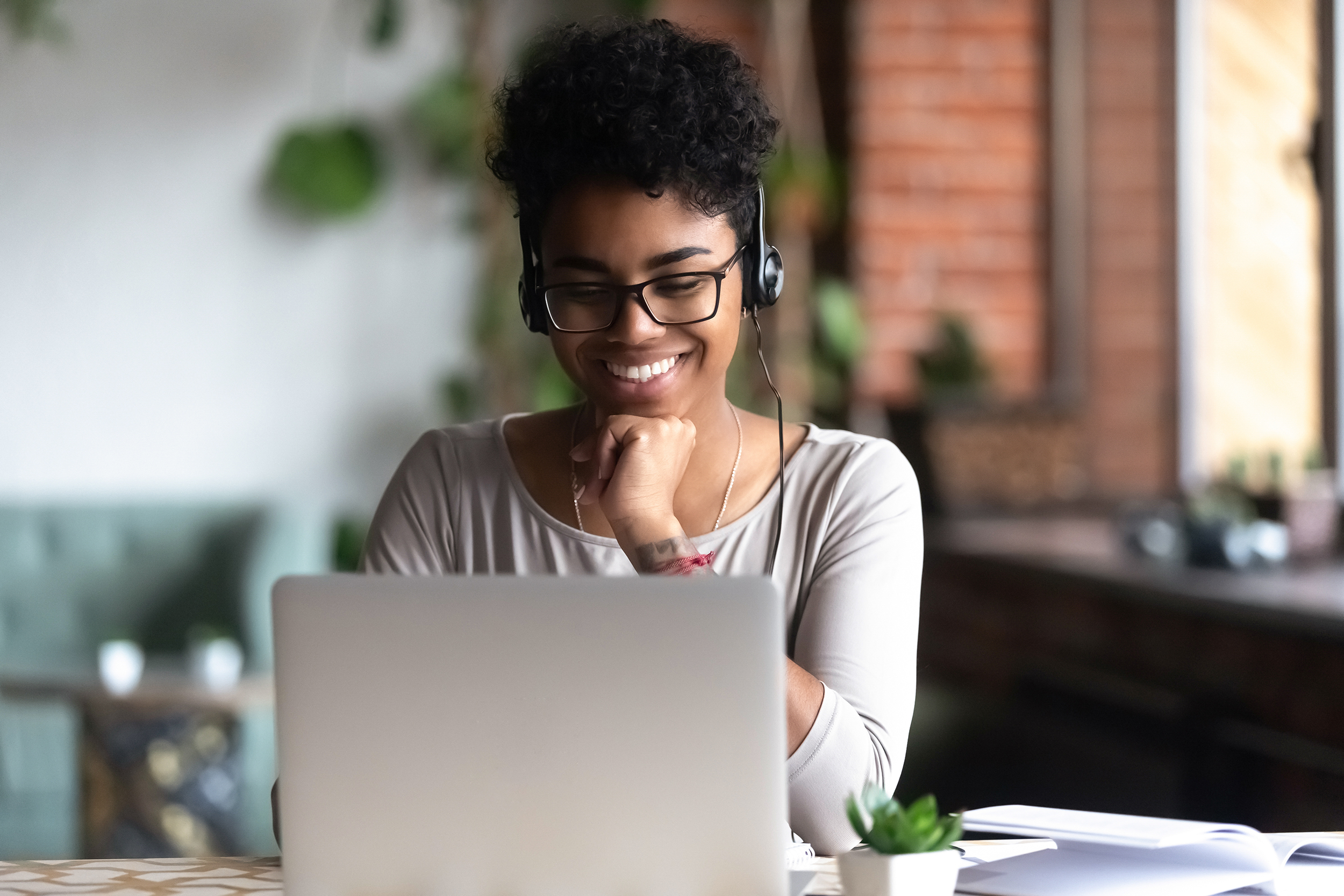 Finally, customer education content is a great opportunity for a business to 'speak the brand's language' to convey its positioning, character and style of communication. Brands must explore ways to deliver content with consistent messages, values and personality, helping make its customers' learning experiences unique and memorable. Ford has taken the idea of personality-driven content a step further. The brand built a working concept escape-room style spy game for its Mustang Mach-E that interacts with the audio system and other vehicle features during play. The use of technology in this way not only entertains consumers but also demonstrates the potential of in-vehicle applications for future learning and engagement opportunities.
Additional considerations
For brands that are only recently adjusting to a direct-to-consumer communications approach, methods of customer education are still in the early stages of development. And there are some important factors to consider. In this increasingly customer-centric environment, businesses must recognize that the customer expects to have ultimate control over when, where and how they engage with educational content, or if they engage with it at all.
Meanwhile, the delivery of educational information – especially in cases where contextual content is recommended to customers – must respect consumer privacy practices and data protection legislation. And safety is also paramount. Adequate safeguards must be built into the distribution and consumption of customer education content to ensure that it is being consumed at a time and place where it is safe to do so, and that it does not endanger the lives of passengers and other road users.
The automotive industry can be inspired by multiple other sectors which are setting up new, innovative solutions and services that inform customers in ways that are efficient, timely and convenient without being intrusive. Any good software-as-a-service (SaaS) product or platform today offers customer education and onboarding via product tours. They give customers the ability to learn about a product in their own time by clicking through a series of instructions that showcase the product's functionality and how to use it. Tools such as these usually offer ongoing customer education through a simple 'help' button that a user can select at any time if they'd like to know more about a function or feature. In some circumstances, large brands with a loyal customer base have been successful at engaging customers via dedicated learning events. Apple, for example, organizes regular training events at its Apple Stores and online which allow customers to learn about everything from using an iPad to mastering the brand's most complex enterprise software.
The rapid evolution of products, changes in customer behaviors and the emergence of new distribution models offer many opportunities for brands to engage with their customers in more meaningful, memorable and compelling ways. Customer education that is convenient and appealing, which delivers real value to customers at the point of need, carries the most potential in driving better experiences and higher levels of brand loyalty.
About the Author:
Jayesh Jagasia
Global Executive Director
Deeply passionate about the automotive industry, Jayesh helps leading automotive brands improve their retail performance and customer experience. His previous venture was an innovative business that aimed to radically transform the used-car purchase experience in emerging markets. Jayesh has an interest in artificial intelligence, mobility and learning technology, and offers valuable knowledge and skills to the wider MSX team. He can be reached at jjagasia@msxi.com.