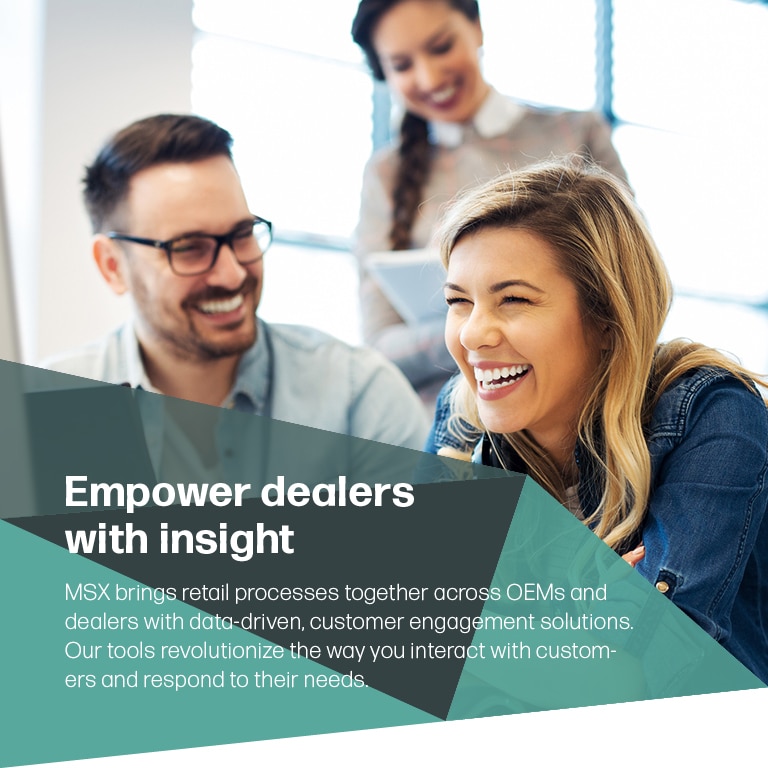 Customer service beyond expectations
MSX is transforming the way you engage with your customers in response to significant changes in the retail marketplace.
Our innovative products and services enable next-generation lead management and customer interaction at dealer level, and exceed the expectations of today's consumers. They connect intelligence across digital and physical sales channels, empowering agents and sales teams and supporting smarter sales practices.
MSX customer engagement solutions help OEMs and dealers work more closely together. They help you share crucial data across multiple departments and accommodate the needs of every customer at any point of sale.
Get to know your customers
What we don't already know about customer behavior is contained within the data our solutions generate.
Be proactive. Pinpoint your prospects
Traditional customer service models require dealers to respond to a customer enquiry equipped only with the knowledge gained from that single interaction.
Cardess is a modular, digital solution that combines customer information from sales and aftersales into one platform.It also identifies customer interaction through both online and offline channels and carries this data across channel boundaries, giving OEMs and dealer groups access to comprehensive business intelligence and helping them identify potential sales opportunities.
They can tailor and plan services to meet the individual needs of every customer and increase loyalty through greater knowledge and exceptional service.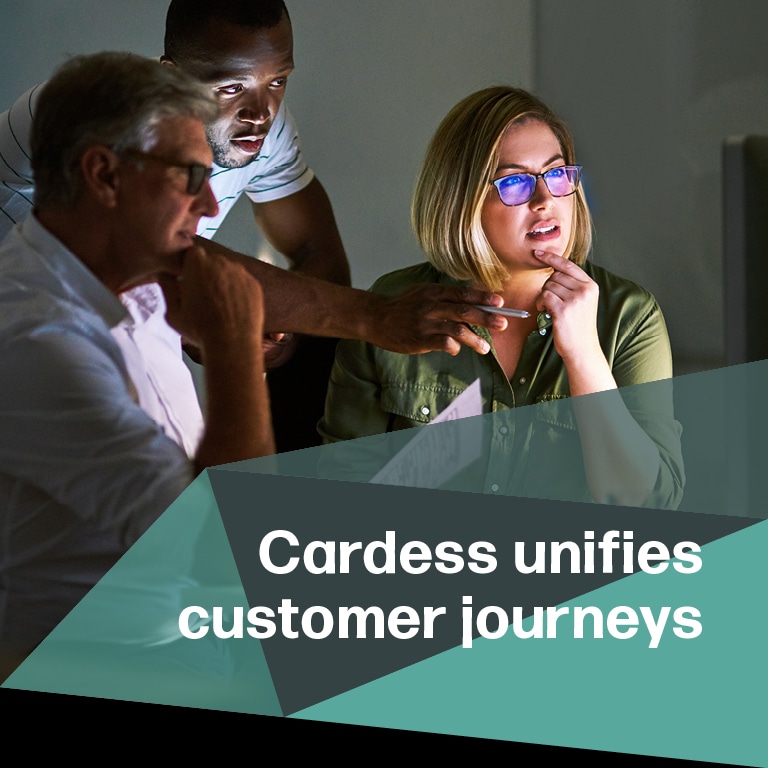 of car buyers who research their purchases online visit dealership websites.
(Source: Cox Automotive)

of customers, when asked, use online services when shopping for a car.
(Source: Frost & Sullivan).
of customers, when asked, expect that by 2027, dealerships will know what they've been looking at online.
(Source: ICDP)
of UK consumers expect dealers to have online service booking.
(Source: NFDA)
Bridge the gaps between dealers and OEMs
Cardess enables MSX to integrate the customer engagement platform within your business and provide access to relevant information via dynamic, user-friendly interfaces.
Cardess delivers a comprehensive, connected view of the customer. Using this information, dealers can predict and respond to an individual's current or future requirements, and tailor communications according to their historical behaviors or preferences.
Our tools streamline the customer experience across every interaction, whether the initial communication occurred in a showroom or via a website. The 360-degree view of the customer's history reveals relevant details to agents at the right time to help them create a positive customer journey and secure a sale.
With Cardess, agents can:

Predict and respond to a customer's future needs

Automate marketing communications

Connect online and offline journeys

Unlock the full potential of their customer base
Cardess includes five modules:
Sell ​​supports dealers with digital lead management and includes a next-generation app for sales advisors. It connects customers' online and offline journeys and transmits information – such as lead name and vehicle of interest – directly to the relevant sales person. Sell offers a digital showroom that tracks and interacts with leads within the dealership.
Service offers a complete suite of modules that help dealers streamline and digitalize their service processes. Modules include online service booking, online repair-price calculation, digital service reception and video check.
Engage draws data from other Cardess modules and turns it into intelligence. It offers a view of customers' events and transactions, matches vehicles with prospects, identifies customers from anonymous communications, creates purchase loyalty offers, helps manage campaigns and identifies upsell opportunities.
Act is a fully automated marketing engine for dealers driven by artificial intelligence. It enables integrated marketing across retail and wholesale levels, enabling users to create marketing plans, execute and measure campaigns and identify new sales opportunities.
Insight offers business information and intelligence across all your customer engagement activities. Using this data, you can build a complete picture of customer needs and behaviors, pinpoint potential problems, make informed decisions and prepare for changes in sales patterns.
Integrate data and people