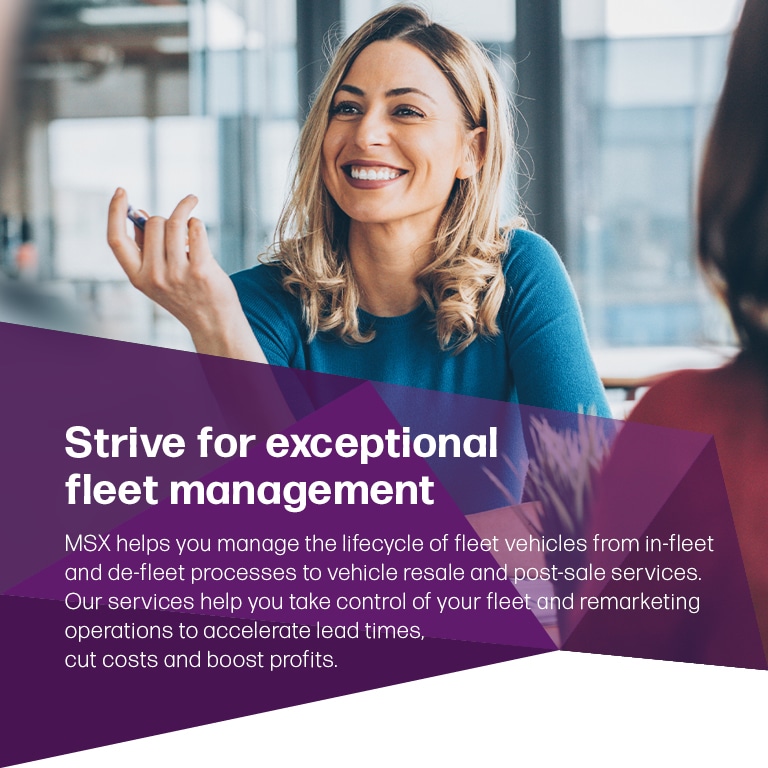 Transform your fleet and remarketing business
We offer end-to-end fleet and remarketing services that help today's decision makers revolutionize their fleet resale operations.
MSX fleet and remarketing solutions enable fleet managers to consolidate and streamline all fleet and remarketing processes, reduce operational complexity and cut costs for OEMs, their customers and partners.
Our product suite supports and strengthens your business as customer demands grow and evolve.
Trust industry-leading digital innovations
MSX is a leading global supplier with unrivaled expertise in the fleet business. Our comprehensive fleet and remarketing suite is supported by web-based technologies that help OEMs future proof their fleet businesses.
Protect profits and accelerate lead times
MSX's fleet and remarketing products help you sell fleet vehicles faster, boost sale prices and minimize loss from vehicle depreciation.
In today's fleet market, traditional fleet management models rely on multiple, disparate systems which can drive up operational costs. When vehicle depreciation affects sale prices, these inefficiencies are even more prohibitive.
MSX's fleet and remarketing tools and services help to consolidate and manage the entire lifecycle of fleet vehicles from in-fleet and fleet operations to vehicle resale and post-sale services. They help you work more closely with your dealer network and leasing and rental companies, accelerate lead times and cut costs.
Our services are driven by experienced MSX professionals whose understanding of the fleet and remarketing business is second to none. Our services are modular, so you can choose the elements you need. And they're supported by web-based digital tools that fit together seamlessly and integrate with your existing systems, bringing all your fleet and remarketing processes together into one, end-to-end solution.
Expected proportion of corporate new car registrations in Europe in 2021.
(Source: Deloitte)

Projected number of globally leased company cars in 2019.
(Source: Frost & Sullivan)
Fleet managers who claim compliance processes are among their top-three tasks.
(Source:  verizon connect, DatoCMS)
Adapt to tomorrow's fleet management today
OEMs are under pressure to resell de-fleeted vehicles fast to secure the best possible price. They must move away from traditional sales methods and adopt new retail channels that enable them to sell directly to customers. They need to better understand industry fluctuations and adopt solutions that support a more structured, planned approach.
You can manage your business more effectively with full transparency and traceability with help from our comprehensive analytics tools and experienced MSX team.
Our services offer automation – supported by artificial intelligence – for increased accuracy and faster lead times. They alleviate administrative duties and enable fleet managers to focus on higher-value tasks.
We also support the adoption and management of new channels and routes to market, helping you increase sales and build a more diverse customer base.
Gain complete control with
integrated services
MSX's fleet and remarketing expertise and
web-based tools work with your systems
to help you easily and cost-effectively manage:
Reach new customers. Boost profits
MSX's fleet and remarketing services give you: