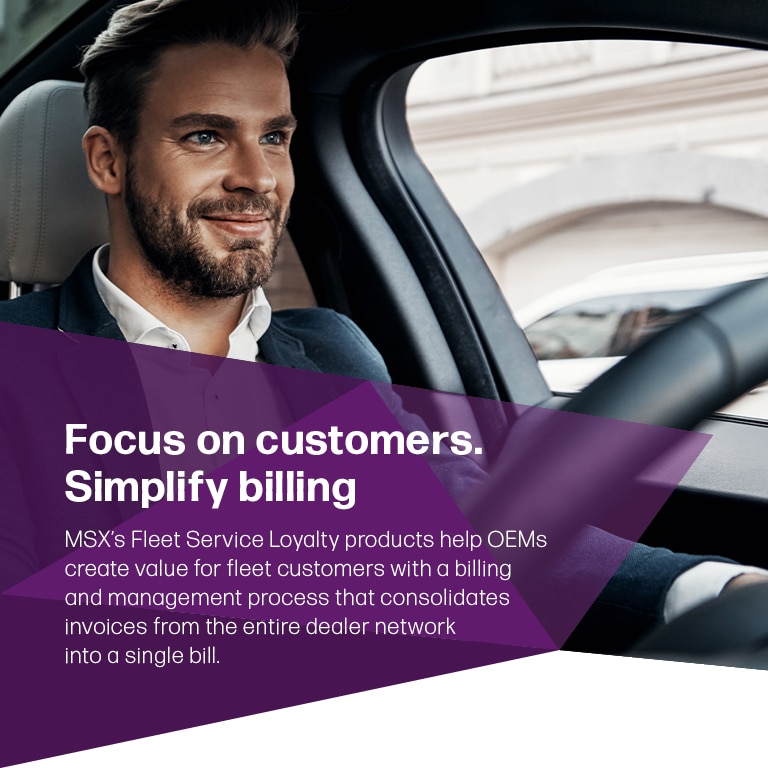 MSX has transformed fleet payment processes
MSX has erased the complexity and administrative burden of fleet billing.
Our Fleet Service Loyalty products make fleet billing processes easier, faster and smarter for OEMs, their dealers and fleet customers.
Using automation and intelligence tools, they reduce administrative tasks associated with fleet billing and help operators handle billing processes with greater accuracy and efficiency.
Our products free up time and offer detailed reports to help OEMs and fleet customers manage their fleets more strategically and make more informed financial decisions.
Keep customers keen with smarter services
MSX's comprehensive billing services are efficient, cost-effective and secure. They help OEMs work smarter, strengthen customer relationships and increase loyalty by using business intelligence to develop targeted opportunities.
Take the burden out of billing
Managing a large fleet can be costly and time consuming, especially when vehicles are located across the country.
When drivers have their vehicles serviced or repaired close to where they're located, it creates a significant administrative burden for fleet companies who have to process multiple invoices. Meanwhile, OEMs must process invoices that include many variables, such as disputes, promotions and late fees.
The Fleet Service Loyalty suite employs specialist knowledge, digital tools and a structured, planned approach to save you and your customers time and money. It helps you to run a streamlined fleet business at global or national levels and target different fleet customer groups in the right way.
Percentage of fleet
managers who would find
external support and advice helpful
in the transition to new
technologies and vehicle types.
(Source: Shell)
The time UK SME
fleet managers spend
on fleet admin each month.
(Source: BusinessCar)
The proportion of
fleet managers excited
about how technology
will shape the industry.
(Source: Shell)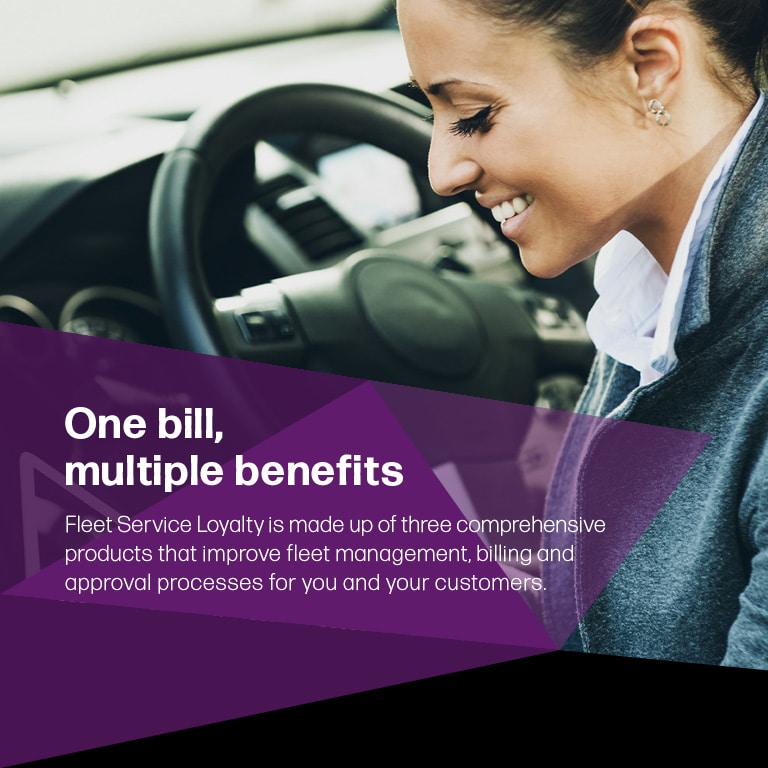 Fleet Service Loyalty supports three core functions:
Fleet Central Billing Engine
Consolidates multiple dealer repair or part purchase orders into a single, unified invoice. The system applies an OEM's payments and promotions rules, and accounts for variables such as contract and vehicle data, repair details, third-party parts purchases and credit application information.

An OEM-branded, web-based user application which works in conjunction with the Fleet Central Billing Engine. It integrates with the OEM's own systems and enables fleet customers to input relevant billing information and generate business intelligence reports.

Fleet Prior Approval Engine
OEMs can offer fleet customers the freedom to determine pre-set repair or service limits. It means their drivers can request electronic approval of repairs at approved dealerships, reducing the need for carrying company credit cards, cash or checks.

Cut admin. Make better decisions
Fleet Service Loyalty helps OEMs:
Manage fleet decisions more strategically, based on transparent data.
Retain and engage new customers and increase sales of original parts, servicing and financial services.
Reward dealerships and deliver credit for discounts faster.
Gain competitive advantage
Deliver these comprehensive fleet services and stand out in a highly competitive market.
Reduce manual tasks and spend more time focusing on value-added activities.
Engage customers and reward loyalty
Help customers reduce time-consuming manual processes and risk of error.
Give them convenience and security
Give drivers preset spend limits so they can stop for repairs without the need for credit cards, cash or checks.
Improve service for customers
Help them monitor their own activities with the online portal.
Free their valuable time with less paperwork.
Let them understand patterns in service or repairs.
Help dealerships work smarter