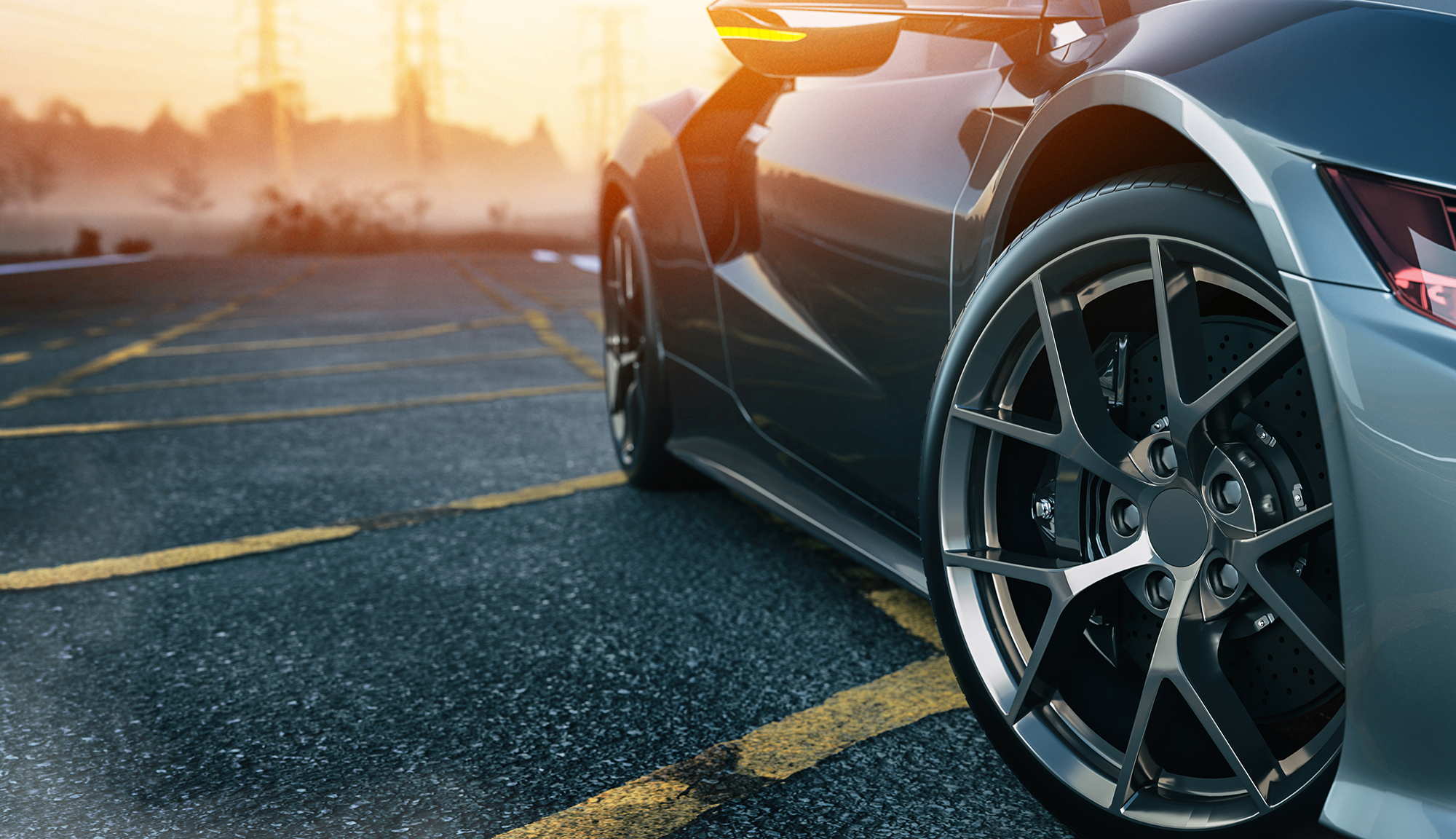 An operational evolution: How US manufacturers are adapting to a new future

The United States is witnessing an acceleration in electric vehicle (EV) adoption in 2021, driven by an influx of new models and an increase in positive consumer attitudes towards alternative powertrains. Studies predict that EVs will account for a higher proportion of vehicles sold this year. Until recently, EV adoption has trailed behind some markets such as Europe and China. Long driving distances and cheap fuel have meant US consumers have been more reluctant to make the transition. Range anxiety and expense have also been legitimate concerns, and delays in infrastructure have added to the US market's unease around the adoption of EVs.
Across the industry, OEMs are investing heavily in resources to develop new EV and hybrid vehicles. Improvements to technology are resolving issues that have previously held back EV sales growth, and a surge in investment into EV infrastructure is now helping combat consumer concerns. It's only a matter of time before a larger proportion of US consumers make the switch.
"Recent studies have demonstrated that connectivity and in-car services are becoming as important to customers, if not more so, than other features that were more attractive in the past."
Consumer attitudes are changing
COVID-19 and social distancing have also played their part in prompting industry investment in new business processes and digitalization. Today's US consumers are now more digitally focused, often initiating their purchase journey via online channels before visiting the dealership to complete a test drive. Additionally, consumers are beginning to embrace the convenience of purchasing vehicles online, creating a huge opportunity for OEMs and dealers to improve their digital offerings.
Their expectations of the aftersales experience are evolving too, especially around direct interactions with dealerships. Increasingly, people have begun to view their vehicles more like they do their mobile phones. They want to receive the latest updates in the most convenient way possible, such as over-the-air, removing the need for dealership visits in every instance. At the very least, they expect to be able to make a booking online, but may eventually choose to have their vehicles repaired on their driveway or at a more convenient location. An increased digital consumer presence, driven by the social restrictions temporarily enforced in 2020, has changed the way consumers interact with sales and service advisors onsite. They are more likely to conduct in-depth research before their visit, and will expect an enhanced experience during which they are offered detailed information that supports their decision-making processes when purchasing a vehicle.
Meanwhile, in a recent statement from The White House, the US federal government revealed its plan to significantly reduce greenhouse gas emissions by 2030. The anticipated restrictions on vehicle emissions, combined with government tax relief on EV purchases and state support for the development of EV charging infrastructure, is validating OEMs' continued investment in EVs. However, the market share of EVs remains considerably lower in the US than other global markets, with electric vehicles accounting for just 1% of the 17 million vehicles produced each year. Some automakers have set goals to achieve a fully electric line-up by 2035 and are working towards becoming carbon neutral by 2040. But this will be fully dependent on consumer demand, and the production of internal combustion engine (ICE) vehicles could continue beyond this point if there is enough of a requirement.
Total light vehicle sales by plug-in electric vehicle (PEV) market share 2020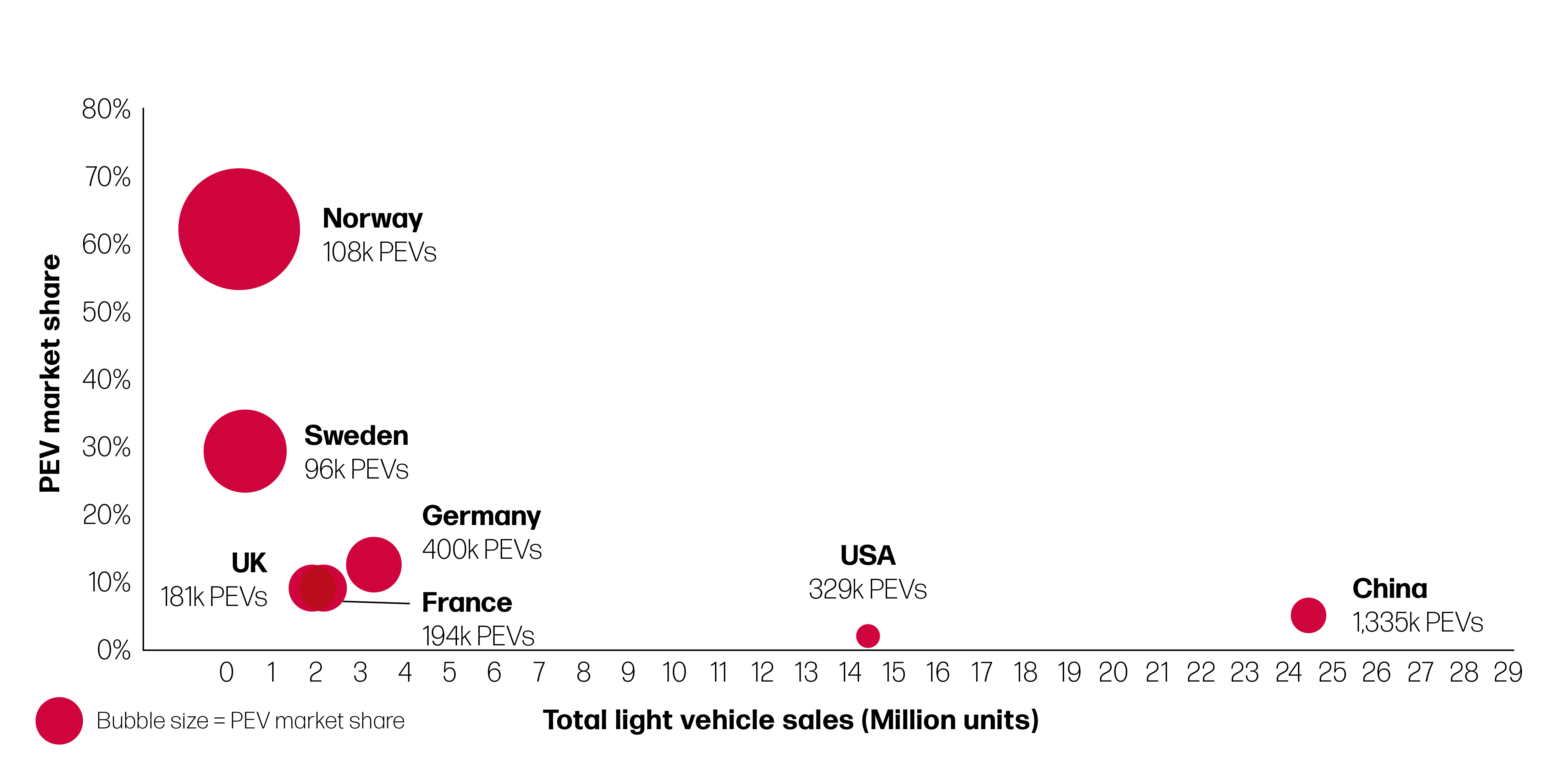 Source: MSX Analysis, Frost & Sullivan, LMC Automotive Global Light Vehicle Sales Forecast, Q1 2021
Relationships are evolving
The relationship between the dealer and customer is changing, as fewer customer interactions will be initiated onsite for sales enquires, servicing and repair needs. With the rise in technological advances and a shift in online consumer expectations putting pressure on retailers to digitalize their services, dealers are presented with opportunities to rethink their retail models and evolve their operations. An initial rise in EVs will reduce the competition from independent repairers, as consumers put their trust in the manufacturer to maintain the vehicles they produce. At the same time, dealer networks must adopt the new knowledge and skills necessary to handle the transition to selling, servicing and repairing EVs to meet the demands of the well-informed consumer.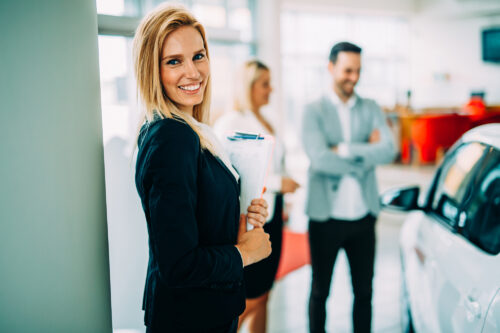 Change without compromise
A shift towards CASE (Connectivity, Autonomous, Sharing and Electrification) technologies is paving the way for a younger, digitally motivated and eco-conscious generation of consumers. Dealer employees must developed the skills and knowledge to meet their needs, and given the proliferation of new vehicles and alternative powertrains, it's crucial that training for dealer employees is swift, efficient and cost effective. Solutions that enable businesses to integrate training into day-to-day operations are most valuable. Point-of-use tools, whereby employees can view information about a vehicle's features or functions on their device, for example, are vital. Equally, training can be delivered through soundbites of information, sent directly to dealer employees at convenient times throughout the day.
It's still unknown how fast US consumers will jump on the EV bandwagon, but there is definite momentum in the acceptance of alternative powertrains and technology services. Concepts that only recently seemed futuristic are now possible, from dealer-to-consumer communications via the connected car, the sale of insurance policies based on driving patterns and shared ownership, or the integration of personal, virtual assistants, allowing users to integrate elements of their vehicle into their digital lifestyle.
These developments are driven by consumers' expectations for faster, more connected and immediately available services. In fact, recent studies have demonstrated that connectivity and in-car services are becoming as important to customers, if not more so, than other features that were more attractive in the past. The Deloitte 2021 Global Automotive Consumer Study outlines US consumers' preferences for features such as built-in Wi-Fi, over-the-air software updates, mobile phone integration such as Apple CarPlay or Android Auto, and semi-autonomous drive modes.
Consumers' purchase process: The preference of online over in-person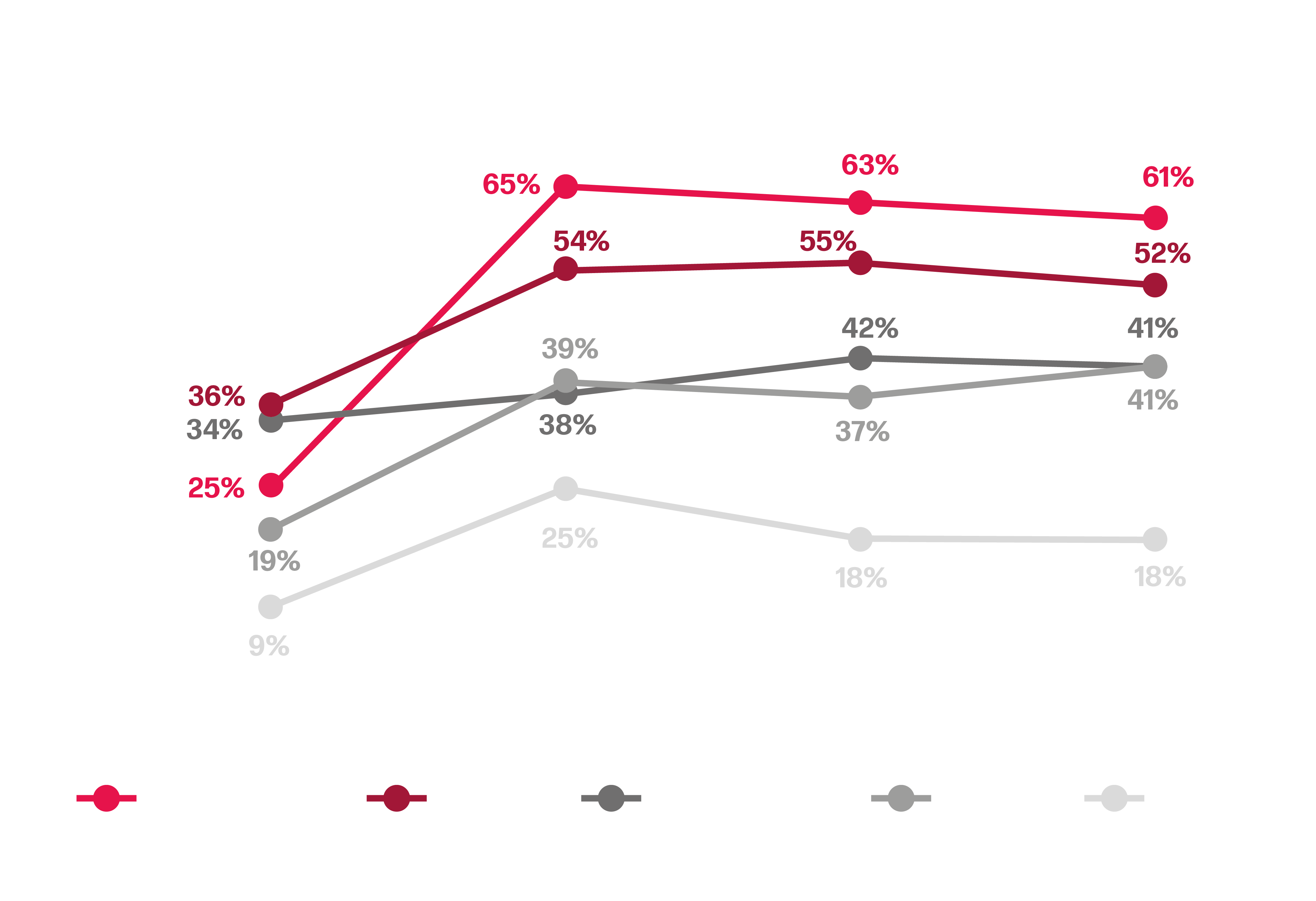 Source: CarGurus COVID-19 Sentiment Study, United States
A step into the unknown
There are still variables that will affect the speed of adoption and success of the US market's transition to EVs. Questions over how well the existing infrastructure can support a rapid adoption, or whether energy companies can support the volume of charging required as the industry ramps up, are yet to be answered. During the pandemic, we have seen a preference for individual ownership and it's likely that when the crisis ends, ride sharing will rise in popularity once again.
Ultimately, the future of the automotive industry has never looked brighter. This transition is seeing OEMs, retailers and consumers propelled to the forefront of technology adoption. The application of these new services and their capabilities creates opportunities for everyone in the ecosystem, and it is vital that manufacturers and their dealer networks prepare now for what's to come.
About the Author:
David Graff
Global VP, Sales and Marketing
David Graff is Global Vice President of Sales and Marketing at MSX International, responsible for the development and execution of the sales and marketing strategies of global automotive clients. Before joining MSX, David served as the US Automotive Managing Director at Microsoft Corporation, and has also acted as Senior Manager at Ernst & Young within its Automotive and Manufacturing consulting practice. He has a Bachelor of Science degree in Industrial Engineering from Arizona State University and can be reached at dgraff@msxi.com.