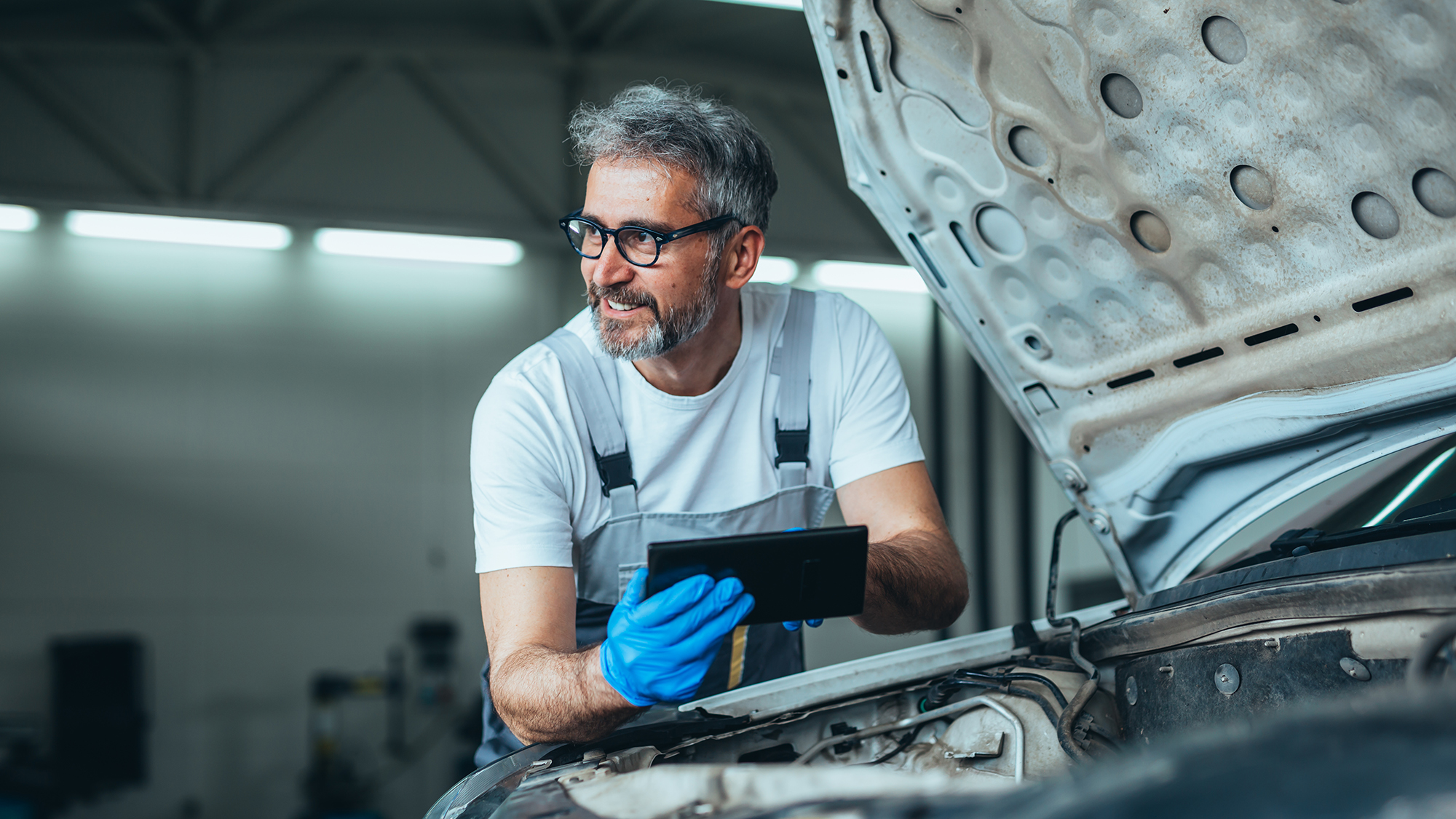 Digital service: The key to profit and customer satisfaction

Recent contact restrictions and social anxiety have caused a reduced footfall in physical dealerships impacting on service operations, parts sales and upsell opportunities. However, as the industry begins to recover, workshop traffic is starting to improve, and manufacturers are looking at ways to provide more digitalized services that improve customer satisfaction and loyalty.
Digital service describes the digitalization of the entire service process, and the recent pandemic has accelerated the need and necessity for dealers to enhance the use of digital tools in aftersales now more than ever. OEMs are focusing their efforts on providing a digitalized, end-to-end service for their customers. With the introduction of pick-up and drop-off services, as well as mobile servicing, dealers can offer online service booking, upsell approval and remote payment options, meaning that customers can manage their entire service journeys without having to leave the house.
"Digital service describes the digitalization of the entire service process, and the recent pandemic has accelerated the need and necessity for dealers to enhance the use of digital tools in aftersales now more than ever."
Harnessing the power of data
The increasing number of connected vehicles on the road is generating valuable data. With the right tools in place, OEMs can use this intelligence to make predictions, improve the customer journey and tailor special deals and offers for customers before they bring their vehicles in for maintenance work.
Traditional, scheduled service intervals will become a thing of the past. OEMs will have more transparency over their customer's service needs because maintenance requirements are dictated by the type of vehicle they're driving and how they drive it. For example, regular short journeys could result in a vehicle needing an oil change more frequently. Being able to predict the maintenance work from the vehicle's connected data gives OEMs an advantage, but if their dealers are unable to schedule the customer for service when the vehicle dictates, or when it's convenient for the customer, OEMs will lose that work to alternative providers.
Traditional vs digital retail models
The transition from a traditional to a digital retail model in aftersales touches on several areas that need careful consideration. Currently, in many cases, the customer decides whether they need a service and where they have the work done. In this new connected environment, customers want convenience and transparency. But with an increasing number of independent repair chains in the market, it's even more important for OEMs to retain those customers and protect as much of their service business as possible.
OEMs need to be more transparent in the service process, as customers fear hidden repair costs. To make customers truly feel comfortable with service pricing, OEMs must provide information on service and repair costs on their websites, details which many currently lack.
Digital tools can also offer new opportunities in service booking and upselling. Dealers can send videos to customers showing them where additional work is needed on their vehicle. They can provide repair pricing up front, enabling customers to authorize the additional maintenance work directly from their mobile devices quickly and easily.
Types of maintenance work carried out in workshops
The types of work carried out in workshops vary, and have a considerable impact on dealer revenue. For example, internal work will deliver less ROI than consumer maintenance. Here, we can see the average split across the dealer network.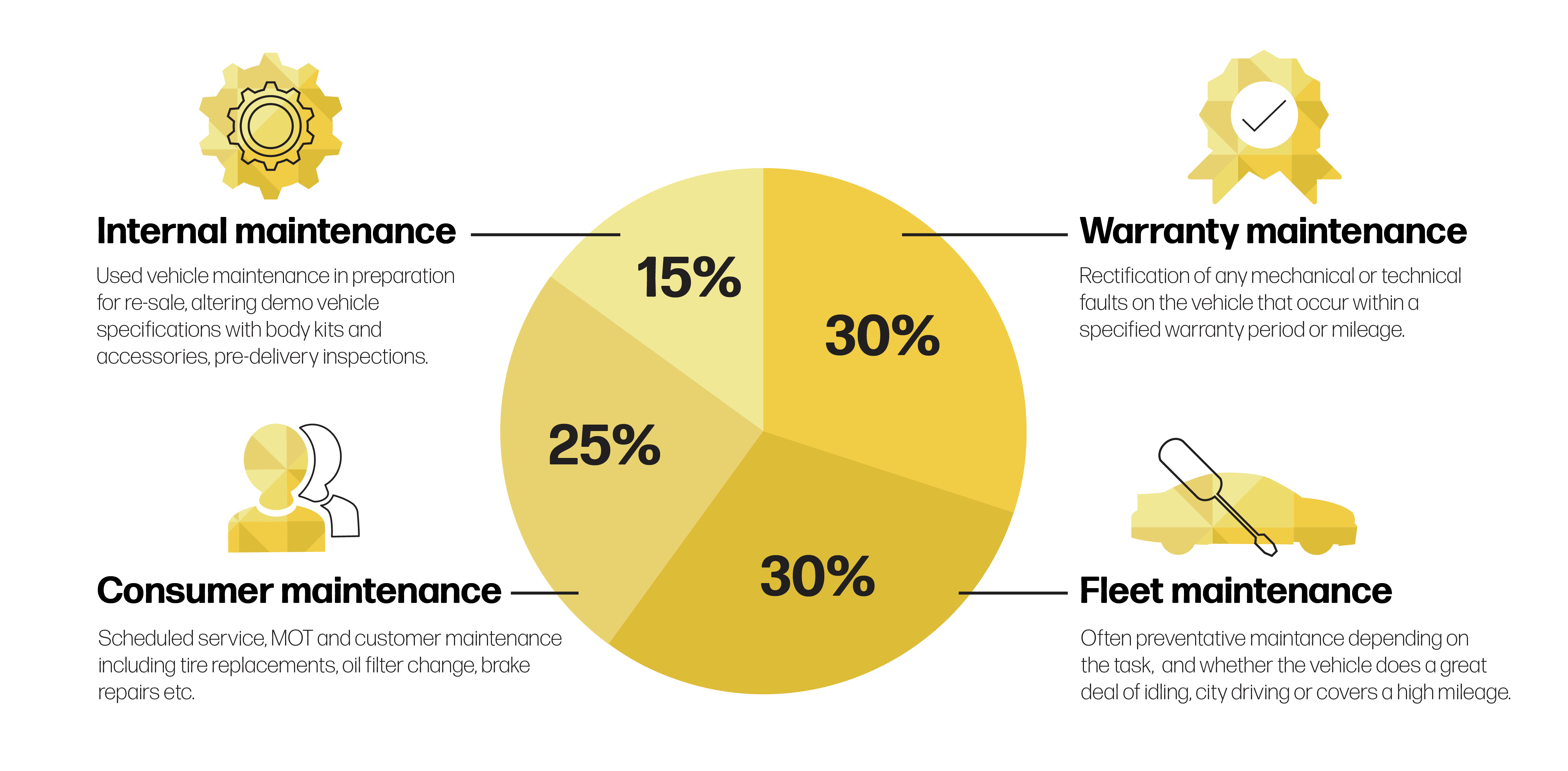 Managing customer expectations
Customers today compare offers from manufacturers' retail networks with those of independent repairers. Comparison websites and other online services place customers in the driving seat. A customer can bid on the type of repair they want and get it done in their driveway at the click of a button. In some cases, customers are even buying replacement parts directly from an OEM or independent parts supplier and then turning to local mechanics to complete the work. It means OEMs must look at how they embrace these types of service offerings and keep their customers engaged.
These digitalization efforts are changing the customer journey. A large volume of the maintenance work carried out at the dealership is event driven, whereby customers only bring their vehicles in when something has gone wrong, meaning it could be months, if not years, before the dealer sees a customer for a needed service. That will start to change as the market sees an increase in connected and electric vehicles on the road. A reduced number of touchpoints throughout the customer journey will mean OEMs need to think of more personalized and creative ways to keep customers coming back.
Poor booking transparency disconnects the dealer and its customer. A customer will assume that a 9am service booking means their vehicle will be worked on at this time. The reality is, there may be 10 other vehicles due into the workshop first. Online service booking, in its truest form, allows the customer to book their vehicle to be worked on at a specific time. They can still drop their vehicle off at an earlier time if more convenient, or in some cases make use of the dealer's collection service, meaning they don't have to transport their vehicle to the workshop at all.
There is a single approach to the digital service process, regardless of customer type. Here you can see the stages of that process from initial customer engagement to action points from the manufacturer.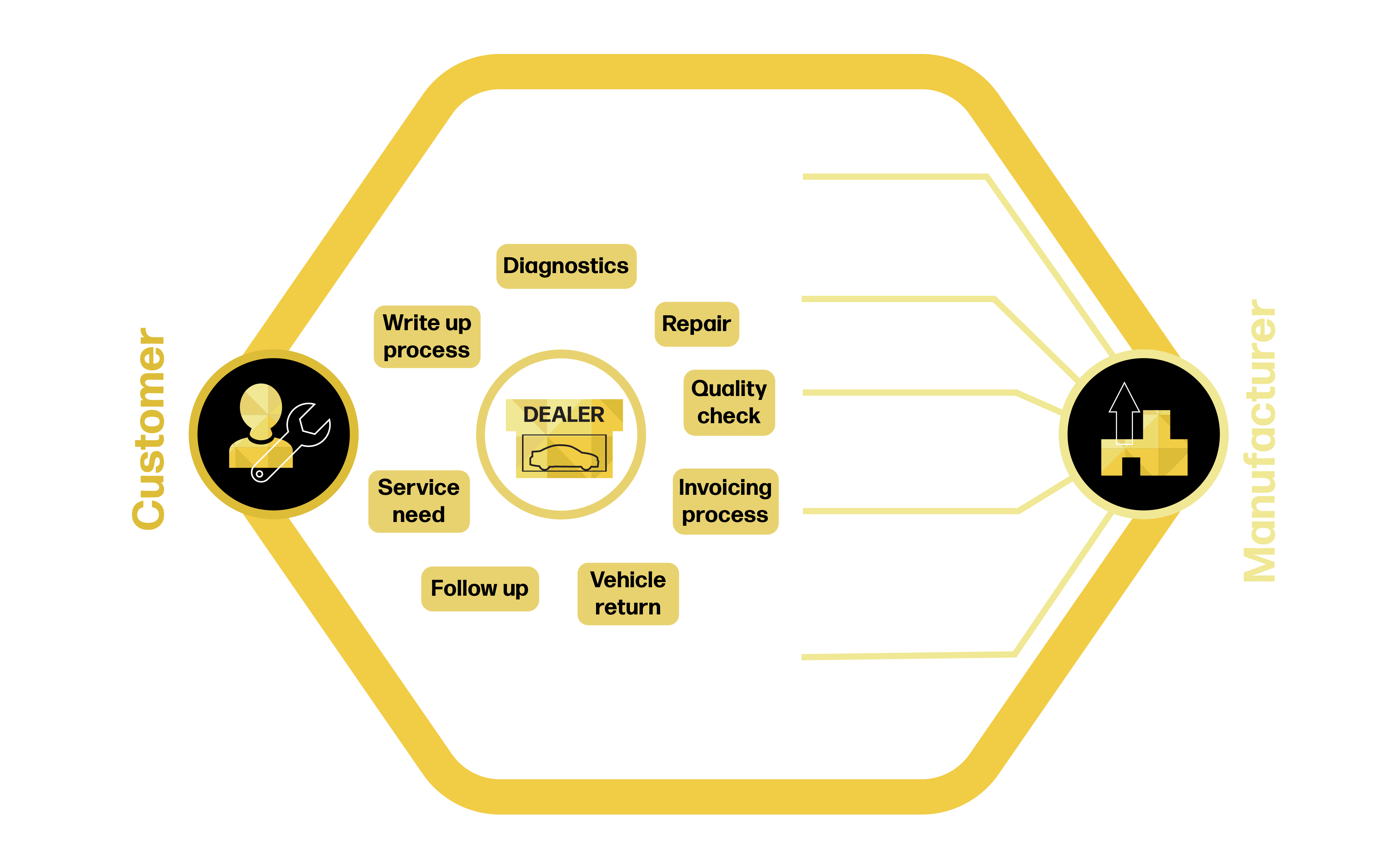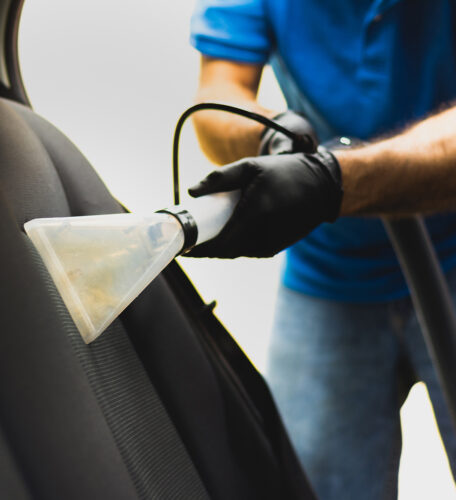 Creating a seamless online customer journey
It's important that OEMs and their dealer networks make sure all touchpoints and mediums available to the customer deliver transparency and clarity. If the vehicle's engine light comes on, or a maintenance reminder pops up, a customer needs to know what to do. Or, if the dealer tells a customer to have a service at 5,000 miles, it's important that the instruction is consistent with those delivered in the owner's manual and the OEM app.
By creating a seamless e-commerce journey and embracing video, texting, social media and other alternative ways of engaging with customers, OEMs can provide a complete, online service experience that helps build loyalty and engagement. Sharing videos and images is a great way of demonstrating the contactless service journey. And they can use the same channels to show how they're keeping their dealerships clean and safe, or discuss their service offerings. Using consumer data and innovative tools such as predictive analytics, OEMs can manage the customer lifecycle and marketing based on how long customers have owned their vehicles.
Allowing consumers to make bookings online through the OEM website could change the dealer landscape. And with more dealers offering collection and drop-off services to their customers and being less dependent on walk-in trade, the need for stores in city center locations will decline. Through increased technology and connected vehicle data, OEMs can offer more personalized, contactless, convenient and transparent maintenance journeys to their customers.
About the Author:
Shawn Coyle
VP and Global Account Executive
Shawn joined MSX in December 2013 and is currently responsible for driving a global account strategy for MSX's largest customers and for developing and leading the North American sales team to drive sales penetration and new business. Prior to joining MSX, Shawn served as the Senior Vice President of Manufacturer Relations at Penske Automotive Group (PAG) for five years as well as for Ford Motor Company, where he worked with the company's dealer network before moving into field strategy. Shawn can be reached at scoyle@msxi.com.