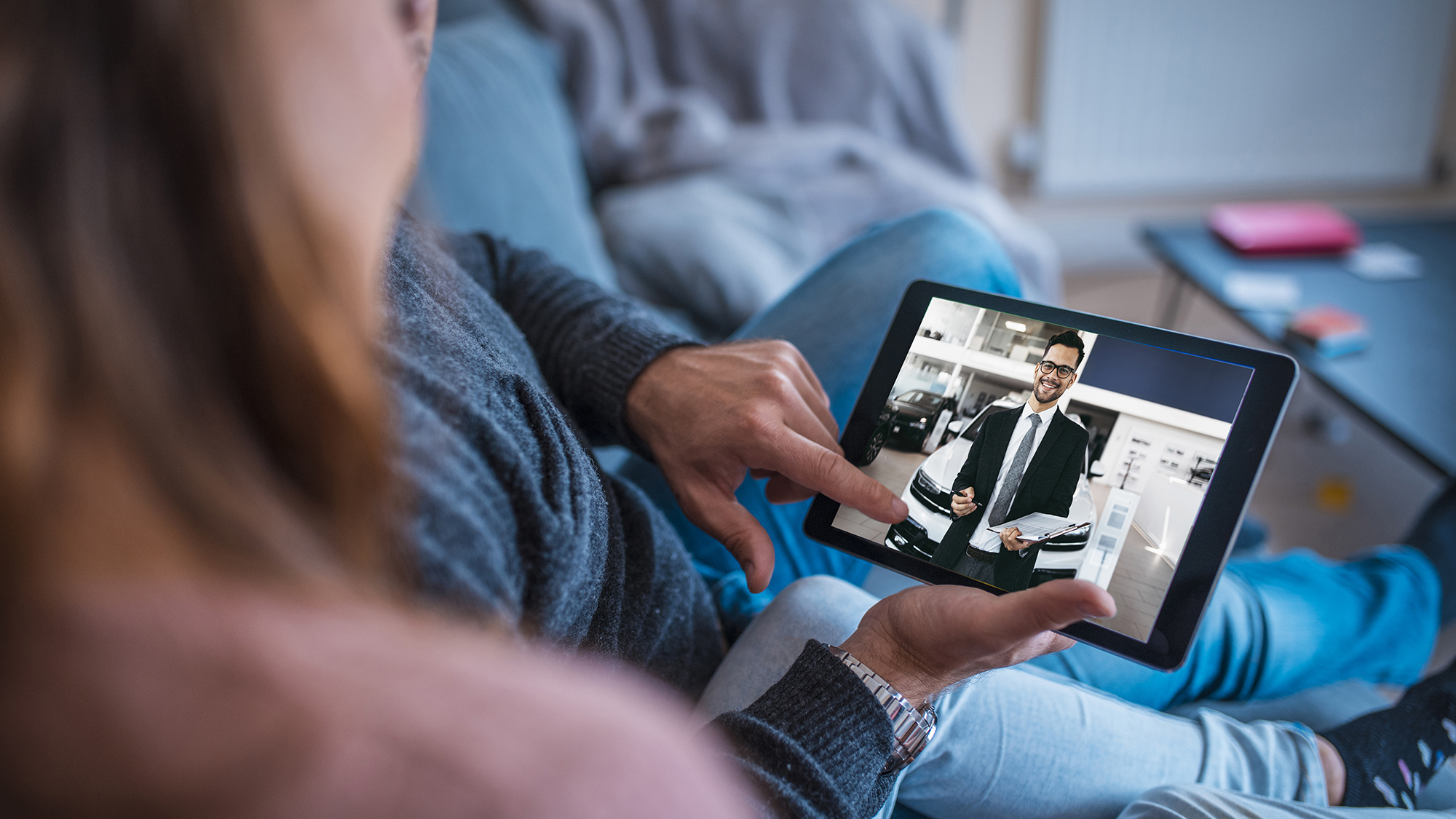 Integration is key to a successful digital retail transformation

Despite a global transition to e-commerce in most other industries, retail sales models for the automotive industry have, until recently, remained largely unchanged. But the COVID-19 pandemic, with its rigorous social restrictions, has forced OEMs to rethink and accelerate their strategy implementations.
With fewer consumers visiting showrooms and a rapid decline in vehicle sales, manufacturers can no longer rely entirely on their retail networks to meet customer needs. They must act immediately to provide consumers with dynamic, digital-buying options or risk losing business to better prepared and more proficient competitors.
Today's manufacturers are exploring direct-to-customer online sales tools to engage new customers. But traditionally, OEMs aren't accustomed to managing their own sales processes, so a migration to online sales is a complex step. They must consider the strength of other competitors in the market who are already experts in online retailing and understand that customers expect their needs to be handled professionally and efficiently. OEMs, their national sales companies and dealers must also embed technology and processes within their current ecosystems. This is a huge challenge, not just from an IT perspective, but because retail networks have to adapt their mindsets to new ways of operating, and embrace the knowledge and skills needed to support these solutions.
"An integrated, end-to-end digital sales solution will include people, processes and technology working together to allow customers the freedom to move freely from online channels to offline channels throughout their buying journeys."
– Dirk Bott, Vice President, Global Sales Operation
A digital buying journey relies on integration
OEMs should take an integrated approach to their digital sales environments and not rush to implement disparate, off-the-shelf products. These may offer small elements of functionality but are limited in their ability to provide a complete customer experience. To satisfy customer needs and increase sales, OEMs must understand that technology investments will not be sufficient unless they form part of an end-to-end process.
A seamless online experience should allow consumers to move freely between dealer websites, where pop-up windows help OEMs collect leads by inviting customers to chat to an agent, enter a virtual showroom or book a test drive. When implemented correctly, this type of digital experience has already shown to improve booking conversion rates by up to 30%*.
Negotiations can also be carried out online, and when a price is agreed, the customer is transferred to digital signature and payment options. Eventually, even delivery will be fast tracked. Agents will deliver a vehicle to the customer's home and hand it over with a few starter tips and an app that provides more complex in-vehicle instructions. Alternatively, the new owner will be offered an opportunity to take part in short, micro-learning sessions where he or she can learn how to operate the navigation system or adjust the seats, for example.
The sales process – from offline to online
Transition from offline to online must be seamless
An integrated, end-to-end digital sales solution will include people, processes and technology working together to allow customers the freedom to move freely from online channels to offline channels throughout their buying journeys. An individual may decide to configure a vehicle using online tools, for example, but they'll visit a dealership to discuss those configurations with an agent who has used the customer's data to source a similarly configured vehicle for a test drive. The customer can then complete the purchase online if he or she chooses.
If individual solutions or modules within a solution are fragmented, the customer journey and all the data it generates will be too. For example, a manufacturer may choose to implement a solution or module that offers its customers access to a virtual showroom. But unless that virtual showroom is connected to the manufacturer's customer relationship management or lead management software, the data cannot be used to follow up potential sales. An integrated system will generate automated emails to customer contacts, scheduling telephone appointments or invitations to live webcasts, and analyze consumers' behavior to assess their willingness to buy.
An OEM must also consider the skills and mindsets of its employees and train them in new processes. They need to learn how to deliver online demonstrations, manage online enquiries through digital chat options, or understand how to interpret customer data and generate leads from it. When combined with skilled workforces, digital sales solutions have been known to increase marketing response rates by 40% for some businesses*.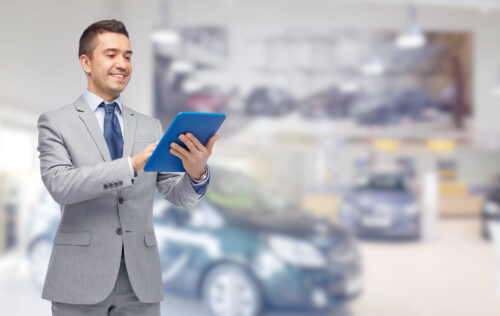 Full digital online retail process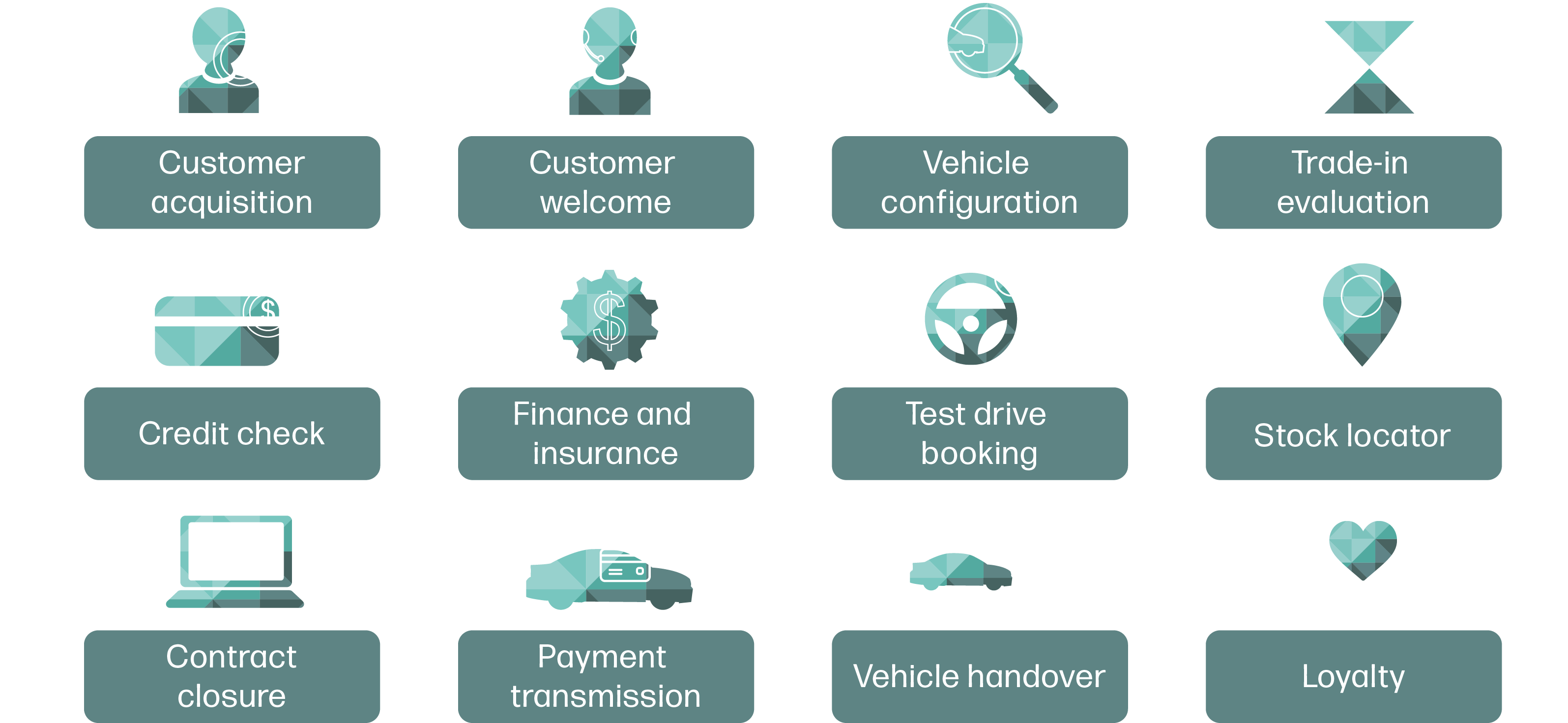 Dealer roles must adapt to new sales models
Naturally, the model that fits an OEM best will differ depending on its region and demographic, but it's vital that manufacturers act fast to meet new expectations. Fortunately, offerings on the market make it simpler than it has been in the past. Some digital end-to-end solutions offer a modular approach, meaning manufacturers can integrate the elements they need into their existing environments.
But these new sales models are affecting the traditional roles and responsibilities of dealerships, and OEMs may soon be forced to decide how to position their retail networks within the sales cycle. It's possible that instead of being employed purely to sell cars, dealers will become more highly skilled agents. They will work alongside online channels and use the data they generate to provide customers with the right information – such as trade-in offers, marketing communications, service deals or financing information – at the right time.
In European markets currently, online sales channels tend to act as a support function to dealer networks, providing additional information and services to customers who still complete much of the buying process in traditional ways. But in the longer term, it's likely that online sales tools – if implemented in an integrated way – will result in far greater numbers of vehicle sales than traditional offline channels.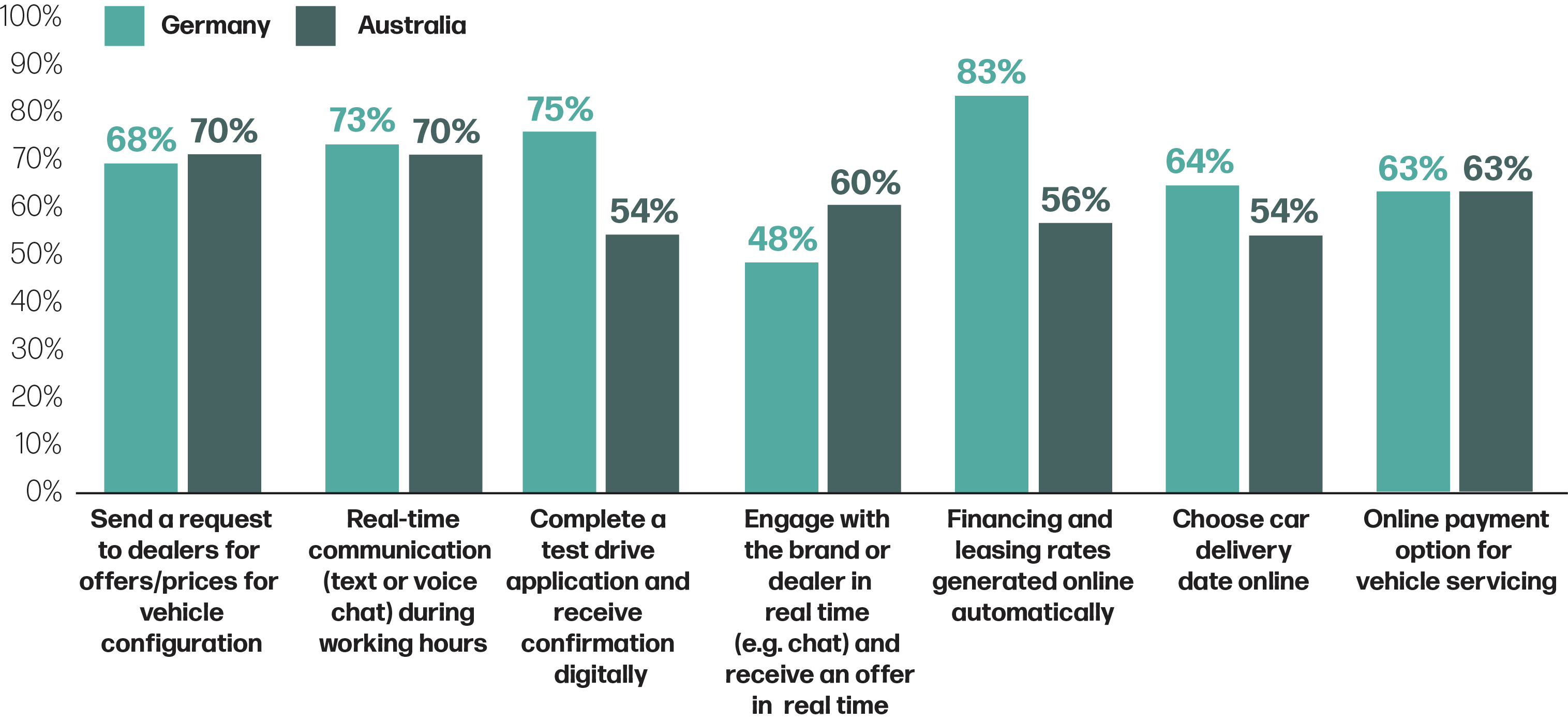 Source: MSX Research, MSX Customer Expectations Online Survey
Online sales will change the future of automotive retail
With manufacturers' retail costs at an all-time high, worldclass sales solutions can offer manufacturers a lifeline. Unlike physical networks, digital retail networks can be scaled up quickly, engaging potential customers from across the globe at all hours of the day. OEMs can reach rural areas where dealerships don't have a presence, with cheaper advertising and greater upselling potential but without the rental costs of a physical location.
Manufacturers will no longer rely on dealers to market and sell vehicles, reducing the costs of dealer commissions. Salespeople can become trained agents or consultants and offer skills that add greater value to the wider business. And digital platforms will help fast-track vehicle deliveries, closing the gap between supply and demand and reducing stock levels. For some OEMs, digital sales solutions have already led to revenue improvements of more than 90%*.
Full, digital, end-to-end sales solutions are modular, but their effectiveness will vary depending on how well they're embedded into an OEM's ecosystem. It takes knowledge and experience to get it right, but if integrated well, these systems will help OEMs provide a larger demographic of customers with interactive, real-time purchase experiences from the comfort of their own homes. Ultimately, online sales solutions will help them to better understand customer needs and improve loyalty for their brands.
*Source MSX International
About the Author:
Dirk Bott
Vice President, Global Sales Operation
Dirk joined MSX International in May 2012. He oversees global sales and contributes to the growth of large OEM key accounts such as BMW, Mercedes, VW Group, Geely Group and others. In his 20 years' experience, prior to his engagement at MSX, he held different VP roles at European OEMs in sales, product, MI, training and strategy in regions that include China, USA, Europe and globally. He can be reached at dbott@msxi-euro.com