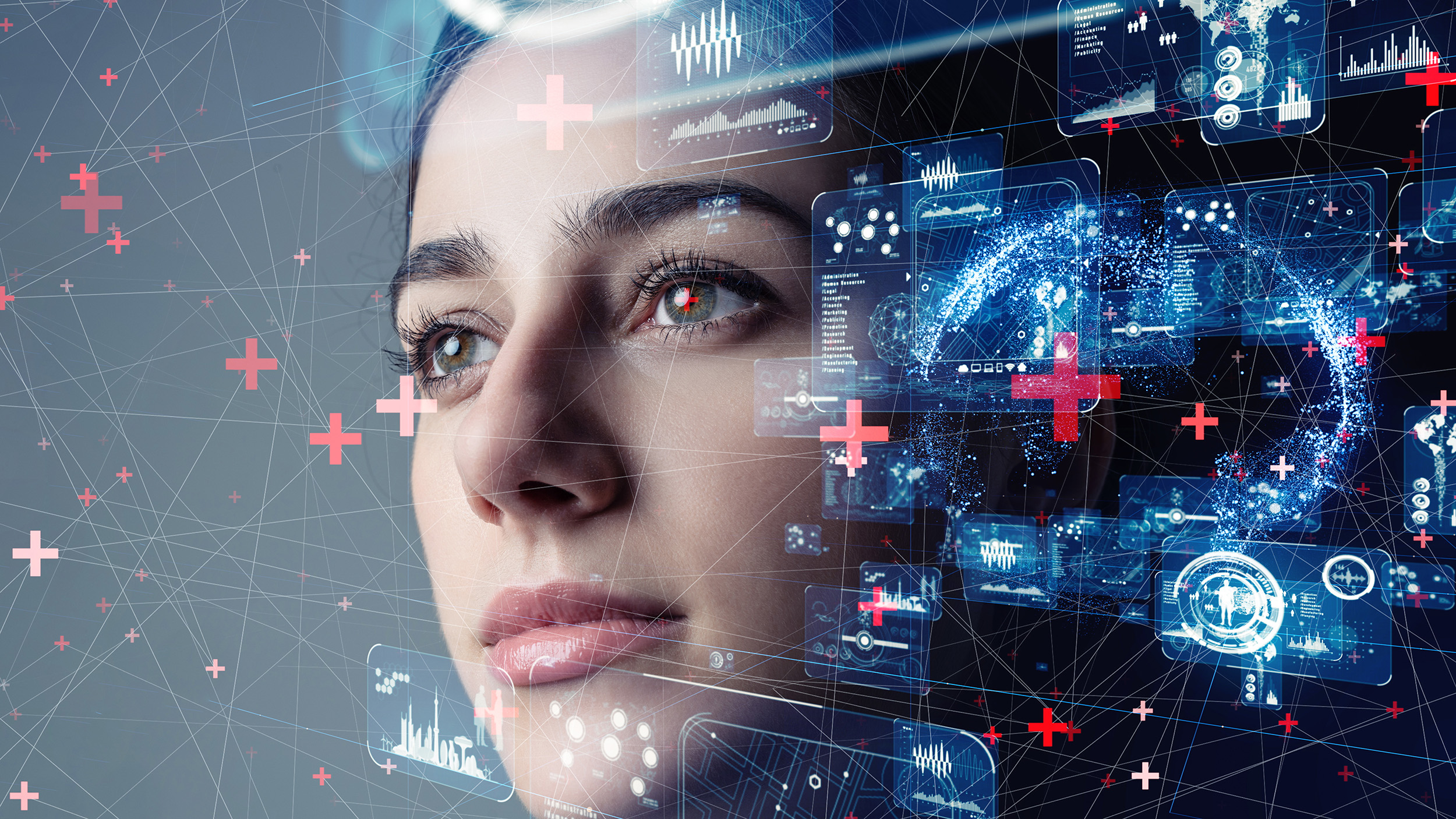 Driving warranty change with digital integration

by Emiliano Nebbioso, Global VP Warranty and Repair Efficiency
OEMs are spending billions of dollars managing warranty claims annually. Meanwhile, they are under considerable pressure to reduce costs which is being intensified by economic uncertainty, growing emissions regulations and steadily growing competition. A rise in connectivity and on-board diagnostics is increasing vehicle complexity at a rapid pace. And while technicians struggle to upskill in line with these changes, first-time-fix-rates are lower and warranty claims processes are open to greater inaccuracies. The legacy systems and outdated processes that are used in traditional warranty management models are no longer affordable or manageable, nor do they support the changes in industry demand. This presents a welcome opportunity to rethink warranty management processes and help keep costs under control.
Streamline your warranty services
To deliver more sustainable warranty operations, manufacturers are investing in newly emerging multi-tenant solutions whereby a single software instance and it's supporting infrastructure serves multiple customers. By sharing this investment in software development and knowledge with other customers, OEMs can significantly reduce costs whilst benefiting from a leading warranty solution that saves time and money and helps improve the accuracy and speed of their warranty management. These savings can then be reinvested into vehicle improvement to minimize potential faults in future, helping reduce warranty claims further.
MSX is partnering with major OEMs to streamline their warranty services and deliver a future-proof, digital warranty solution. The MSX Digital Warranty platform uses artificial intelligence (AI) to reduce the need for manual intervention. An algorithm scores claims and then automate the processing of the straightforward ones while allocating the more complex problems to claims handlers for manual processing. The model uses machine learning to quantify the probability of savings within the claim according to criteria such as potential savings, probability for deficiency or potential risk.
However, the inclusion of our multi-tenant application expands beyond the base AI model. An advanced, dynamic rules engine allows OEMs to modify the rules of selected claims and seek additional factors such as anomalies or incorporate new variables quickly and easily. Eventually, even audits themselves will be fully automated.
The introduction of these innovative technologies allows OEMs to offer more transparency to their customers as well as have more control over their operations. It also helps instill the confidence to automate more processes throughout the organization without the fear of compromise to their unique specifications or accuracy.
MSX Digital Warranty Solution benefits for your organization
Improvement in
Rejection Rate
Increase in manual
review process accuracy
Manual intervention is slowly being replaced by new technologies as they emerge onto the market. But this reduction generates a huge opportunity for additional skillsets supporting new processes and ways of handling claims. Optical character recognition (OCR) is being introduced in some MSX projects to understand handwritten claims for automated processing. Natural language processing (NLP) analyses language or speech, meaning that technologies can understand spoken queries and generate automated responses that closely resemble human interaction. Image recognition allows dealers who are submitting a claim to select an image of a car part, and the warranty platform can then instantly recognize the fault. Meanwhile, manufacturers can offer dealers automated, guided repair, briefing systems and other support services that significantly reduce their response times and provide a higher level of service to the end customer.
A new pre-approval platform allows manufacturers to assess and authorize high-value claims before the dealer starts work on repairs, preventing invalid claims and providing reassurance and potential cos savings to the dealer. The introduction of these innovative technologies help OEMs increase accuracy and avoid the costs of expensive work mistakenly carried out under warranty.
Traditional legacy warranty processes lack the ability to scan for potential savings, limiting the opportunity for the manual processing of high value claims.
MSX Digital Warranty Process uses AI to analyze 100% of claims, scoring them based on potential savings and prioritizing those with high potential savings for manual processing. ​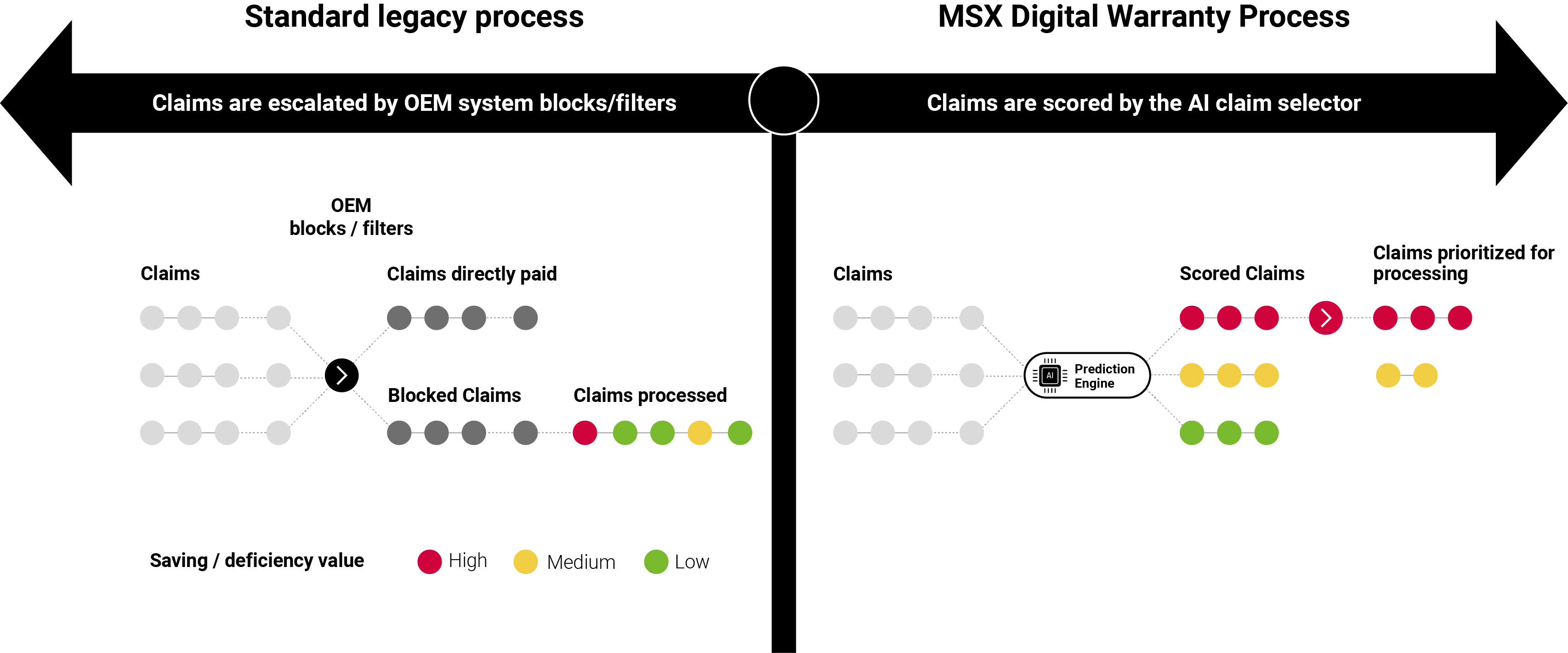 Accurately predict and minimize warranty spend
With manufacturers' warranty bill expected to reach $61 billion by the end of 2023, MSX is helping recoup some of these costs. Our warranty claims prediction engine can generate 70% more value for the same volume of claims assessed. And with traditional methods currently over-estimating warranty spend by up to 45%, we can help manufacturers accurately predict and plan for their warranty bill. Our warranty cost prediction tools allow manufacturers to free up significant funds to use elsewhere.
MSX's Warranty Control Roadmap is driving greater financial control, smarter decision making and risk mitigation in the manufacturer's warranty processing, as well as strengthening the relationships between OEMs and their dealer networks. The warranty solutions not only resolve today's problems, but also deliver early warning systems to help manufacturers take a more proactive approach to controlling their future.
About the Author:
Emiliano Nebbioso
Global VP Warranty and Repair Efficiency
Emiliano is MSX's Global VP Warranty and Repair Efficiency, dedicated to improving the global alignment of our warranty and repair services and ensuring an efficient and effective launch of new projects. Emiliano joined MSX in 2001 and brings almost 20 years of automotive experience working in key positions for leading OEMs. Emiliano is based in Rome, Italy, and can be reached at enebbioso@msxi.com.