Norway – Leading the way with zero-emission transportation
by Felix Serrano, Vice President Europe
Norway is, without question, the biggest success story to date when it comes to the transition to zero-emission transportation. The country has gradually introduced incentives since 1990 and has now set a target for 2025 – for 100% of vehicles sold to be 'zero-emission'.
Around 40 years ago, Norway discovered it was sitting on one of the world largest oil reserves and has used this resource to boost the economy, making Norway the largest sovereign wealth fund in the world. This wealth plays a vital role in financing the e-mobility movement and has allowed the government to speed up the transition to zero-emission transportation by offering a wide range of incentives to those investing in e-mobility solutions.
They include tax deductions on new electric vehicles (EVs) – a VAT exemption of 25% offsets the additional cost of a new EV. Larger cities are also offering free parking and the use of bus lanes for zero-emission vehicles.
As a result of these incentives, almost 60% of new vehicles sold in Norway in 2019 were electric or hybrid, bringing the total EV vehicle parc to an impressive 300,000, according to the latest Frost & Sullivan report.
"Norway shows the whole world that the electric car can replace cars powered by gasoline and diesel and be an important contribution in the fight to reduce C02 emissions."
– Christina Bu, the Norwegian Electric Vehicle Association's general secretary
Norway has also invested heavily in charging points and infrastructure. There is currently a charging point every 31 miles in the country, and there are further plans to install at least two multi-standard, fast charging stations every 50km on all main roads. Considering Norway's low population of 8 million, and its huge land mass, this amounts to an excellent distribution of available charging points for drivers.
In 2017, the Norwegian government implemented a rule dictating that EV owners cannot be charged more than 50% of the price charged for ICE vehicles to access public ferries, toll roads and parking facilities. This mandate was given a period of execution but was expected to be fully implemented by 2019.
No purchase/import taxes (1990-present)
Exemption from 25% VAT on purchases (2001-present)
No annual road tax (1996-present)
No charges on toll roads or ferries (1997-2017).
Maximum 50% of the total amount on ferry fares for electric vehicles (2018-present)
Maximum 50% of the total amount on toll roads (Introduced 2019)
Free municipal parking (1999 – 2017)
Parking fee for EVs was introduced locally with a maximum limit of a 50% of the full price (2018-present)
Access to bus lanes (2005-present)
New rules allow local authorities to limit the access to only include EVs that carry one or more passengers (Introduced 2016)
50% reduced company car tax (2000-2018).
Company car tax reduction reduced to 40% (2018-present)
Exemption from 25% VAT on leasing (Introduced 2015)
Fiscal compensation for the scrapping of fossil vans when converting to a zero-emission van (Introduced 2018)
Allowing holders of driver's license class B to drive electric vans class C1 (light lorries) up to 4250 kg (Introduced 2019)
Source: elbil.no/norwegian-ev-policy
The increase in the number of EVs on the roads in Norway has also affected the car tax system, with political parties agreeing on a 'polluter-pays' principle. High emission vehicles will pay higher taxes, whilst low and zero-emission vehicles will pay lower, or no taxes. Introducing these higher tax brackets on high-emission vehicles has also helped fund incentives without any impact on public funds.
Norway has the highest income per inhabitant in Europe, with average earnings of €60,931 – almost double that of the UK. This means that a higher volume of the population is able to make the transition to an EV. A study by Forbes identified that post-purchase, with the high cost of fuel and daily use of toll roads, owning a petrol car works out considerably more expensive than the monthly payments and electricity costs of an electric car. This has led to some criticism that Norway is offering tax breaks to the rich, some suggesting that it's simply a discount on a second car for the wealthy. While the used car market remains dominated by petrol vehicles, those who cannot afford to invest in a new EV are unable to take advantage of the lower cost of driving.
Incentives so far are targeting vehicle sales. And while the volume of EVs in the market is rapidly increasing, there is still a huge parc of internal combustion engine (ICE) vehicles. The variation in vehicle types is starting to increase workshop traffic and technicians are having to demonstrate multifunctional skills to work on traditional ICEs, EV and hybrid vehicles at the same time. But as the parc of ICE vehicles decreases in Norway, dealers will have to further adapt their retail business models and aftersales processes to accommodate EVs as their main business.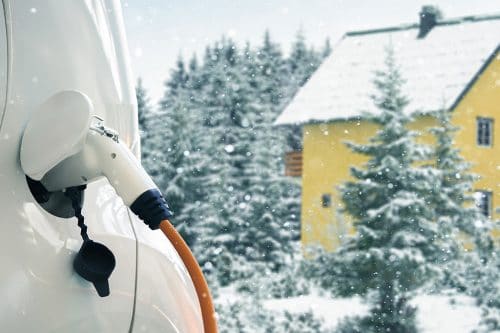 As the Norwegian government continues to invest heavily in infrastructure to support this new wave of mobility, it may struggle to sustain consumer incentives long term. But manufacturing and maintenance costs will inevitably decrease as the number of EVs on the road increases. Over time, these cost reductions will offset the incentives offered by the government and make EVs a more affordable solution for consumers.
In addition, to support these investments and allow incentives to run for longer, Norway is turning to private investors to fund charging infrastructure in larger cities, meaning that only low-density areas are reliant on support from public funds. A report from the EVS30 International Battery, Hybrid and Fuel Cell Electric Vehicle Symposium reports that there are two national charging operators in Norway, Fortum Charge & Drive and Grønn Kontakt, who both have a payment model for fast charging. Customers pay for charging by the minute, not by units (kWh) of energy received. This means fast charging is comparatively less expensive than using home charging. However, with some consumers showing a preference towards the 'payment-per-unit' model, based on the state of charge, battery temperature and on-board charger, there's more work to be done in order to find a compromise that combines time and kWh.
European EV readiness index 2020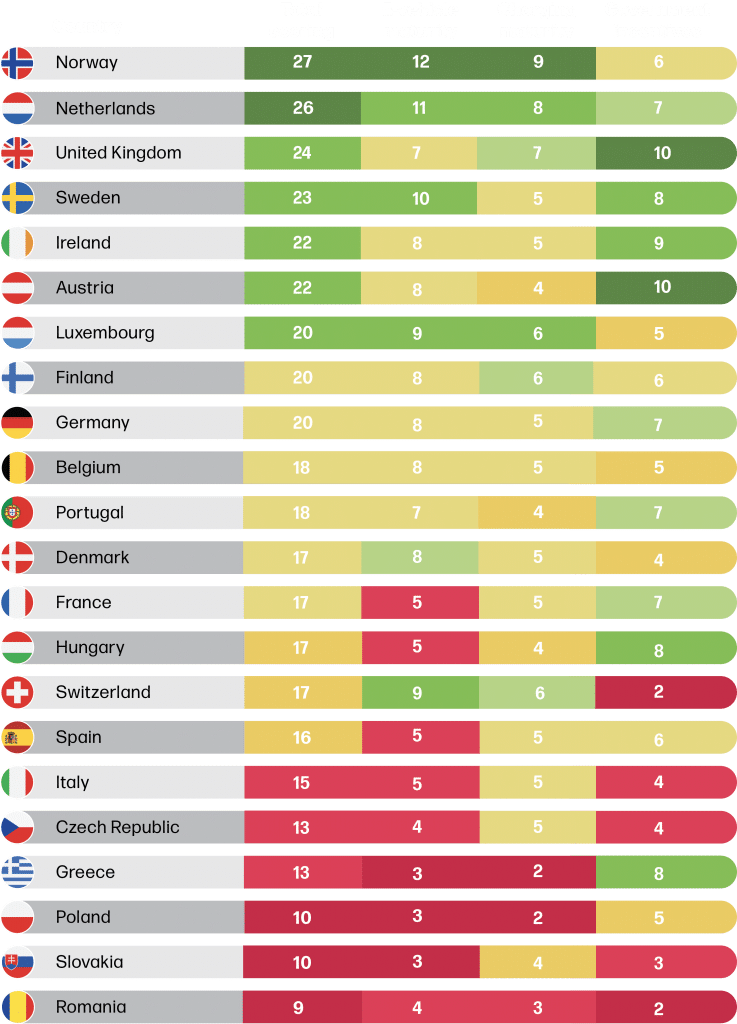 The Norwegian EV Association has also shown great support in the electrification of road transport in Norway, supporting its members in sharing information on charging facilities and helping to alleviate myths surrounding EVs. The market share of battery-operated electric vehicles (BEVs) in Norway has reached 80.7% of total EV sales. The Tesla Model 3 accounts for nearly 29.2% of these. Tesla is the largest player in EV sales in Norway, and, as the first manufacturer to build a brand wholly dedicated to electric vehicles, the organization has built a desirable product that helps instill customer confidence. Speed of adoption will largely depend on vehicle cost, and with manufacturers like Tesla building vehicles that customers want, we could soon see an increase in EV adoption across Europe.
The transition to zero-emission transportation and the amount invested to boost sales will vary from country to country. Smaller, more wealthy countries, like Norway, can afford to offer incentives to consumers, while larger countries such as the UK – with a larger population and half the average income – can afford to spend much less. Any incentive offered becomes a huge advantage, and the momentum for EVs seems to be spreading. A report from Transport & Environment (T&E) estimated that there will be 44 million EVs in Europe by 2030, and with that the European Union (EU) plans to install 3 million charging points to support its target of becoming carbon-neutral by 2050. There is a lot to be learned from Norway's model, in particular, that wealth is not the only driving factor in the popularity of EVs, and a commitment to clean energy is at the forefront of this movement.

About the Author:
Felix Serrano
Vice President Europe
Felix is currently based in the UK and responsible for MSX Retail Network Solutions operations in Europe. As a leading MSX automotive retail expert, Felix has more than 20 years' hands-on experience improving retail networks' business performance, customer satisfaction and retention in Europe and Latin America.
He can be reached at fserrano@msxi-euro.com